Caramelised Red Onion and Stilton Tartlets
---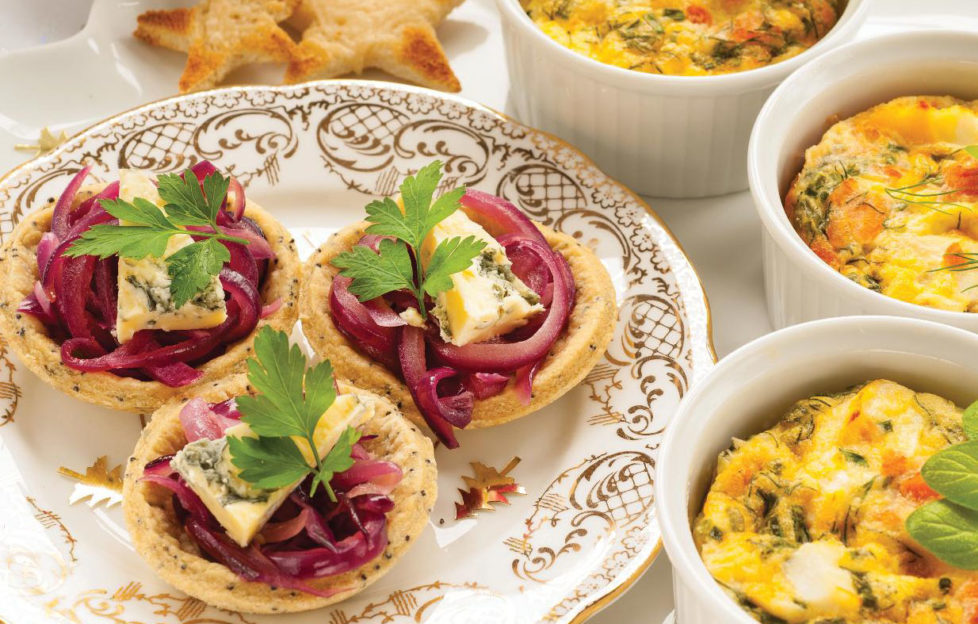 An ideal party food or finger buffet treat, these mini tarlets are a joy! Serve with some of our other buffet recipes and have yourself a party!
You'll need
Ingredients
250g plain flour
¼tsp salt
65g butter, chilled and cubed
60g white vegetable fat or lard, chilled and cubed
1tbsp poppy seeds
For the filling:
1tbsp olive oil
1 large red onion, thinly sliced
½tsp sugar
2tsp balsamic vinegar
200g Stilton, cut into small pieces
Freshly-ground black pepper
To garnish:
Parsley sprigs
Method
1. Sift the flour and salt into a large mixing bowl. Rub in the butter and fat or lard with your fingertips until the mixture looks like fine crumbs. Add 2-3tbsp chilled water and mix in with a round-bladed knife until the pastry clings together. Form into a ball, wrap and chill for 10min.
2. Preheat the oven to 200°C, Fan Oven 180°C, Gas Mark 6.
3. Roll out the pastry on a lightly floured surface and sprinkle with the poppy seeds, pressing lightly into the pastry with the rolling pin. Cut out 18 circles using a 7.5cm (3in) cutter. Line patty tins, pricking the bases with a fork. Bake for 12-15min, in batches if necessary. Cool completely. Reduce the oven temperature to 180°C, Fan Oven 160°C, Gas Mark 4.
4. For the filling, heat oil and fry the red onions for 4-5min until soft. Add the sugar and cook for 1-2min until starting to caramelise, then add the balsamic vinegar. Remove from the heat and season.
5. Share the onions between the tarts and bake for 10-12min to heat through. Top with Stilton and garnish with parsley.
Preparation time:
30min, plus 20min to finish
Cooking time:
15min, plus 12min to reheat
Serves 6 (3 tartlets each)
Recipe and food styling: Sue Ashworth
Photography: Nathan King, Jonathan Short