Starry Marzipan Mince Pies
---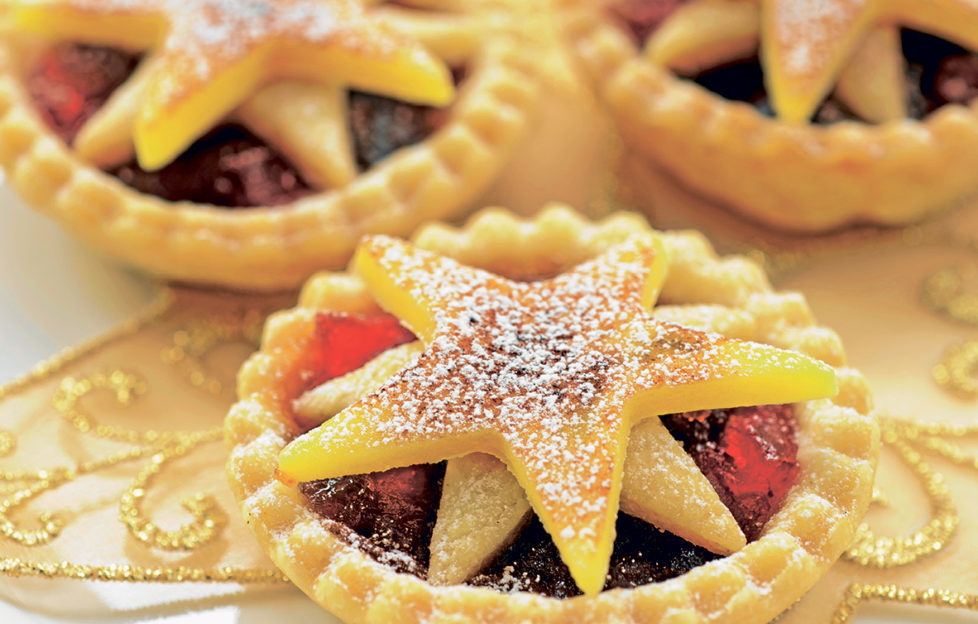 Making your own mince pies is easier than you think. These are easy to make and delicious on those cold winter nights!
Don't be afraid to make your own pastry for the mince pies, it's really easy when you know how. If you have a modern food mixer or food processor, that will do most of the work for you.
What You'll Need
225g plain flour
1tsp salt
50g chilled butter, cut into pieces
50g chilled white vegetable fat,
cut into pieces
1tbsp icing sugar
Finely grated zest of 1 orange
6 heaped tbsp luxury mincemeat
1 small egg, beaten with 1tbsp cold water
200g marzipan
Icing sugar, for sprinkling
Method
1 Sift the flour and salt into a large mixing bowl and rub in the butter and
vegetable fat with your fingertips until the mixture looks like fine crumbs.
Stir in the icing sugar, orange zest and 4-5tbsp chilled water, mixing
together with a round-bladed knife until the pastry clings together to
make a soft (but not sticky) dough. Form the dough into a ball, then wrap
in cling film and chill for 10min.
2 Preheat the oven to 200°C, Fan Oven 180°C, Gas Mark 6.
3 Roll out the pastry on a lightly floured sur face until 5mm thick. Stamp
out 18 rounds with a 7.5cm cutter, then stamp out 18 tops using a
star-shaped cutter, re-rolling the pastry as necessary.
4 Place the rounds of pastry into patty tins and add 1 rounded tsp of
mincemeat. Place the star-shaped lids on top. Brush with beaten egg,
to glaze.
5 Bake for 20-25min until golden brown. Cool completely.
6 Meanwhile, roll out the marzipan thinly on a work sur face dusted with
icing sugar, and use the same star-shaped cutter to stamp out 18 stars.
Place on top of the mince pies.
7 Preheat the oven to 180°C, Fan Oven 160°C, Gas Mark 4. Arrange
the mince pies on baking sheets and warm them for 8-10min.
Serve, sprinkled with icing sugar.
---
Preparation time
30min
Cooking time
30min
Makes 18