Party Food – Chorizo and Shallot Galette
---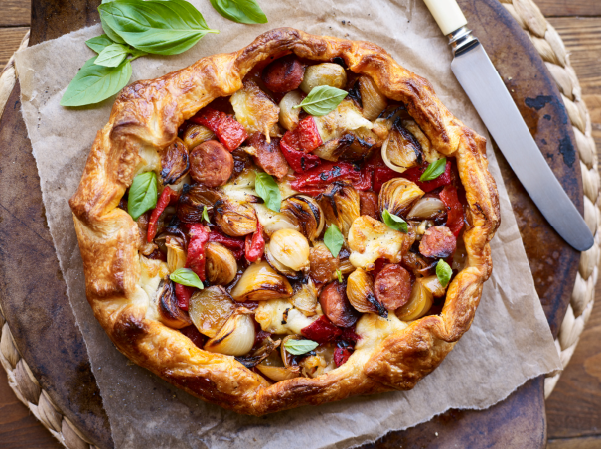 This quick and easy party food – galette with shallots and chorizo serves as an impressive starter for six or as a light lunch. When cool, wrap in greaseproof paper and pop in your picnic basket for an alternative to soggy sandwiches!
You'll need
100g cooking chorizo, sliced
8 shallots, quartered
1 sheet ready rolled puff pastry
2 roast peppers, sliced, from a jar is fine
125g mozzarella, torn into pieces
1 egg, beaten
Basil leaves to serve
Method
Heat the oven to 220C/200C fan/Gas 7.
Cook the chorizo in a frying pan until crisp on each side. Remove with a slotted spoon and set aside. Reduce the heat and cook the shallots gently while you put together the rest of the tart. Don't over brown the chorizo and shallots as they will continue to cook in the oven.
Unroll the pastry and gently pull out the long sides and trim off the corners so it becomes more circular. Lay it on a non-stick baking tray.
Leaving a 3cm border of pastry clear, fork lots of small holes in the centre area of the pastry then scatter with the chorizo, pepper, chunks of mozzarella and finally the shallots. Carefully fold the edges of the pastry up to slightly overlap the edges of the filling. Brush the crust with egg wash and bake in the oven for 30-35 minutes until the pastry is crisp and puffed up and the filling is dry and browned.
When ready to serve scatter with basil leaves.
Serves: 6
Preparation time: 10 minutes
Cooking time: 40 minutes
This recipe comes to you courtesy of www.ukshallot.com