The Perfect Christmas Cake Recipe
---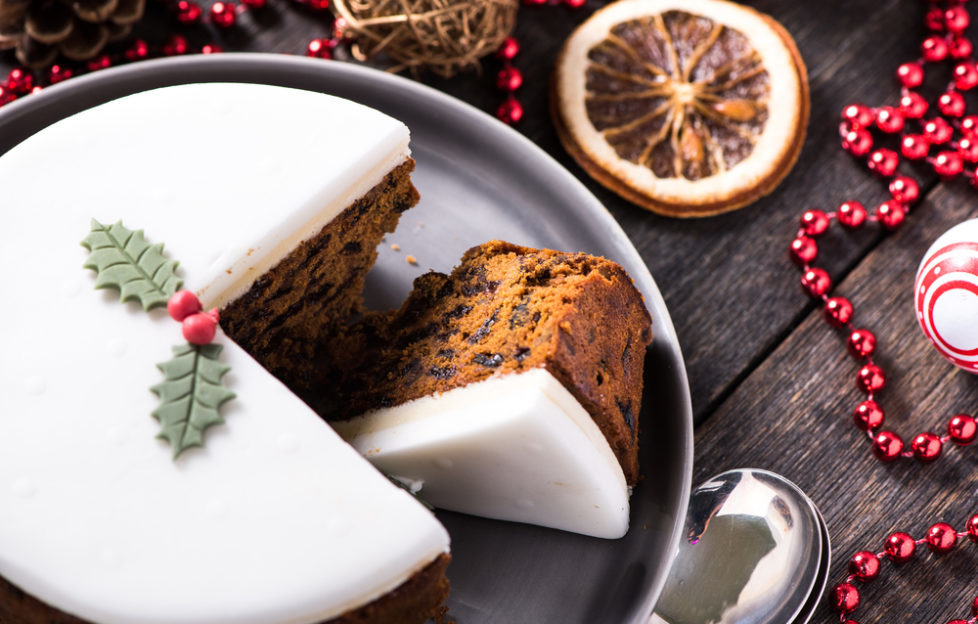 We said we were here to make your Christmas 2018 easy, and we meant it. This perfect Christmas cake recipe is easy to follow, and tastes delicious!
If you're following the Christmas Countdown Guide, you will be making this in early November. All ingredients can be bought in shops and kept in the store cupboard in October. For an alcohol free Christmas cake recipe, you can feed the cake with orange juice instead of alcohol. Meaning those abstaining, for whatever reason, can still enjoy the fun.
Have a read over the recipe and perhaps you will feel brave enough to tackle it this year! Mary Berry watch your back!
You'll Need
350g currants
350g sultanas
350g raisins
75g dried apricots (chopped)
200g glacé cherries (halved)
100ml dark rum or brandy
150g butter
150g dark muscovado sugar
4 eggs, beaten
75g ground almonds
Finely grated zest of 1 lemon
Finely grated zest and juice of 1 orange
200g plain flour
¼ tsp salt
2tsp ground mixed spice
3tbsp dark rum or brandy
Decoration
3tbsp apricot jam
750g golden marzipan
1kg red fondant icing
200g white fondant icing
1-2tbsp vodka
Edible glitter, for sprinkling
Ribbon, to tie around the cake
Method
1. Put currants, sultanas, raisins, apricots and glacé cherries into a large mixing bowl. Cover with boiling water and leave for 2-3min. Drain thoroughly in a colander. Tip fruit back into the bowl and add rum or brandy, stirring well. Cover and leave in a cool place for up to 2 days, though at least overnight. This plumps up the fruit and makes the cake deliciously moist.
2. Preheat the oven to 150°C, Fan Oven 130°C, Gas Mark 2. Grease and line a 20cm round cake tin with double thickness baking paper. In a very large bowl, beat together butter and sugar until light and fluffy, using a wooden spoon or hand-held electric mixer. Gradually add beaten eggs, beating well between each addition. Stir in almonds, lemon zest, orange zest and juice.
3. Sift the flour, salt and ground mixed spice into the mixing bowl, folding them through with a large metal spoon. Do not beat the mixture at this stage. Add the alcohol-soaked dried fruit mixture and stir it in thoroughly. Then spoon the mixture into the prepared tin, levelling the surface. Remember that the mixture will not rise.
4. Bake for 2 hours in the centre of the oven. Test that the cake is cooked by inserting a fine skewer into the centre – it should come out clean. If not, cook for a little longer. Stand the cake on a wire rack and leave it to cool in the tin. When completely cold, spoon 3tbsp dark rum or brandy over the surface and let it soak in. Wrap in greaseproof paper and store in an airtight tin.
5. About 1 week before Christmas, decorate the cake. Brush the top and sides with warm, sieved apricot jam. Roll out half the marzipan on a surface dusted with icing sugar into a long strip, trimming to the depth of the cake. Press into place around the sides. Roll out the remaining marzipan for the top of the cake, trimming to fit. Leave overnight before icing.
6. Knead the red fondant icing for a moment or two to form a ball. Roll out into a very large circle on a work surface dusted lightly with icing sugar. Carefully lift over the cake using a rolling pin and draping it down the sides. Use your hands to mould the icing around the top and sides of the cake, then neatly trim off the excess around the base.
7. Dust the work surface, rolling pin and cutters with icing sugar. Roll out white fondant icing to a depth of about 0.5cm. Cut out snowflakes. We used a cutter from Lakeland or you can use templates. Brush a little vodka over the base of each one and position on the cake. Brush snowflake edges with vodka and sprinkle with edible glitter. Tie ribbon around the cake to finish.
Makes 1 round 20cm cake – approx. 16-20 slices
Recipes and food styling: Sue Ashworth
Photography: Jonathan Short