Christmas Countdown Guide – October
---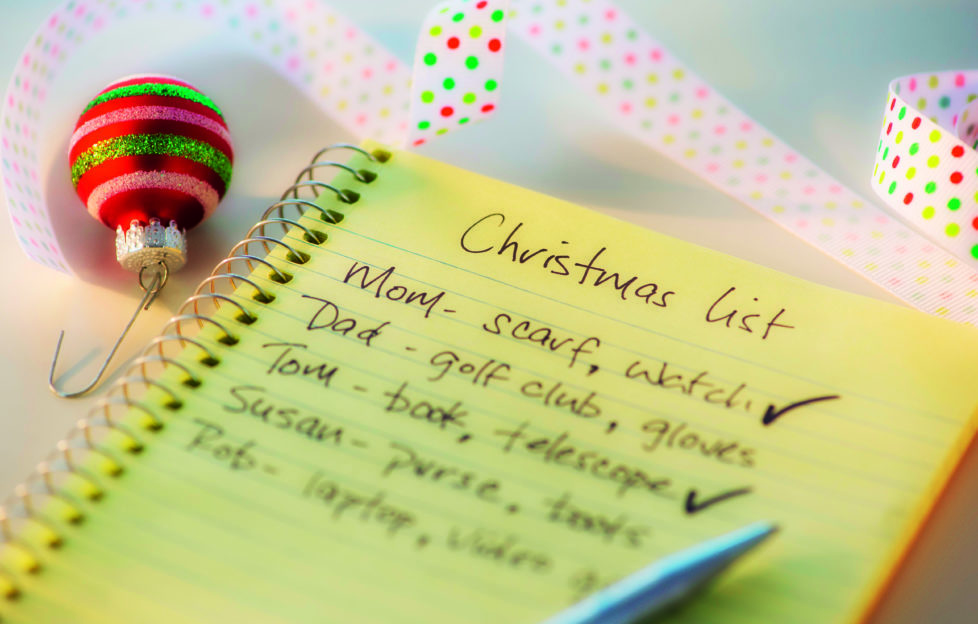 Enjoy a perfectly planned festive season with our Christmas Countdown!
Before we know it we'll be sipping mulled wine, singing along with Mariah, wondering where the time went.
Keeping on top of Christmas 'things to do' can be stressful, but we aim to help you every step of the way with our month-by-month Christmas Countdown.
At the start of every month, we'll give you a definitive list that you can check (and tick!), as the Christmas countdown gets underway!
This October, set your budget, decide who is coming to dinner, and begin to make some lovely heart warming gifts.
Make a List and Check it Twice!
Christmas Dinner is the star of the show! Text your potential guests, asking them to let you know if they can make it – and if they have any allergies or food intolerance's to take into account when planning your menu.
Once you know how many people will be around your table on Christmas Day and if there's anything they can't eat, plan your menu – and set a budget. Flick through online recipes or your favourite cookbooks for inspiration. Although we will be giving you every recipe you will ever need this Christmas – stay tuned!
Table decorations start appearing in the shops in October, so you can decide on your colour theme, traditional reds and golds could be swapped for trendy teal and silver this year. Party food ranges will tempt every one to have themselves a Merry Lidl Christmas, especially those on a budget!
A Budgeted Christmas is a Wise Christmas
Once you've decided on Christmas dinner, it's time to make up your gift list and budget! Help control your spending by being realistic about who to buy for, and how much you can afford to spend.
Book a day off work or re-arrange your schedule so you can go on your first Christmas shopping trip at the beginning of November. Ideally, you'll go at the start of the week, when the shops are quieter. Less busy shops will mean you will spend wisely and not panic buy in the rush.
Choosing to hand-make gifts add a special touch, keep you busy, and save lots of money. Pinterest has a fantastic array of craft ideas and can help you find the right gift to make for the right person. Learn how to make jumpers, chutneys and even gin!
Gifts That Keep on Giving
In the meantime, get cracking with any handmade cards or gifts you're planning to make. Homemade mince pies, gingerbread and chocolate chip cookies can be frozen until required. Marmalade, jams and chutneys will stay fresh for months, and look great in festively decorated jam jars.
If you can knit, there's nothing quite as heart-warming as a hand-knitted jumper (but you have to start now!).  If knitting is not for you, then perhaps you'll learn the wizardry that is home-made gin.  You don't know until you try!
Magazine subscriptions are a useful gift idea and give something all year round. This is a great gift for people, as it's lovely to receive something in the post every week. There are many types of magazines to choose from, with every type of person catered for. (There's even a gin magazine!)
Make Merry with the Duster
In between menu-creating, list-writing and craft-making, squeeze in a pre-Christmas deep clean so you don't end up with all the housework to do on December 24. Start by clearing clothes out that you haven't worn this year, and take to charity shops. LINK. Next up, tackle the woodwork, paintwork and tops of cupboards.
Perhaps buy yourself some festive gloves, or pop or your Christmas Jumper, (with sleeves rolled up), to get you in the mood. Just like wrapping presents on Christmas Wrapping Day, 'Deep Clean Day' could become a permanent fixture in your festive calendar.
Alternatively, pop our Christmas Spotify playlist LINK on in the background and enjoy the process. Knowing that you are cleaning for the holidays is bound to put you in a good mood.
Recap
Christmas Dinner list
Budget
Home made gifts
Deep cleaning
Words: Wendy Glass & Karlie Simmonds