White Chocolate and Raspberry Lollies
---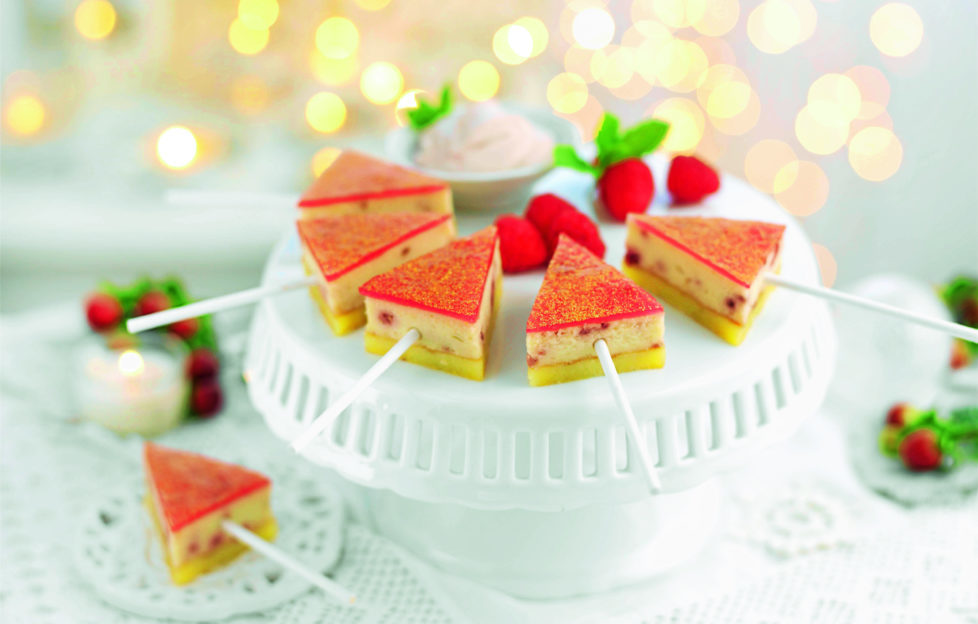 These delicious lollies are the perfect treat for guests to your home at Christmas time!
You'll Need
For the sponge
2 large eggs
120g golden caster sugar
90g plain flour
½tsp baking powder
1 pinch salt
60ml vegetable oil
55ml whole milk
1tsp vanilla extract
For the buttercream
80g white chocolate chips
60ml whole milk, plus 2-3tbsp extra
150g butter, softened
375g icing sugar
1tsp vanilla extract
80g frozen raspberries, chopped
For the topping
1 gelatine loaf
2tbsp golden caster sugar
140g raspberries
1tbsp lemon juice
Edible gold glitter
Method
1 For the sponge: Preheat oven to 180°C, Fan Oven 160°C, Gas Mark 4. Grease and line a 23cm square springform cake tin.
2 Combine eggs and sugar in a large heatproof bowl set over a half-filled pan of simmering water. Whisk until the mixture is 38°C
on a sugar thermometer. Remove from heat and beat with an
electric whisk until thick. Sift in flour, baking powder and salt, folding until smooth. Add oil, milk and vanilla extract, folding again until smooth. Scrape into the tin, spreading evenly. Bake for 18-22min. Cool in tin.
3 For the buttercream: Combine white chocolate chips and 60ml milk in a heatproof bowl. Set over a half-filled pan of simmering water, stirring occasionally until melted. Set aside to cool. Beat butter in a large bowl until thick and pale, about 2min. Beat in icing sugar. Add melted white chocolate and vanilla and beat again until smooth and spreadable. Fold in raspberries. Spoon buttercream on top of the sponge base in the cake tin. Cover and chill until needed.
4 For the topping: Soak gelatine in a small bowl of cold water. Put sugar with 50ml water in a saucepan. Dissolve over medium heat. Add raspberries and cook for 4-5min. Strain hot raspberry juice through a sieve into a small bowl and stir in lemon juice. Squeeze water from gelatin, add to raspberry liquid and whisk until dissolved. Cool for 10min before pouring over buttercream in the cake tin. Cover and chill for 3hr until set, then turn out of tin.
5 To decorate: Add glitter. Cut into 8 triangles and insert lolly sticks.
Prep and cook time:
1hr 25min
3hr chilling
Makes 8