Boxing Day Shakshuka
---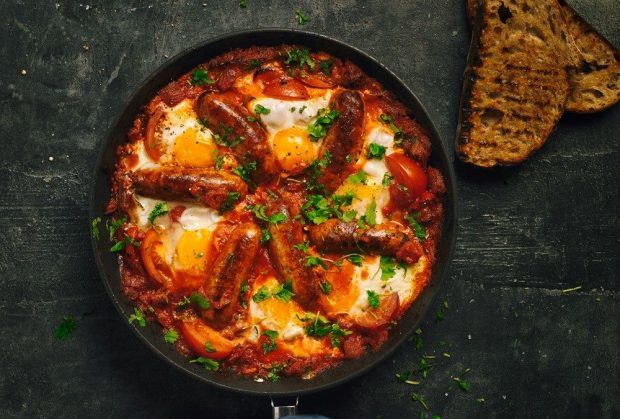 Our version of the hugely popular Middle Eastern egg dish uses Moroccan-spiced pork sausages to make a perfectly flavoursome brunch ideal for Boxing Day morning.
Add an extra garlic clove and a few chilli flakes if you like things spicier (or if you need a little boost to recover from the excesses of Christmas Day…).
You'll need
1 pack MOR Moroccan Spiced Pork, Cauliflower & Chickpea Sausages
6 eggs
2 tomatoes, each cut into 6 wedges
1 x 400g tinned tomatoes
1 green pepper, thinly sliced
1 red pepper, thinly sliced
1 large onion, thinly sliced
3-4 garlic cloves, crushed
1 tsp paprika
1 tsp ground cumin
Salt and pepper
1 tbsp olive oil
To serve
2 tbsp chopped parsley or coriander
Method
Begin by grilling the sausages as per pack instructions, until deliciously golden brown.
While the sausages are cooking, take a large sauté pan, drizzle with oil and fry the peppers and onion for 6 to 7 minutes (until they've softened nicely).
Add the crushed garlic and spices and cook for a further 1 to 2 minutes. Stir in the tomatoes and cook for another 2 to 3 minutes until bubbling. Season with salt and pepper.
Take the cooked sausages and place them in the sauce, leaving space between them. Now crack an egg between each sausage. Scatter over the tomato wedges.
Cook for a further 10 to 15 minutes, making sure to baste the eggs with some of the tomato juice.  If you'd rather, just cover the pan with a lid and finish cooking the dish in a preheated oven at 180°C for 10 to 15 minutes.
To finish, sprinkle over the herbs – then tuck in.
Serves: 6
Cost per serving: £1.14
Preparation time: 5 minutes
Chef's tips
Have extra fresh tomatoes in your fridge? Grab 5, dice, and use them instead of the tinned tomatoes.
If you like your sauce a little richer, try adding a tablespoon of tomato purée.
For an extra kick (and a brunch that's sure to wake you up) amp up the garlic or throw in some chilli flakes or powder.
With a few extras, shakshuka also makes a hearty evening meal. Just add a handful of kale to the tomatoes and sprinkle over some feta before serving.
Like this? Read more from our Food and Drink section