Visit Santa at his home in Äkäslompolo Lapland
---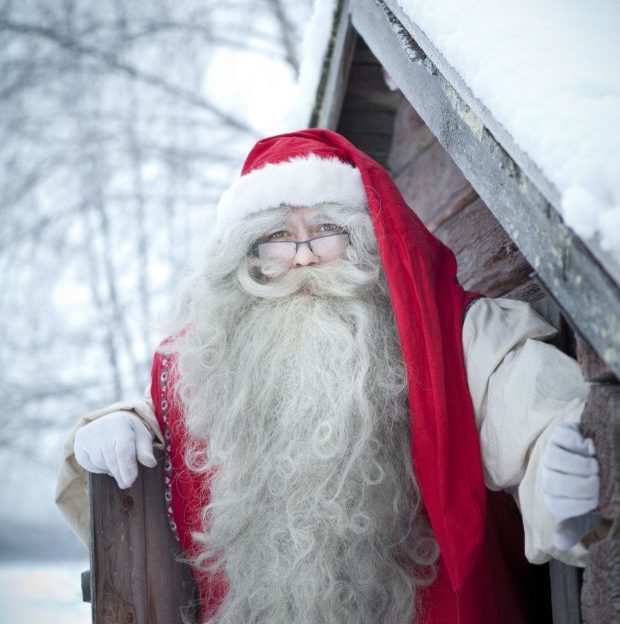 Äkäslompolo is a traditional village located in the Ylläs National Park area of Lapland.
It looks like a typical winter scene from Christmas cards, with the snow pristine white in the forest, and thickly covering the trees. It's a magical place to visit!
Choose to stay in one of many traditional log cabins with a cosy log fire and sauna. These cabins are located all around the village. You can choose from a more central location or one further out of the village on the edge of the forest or a cabin on the lake edge.
The price for a cabin is from €879 (plus a €300 security bond, this is refunded after the final cleaning). Prices are based on 4 people sharing, and includes linen x 4 sets, beds made on arrival, starter food pack, electric, firewood, wifi and final cleaning.
For more details and to book, visit our web site www.funwithsanta.co.uk  And, in the mean time, have a read of some of the wonderful, magical trips we offer for you during your stay. Christmas 2018 and beyond is going to the the best ever!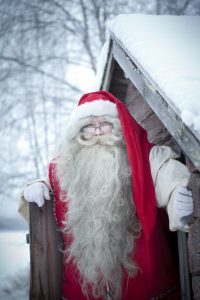 Searching for Santa
(available on certain dates in December)
The perfect Christmas experience for the whole family! You will be collected from the cabin and taken on a short journey into the forest. Once in the forest you will be met by one of Santa's Elves who will be waiting to take you along a candle lit pathway to the Elves cottage, here you will be able to help Mrs Claus decorate some of Santa's favourite gingerbread biscuits and also make some traditional Christmas decorations.
One of the Elves will take each family separately on short snowmobile sled and reindeer sleigh ride searching for Santa, who resides in his cottage nearby. Keep a look out for the tell tale sign of smoke rising from the chimney of Santa' cottage. Once in Santa's cosy cottage you will be able to ask him about his reindeers and any other special questions you may have. Santa will also have a small gift for each child. It will soon be time to say your good-bye's and for his Elf to take you back to their cottage, where you can continue having fun playing with the cross country skis, tobogganing, & kick sleds in their back yard. Of course no outdoor activities would be complete without a sausage grill for you to enjoy.
Duration 2.5 hours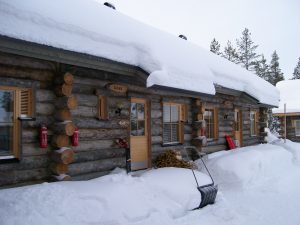 Santa Visiting the Cabin
The snow is thick and sparkling outside, the cabin is warm and there is a cosy glow coming from the log fire, the children are looking out of the window to see if they can catch a glimpse of Santa travelling around the village, there is a great excitement at the window Santa is coming down the pathway to their cabin and he has with him one of his helpers, once inside this wonderful man will spend some time talking to the children telling them some of the magically things about his Lapland home, about his reindeers and all his helpers. He will bring with him gifts for the children. All too soon it will be time to go outside and wave goodbye to Santa.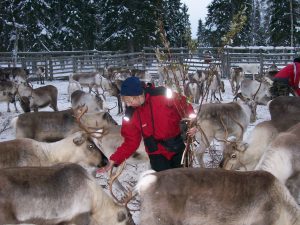 Day at a reindeer farm
You will be welcomed by Sami, Marjut and family to their working reindeer farm, they will tell you about the traditional ways of reindeer farming and the modern methods. You will be able get up close to the animals and feed them with their favourite lichen and birch leaf branches. There will be coffee, hot berry juice and cookies around an open camp fire. You will also be shown how to use a lasso and practice on a very tame wooden reindeer. No visit to a reindeer farm would be complete without a sleigh ride. You will be taken on traditional sleighs on a 1km trail through the forest. Afterwards there will be a chance to look around their small museum which is located in the old family homestead which dates back some 200 years, also in here you will find paintings by Marjut and other reindeer souvenirs including traditional slippers. The trip also includes a homemade soup lunch.
Duration 4.5 hours including 70km coach transfer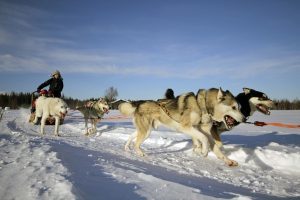 Husky Farm Visit and Sleigh Ride
Your destination is Ylläs Husky farm. There your husky guide will introduce you to some of the one hundred Alaskan and Siberian huskies that live at the farm. You will be given instruction on how to drive the husky sleigh.  It will then be time for you to take part in the 9km sleigh safari. Every participant gets a chance to steer the sleigh. After the trip there will be time to enjoy a coffee in a Lappish tepee with the guides who will be pleased to answer all your questions.
Duration approx 2.5 hours