Super Posh Prawn Cocktail
---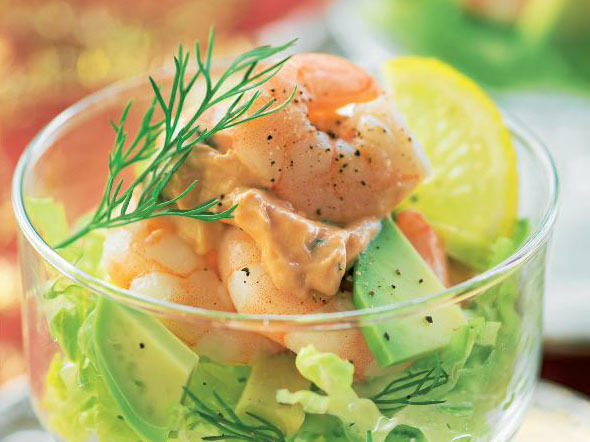 Make this deliciously, posh prawn cocktail, to wow your guests over the festive party season!
Serves: 2
Preparation time: 15min

Ingredients:
1 Little Gem lettuce, finely shredded
1 small ripe avocado, pitted, peeled and sliced
Juice of ½ lemon
2tbsp light mayonnaise
1tsp tomato purée
1tbsp capers
100g large prawns, thawed if frozen
To garnish:
Fresh dill and lemon wedges
To make:
Share the lettuce between 2 serving glasses and arrange the avocado on top.
Squeeze most of the lemon juice over, to prevent the avocado turning brown.
Mix the mayonnaise and tomato purée together, adding the last drops of lemon juice. Stir in the capers and most of the prawns. Share between the glasses.
Garnish with the remaining prawns, dill and lemon wedges. Keep covered and chilled until ready to serve.
Recipes & Styling: Sue Ashworth  
Photography: Nathan King, Jonathan Short