Round Robin
---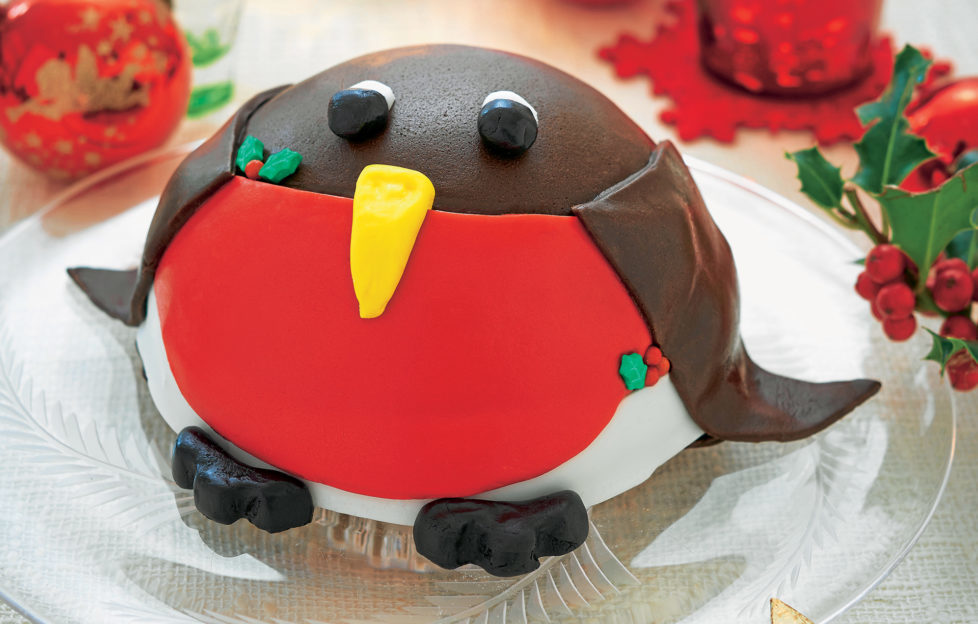 This chirpy little character will brighten your Christmas, just follow our simple steps… and don't miss the Santa version, too!
Serves: 6-8
Cooking time: 20-25min
Ingredients:
14cm small hemisphere mould
110g butter, at room temperature
110g caster sugar
1tsp vanilla extract
2 eggs
120g self-raising flour
Ginger sponge only (optional):
1tbsp black treacle
2tsp ground ginger
½tsp ground cinnamon
To decorate:
250g brown fondant icing
125g red fondant icing
100g white fondant icing
25g black fondant icing
25g yellow fondant icing
4-5tbsp apricot jam
Cornflour for dusting the work surface
An icing turntable (optional)
A silicone nonslip mat marked with concentric circles cake sizes from www.lakeland.co.uk
To make:
Heat the oven to 180˚C, Fan Oven 160˚C, Gas Mark 4. Beat the butter and sugar until light and fluffy then add vanilla extract. Beat in the eggs, one at a time. Sift the flour and fold into the mixture. If you would prefer a ginger flavoured sponge cake, beat the treacle in with the butter and sugar, and sift the spices into the flour.
Spoon into the buttered and floured cake mould, level the top and bake for 20-25min, or until an inserted skewer comes out clean. Allow the cake to become completely cold before you decorate. If necessary use a sharp serrated knife to level the base of the cake.
To decorate, roll a brown fondant circle 25cm diameter to cover the cake. Roll a 15cm diameter brown semi circle from the trimmings for the wings.
Roll a red fondant 15cm diameter semi circle. Roll a white fondant 20cm x 2.5cm rectangle for the base. Cut tiny white semi circles for the eyes.
Mould a beak from the yellow fondant. Hand roll two small black fondant eyes and two feet – little logs with 3 indents.
Put the cake on the icing turntable. Brush with apricot jam – the jam can be warmed with 1tsp water to make it easier to brush over the cake – and fix the brown fondant over the cake, smoothing out folds. Trim around the base.
Jam the back of the white band and fix in place at the base of the cake front. Jam the back of the red semi circle.
Fix the robin's red breast on the front of the cake like an apron. Keep the straight edge at the top and overlap the white strip at the base.
Cut the brown fondant semi circle into two quarters to make wings. Jam the back and fix onto the sides of the robin.
Jam the beak and fix in place. Repeat with the eyes adjusting the white semi circles to alter the robin's expression.
Jam one long side of the feet logs and mould to the base of the cake at the front. Add a sprig of holly, if liked, or even a bow tie!
Recipes & Styling: Janette Marshall
Photography: Clive Bozzard-Hill
Bakeware, Icing and Decorating Equipment: Lakeland