Goats' Cheese Croutes
---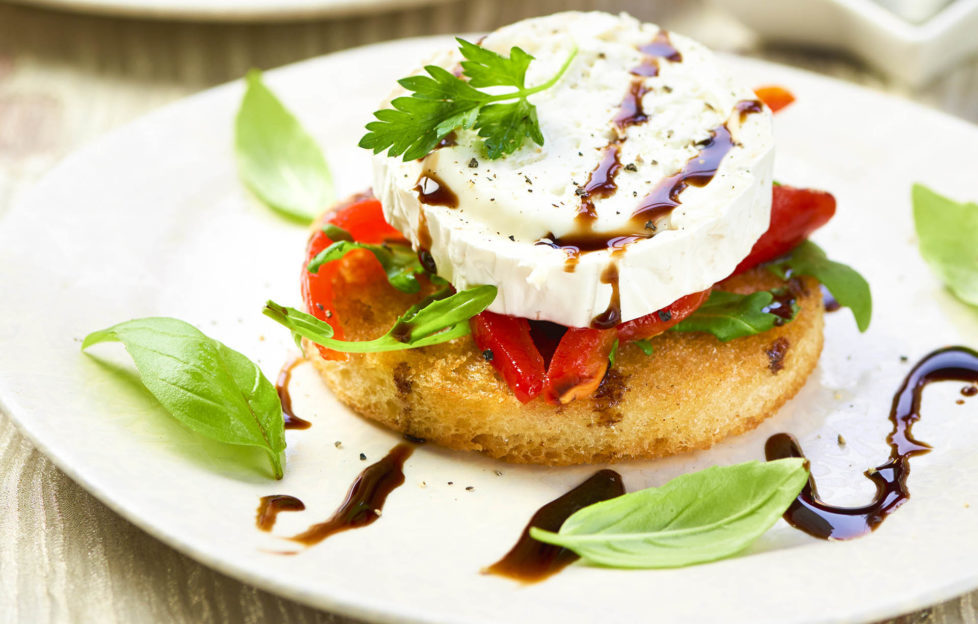 Quick to prepare but very impressive, it's the ideal starter for your festive guests
Serves: 4
Preparation time: 10min
Cooking time: 10min
Ingredients:
Vegetable oil, for greasing
4 slices bread (about 1cm thick)
80g butter, melted
50g rocket
150g roasted red peppers (from a jar), sliced
100g goats' cheese, sliced
4tbsp balsamic glaze
Freshly-ground black pepper
Basil and parsley, to garnish
To make:
Preheat the oven to 190°C, Fan Oven 170°C, Gas Mark 5. Grease a baking sheet with a little vegetable oil.
Use a 9-10cm cutter to stamp out 4 rounds from the slices of bread. Brush these generously on both sides with melted butter. Place on the baking sheet and bake for 8-10min until golden brown.
Arrange the baked bread on 4 serving plates and top with rocket and sliced peppers. Sit a slice of goats' cheese on top, then drizzle with the balsamic glaze. Serve, sprinkled with black pepper and garnished with basil and parsley.
Recipes & Styling: Sue Ashworth  
Photography: Jonathan Short