Limoncello Trifle
---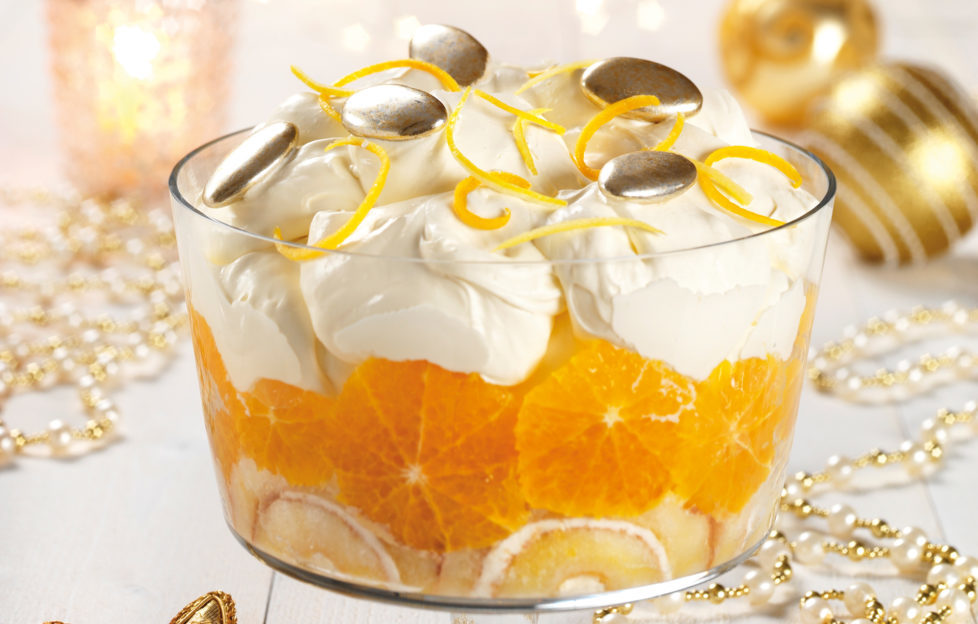 Looking for a showstopping dessert for Christmas Day? I think you've found it!
Serves: 6
Preparation time: 25min plus soaking and chilling
Ingredients:
1 medium lemon
75ml Limoncello liqueur
50g caster sugar
7 x 1cm thick slices lemon Swiss roll, halved
4 small oranges
300ml double cream
Orange and lemon zest and gold or silver chocolate dragees to decorate
To make:
Finely grate the rind from the lemon and place in a non-metallic bowl or jug.  Extract the juice and mix with the rind and 25ml Limoncello. Leave to soak for 2hr, then stir in the sugar until dissolved. Leave aside.
Meanwhile, arrange the Swiss roll round the sides and in the bottom of a 1.5l trifle bowl. Spoon over the remaining Limoncello and chill until required.
Using a sharp knife, slice the top and bottom off the oranges, and cut off the peel in downward slices, taking away as much of the white pith as possible. Slice the orange into thin slices. Arrange over the sponge, and drizzle with any juices left behind from preparing the oranges. Cover and chill until required.
Just before serving, pour the cream into a mixing bowl and whip lightly. As the cream thickens, gradually pour in the lemon mixture and continue whisking until the cream thickens and forms peaks. Pile on top of the oranges. Chill for a maximum of 30min. Decorate with orange and lemon zest and chocolate dragees. Serve immediately.
Recipes & Styling: Kathryn Hawkins 
Photography: Stuart MacGregor