Make Your Own Marble Baubles
---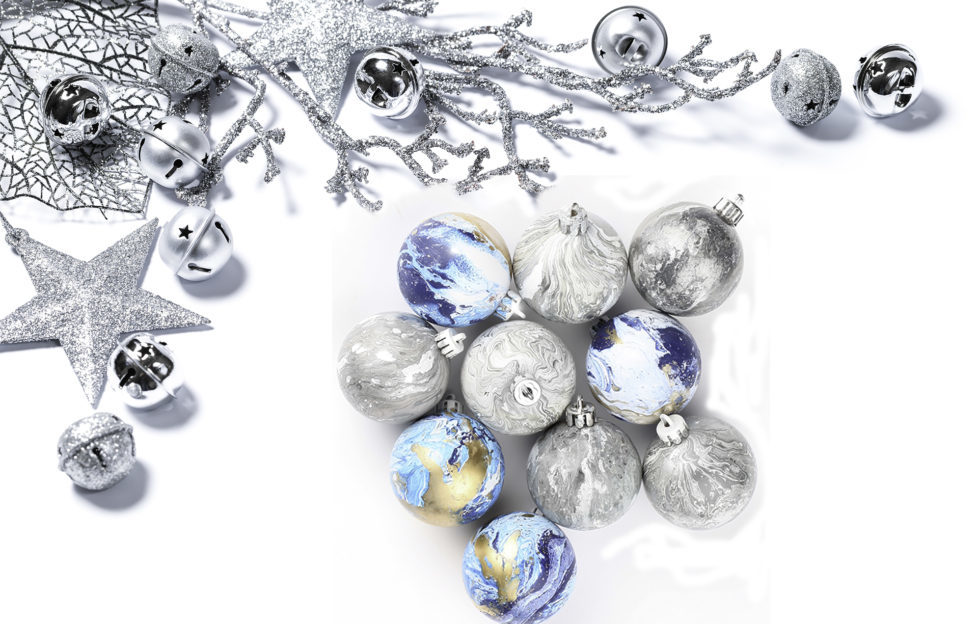 Background pic: Istockphoto
Give your old coloured baubles a glamorous and quick marble makeover courtesy of Rust-Oleum!
We've decorated these old baubles in Winter Grey and Chalk White, with metallic Chrome, but Blue and Gold also works well – or make you own colour scheme.
Rust-Oleum's Painter's Touch, available in 42 colours, is ideal for everyday projects. Simply choose two shades to match your colour scheme and accent with a shiny spray from Rust-Oleum's Metallic spray paint range.
You will need:
Rust-Oleum Painter's Touch in two colours (we used Winter Grey and Chalk White in the step-by-steps)
Rust-Oleum Metallic spray paint in one colour (we used Chrome)
A container, deep enough to fill with water and submerge your baubles
String
Bauble hooks
Rust-Oleum Surface Primer (optional)
To make:
1 Using string, create an area for hanging baubles to dry. You may want to cover the floor with dust sheets or newspaper to protect from spray mist and drips.
2 Attach bauble hooks to each bauble. If necessary, prime your baubles in a well-ventilted area with with Rust-Oleum Surface Primer. We primed darker-coloured baubles to ensure none of the original colour showed through.
3 Take your first can of Rust-Oleum spray paint and shake thoroughly. Holding your can approximately 20cm away, spray your paint onto the surface of the water. Repeat this step until you've used two colours and the metallic paint.
4 Your paint should sit on the surface of the water. Stir until you're happy with the consistency and colour mixture. You can add more paint and mix again if necessary.
5 Holding your bauble at the top by the hook, slowly submerge it into the water and then remove it. It should be covered in a marble effect.
6 Hang your baubles and leave to dry.
7 Experiment with a range of colours and metallics to create the perfect Christmas tree decorations.
Stockists of Rust-Oleum Paint
For stockist information and more inspiration please visit www.makeityours.co.uk.
Rust-Oleum Painter's Touch, 400ml, £9.49, Rust-Oleum Metallic Spray, 400ml, £10.99. Available at B&Q, Homebase, Wilko and Amazon.