Caramelised Salted Pecans and Popcorn
---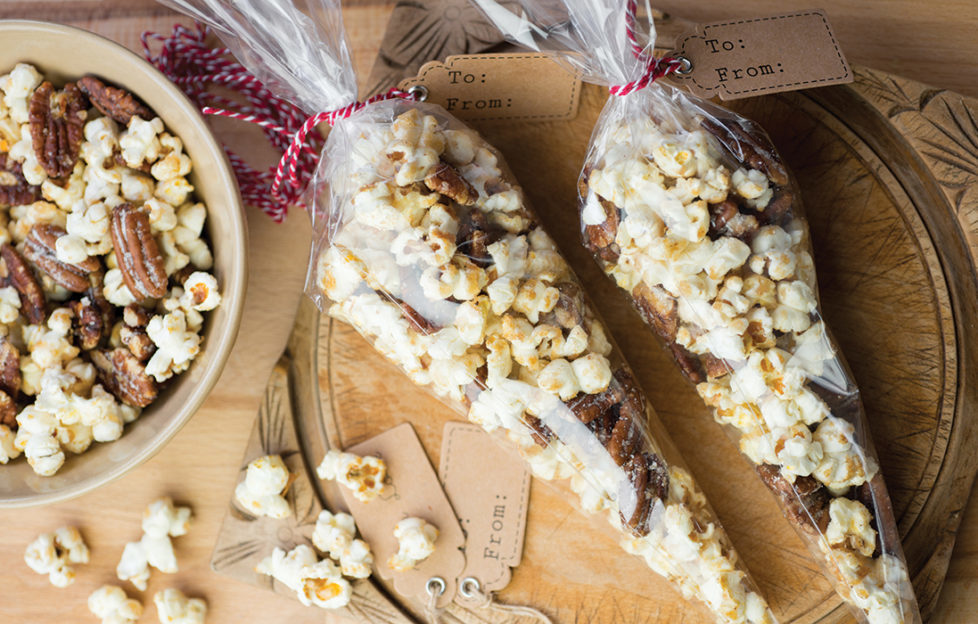 Trying to save money? This is a great edible gift – easy and not expensive to make
Serves: approx 6 x 50g packs
Preparation time: 20min
Cooking time: 5min
Ingredients:
1tbsp vegetable oil
100g popping corn
150g pecan halves
20g butter
3tbsp caster sugar
2-3tsp sea salt
To make:
Heat a large saucepan with a tight-fitting lid. Add the vegetable oil and popping corn. Put the lid on and shake the pan. Place over a medium-high heat and cook, shaking the pan occasionally, until the corn starts to pop.
Continue to cook over a low heat until the popping subsides, carefully shaking the pan from time to time. Tip into a large bowl and cool, removing any un-popped kernels.
Heat the pecans in a large dry frying pan or wok for about 2min, stirring, then add the butter and allow to melt. Sprinkle in the sugar and cook for 1-2min, until just beginning to smoke a little. Remove from the heat, add the popcorn and leave to cool. Sprinkle in the salt.
Pack up in clear sweet bags, tie securely with ribbon or string and label. Tastes wonderful sprinkled onto vanilla ice cream.
Tip: Great for giving to a party host or a neighbour at Christmas.
Recipes & Styling: Sue Ashworth
Photography: Jonathan Short