Classic Christmas Pudding
---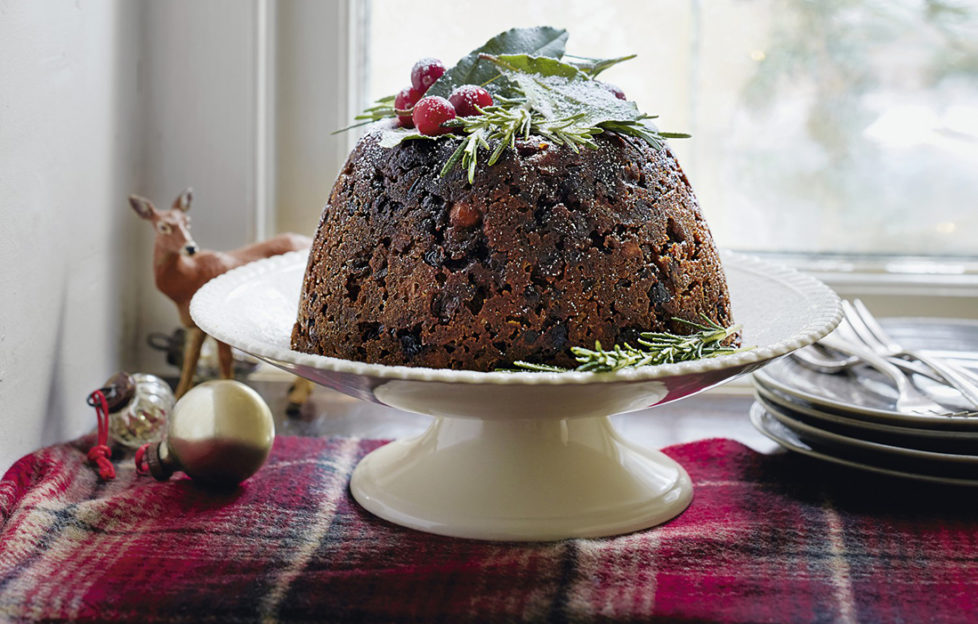 Stir up a special treat to serve on Christmas Day! Warm through and set alight before serving…
Serves: 12
Preparation time: 20min, plus soaking overnight
Cooking time: 6hrs, plus 2hrs reheating
Ingredients:
300g mix of green and golden raisins, dried cranberries, dried cherries and dried blueberries
100g currants
50g mixed peel
175ml brandy
100g plain flour
1tsp baking powder
125g fresh white breadcrumbs
175g dark brown muscovado sugar
½tsp ground cinnamon
½tsp ground nutmeg
Grated zest 1 lemon or orange
150g shredded vegetable suet
1 Bramley apple, peeled and coarsely grated
50g blanched almonds, roughly chopped
3 medium free range eggs, beaten
Butter, for greasing
To make:
Place the dried fruit and mixed peel in a large glass bowl. Pour over the brandy, mix well, cover and place in the fridge to soak overnight.
In a large bowl, mix together the flour, baking powder, breadcrumbs, sugar, spices, citrus zest, suet, apple and almonds. Stir in the soaked fruit and any remaining juices. Add the beaten eggs and stir until well mixed.
Lightly butter a 1.2-litre pudding basin and place a disc of baking parchment in the base. Spoon in the mixture, cover with 2 sheets of baking parchment topped with a double layer of foil and tie in place with string, making a handle for lifting.
Place the pudding in a large saucepan and pour hot water halfway up the sides. Cover and steam for 6hrs, topping up with hot water from time to time.
Lift the pudding basin from the pan and leave to cool completely. Remove the foil and baking parchment and cover with fresh sheets. Store in a cool, dark place for up to 6 weeks.
To reheat, steam for 2hrs as before until piping hot, then invert the pudding onto a large plate to serve.
Tip: To flame the pudding for serving, warm 100ml brandy in a small saucepan but make sure you don't allow it to boil. Pour it over the pudding and, keeping it at arm's length, quickly ignite.
Recipes & Images: Waitrose & Partners