Xmas Shopping In The Capital? Stay In The House of Sparkle!
---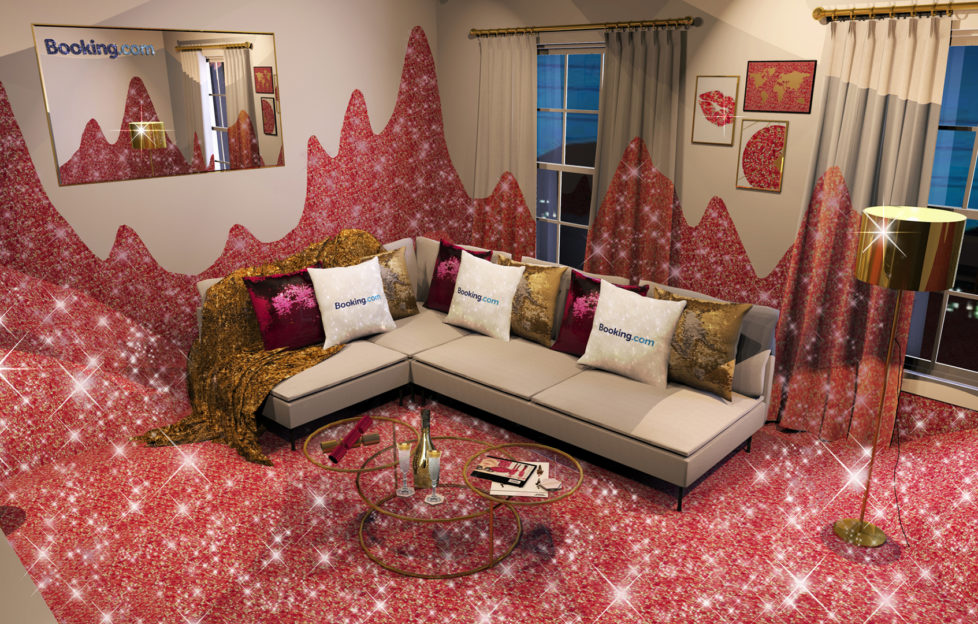 Living room in House of Sparkle
If you love everything about Christmas – especially the sparkling decorations – then this is the accommodation for you! Booking.com launches the world's most sparkly townhouse in London…
Fans of glitz and glamour have a unique opportunity to book a stay at the "House of Sparkle", a 2,000 square foot townhouse decked from ground floor to roof in glitter, sequins and shimmer, available exclusively on Booking.com from December 7-9, 2018.
Just in time for the holiday season and located in the fashion hotspot of Soho in central London, House of Sparkle has been designed for Booking.com by Christian Cowan who has famously dressed the likes of Beyoncé, Cardi B and Lady Gaga, and is renowned for bringing fun to the fashion world with copious amounts of color, glitz and glamour.
Christian hasn't worked on anything like this before, but he had so much fun on this project.
My designs typically feature a bit of cheeky humor mixed with a youthful take on how modern-day women can dress – transforming them into something truly head-turning! Inspiration for House of Sparkle came from my latest collection featuring shimmer, drama and of course, glamour. I've had so much fun collaborating with Booking.com on the townhouse design – this is the first time I've channelled my vision into an amazing place to stay.
Everything from floor to ceiling, including the bedroom, bathroom, closet, dining and lounge area in the four storey, custom-designed townhouse will celebrate all that sparkles.
Guests will be able to relax in a lounge dipped in pink glitter or shower in a bathroom amongst blue glittery clouds with giant silver sequin rain installations. A curtain of metallic streamers leads guests into the master bedroom, to a party sparkly world of metallic pinata textures, disco balls and mirror details.
A welcome hamper will be provided full of delicious drinks and snacks plus some sparkly games to get guests in the festive spirit. A selection of Christian Cowan clothes will be available to try on and a makeover station full of the latest shimmery products ensures guests will be given the full glitter experience. More, is definitely more!
It's all in the detail
100kg of sustainable glitter were used in curating the townhouse
36,000 gold sequins were used to cover the exterior of the property
Approximately 2 kilometers in length of metallic streamers adorn the interior walls
52,000 mirror ball facets dazzle in the disco party bedroom
Book your stay – but be quick!
Priced at just £99 per night, this unique, overnight experience is available for just three x 1 night stays (2 people per night) on the 7th, 8th and 9th December.
Located at 19 Greek Street, London, W1D 4DT the House of Sparkle will open bookings for its December 7 stay on November 22 at 10am GMT, with the stays for December 8 and 9 being released at 10am GMT on November 27 and December 3 respectively.
 For more information and to book this unique experience, visit https://www.booking.com/.