Best of the Christmas Flicks
---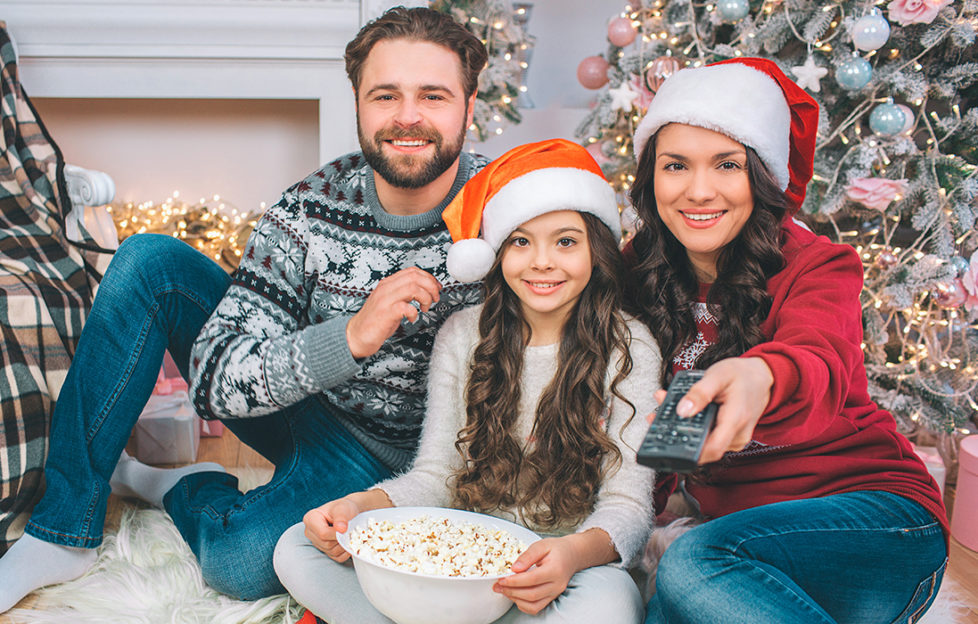 Pic: Istockphoto
After choosing either a seat at the local cinema or a well-worn sofa at home, there are plenty of Christmas classics and exciting new films for you to watch this year. Here is a pick of some of the best…
The Grinch (U)
Dr. Seuss' classic story has had a number of revamps and retellings. This latest effort sees the fantastically named Benedict Cumberbatch voice the grumpy, green Grinch, determined to make everyone as miserable as he is over Christmas. The eponymous anti-hero is accompanied by his loyal dog Max as he looks to rob the ever-joyful inhabitants of Whoville of their Christmas cheer. Every film version of this story has its own charm; the silky-smooth animation here makes it especially colourful.
Perfect for: Families with young kids
The Polar Express (U)
Modern films will always struggle to attain the prestigious title "Christmas classic" but The Polar Express has so much magic to it and has so many gorgeous scenes that it can certainly make a strong claim. The presence of Tom Hanks also helps. Hanks teamed up once more with filmmaker Robert Zemeckis, the two having previously collaborated on Forrest Gump and Cast Away. The Polar Express is a spectacular animation that isn't afraid to explore the dark side of adventure. But like all good Christmas classics it will leave you with a real feeling of warmth, no matter the weather outside.
Perfect for: Families with adventurous kids
The Nightmare Before Christmas (PG)
Jack Skellington, the king of Halloween Town, sounds like an unlikely protagonist for a musical Christmas film. This quirky, gothic, stop-motion animation is typical of producer Tim Burton's style. Disney released the film but did so through one of their separate distribution labels as they thought the film would be too scary for some kids. The story and the aesthetic of the animation are certainly dark but for some kids this is exactly the kind of thing they will get excited about. Plenty of big kids will enjoy it too.
Perfect for: Those who like Halloween just as much as Christmas
Love Actually (15)
A quintessential British romcom from Richard Curtis. The ensemble cast includes Hugh Grant, Keira Knightly, Liam Neeson, Colin Firth, Emma Thompson and the late, great Alan Rickman. Okay, so it isn't as challenging or dark as some other films you could watch but it's the warmth and fluffiness of it that makes it the perfect Christmas film to curl up to on the couch. Get some hot chocolate (or something stronger), get some good snacks and get settled in to watch a film that will help you ease into your own form of hibernation.
Perfect for: Curling up with your significant other
Home Alone (PG)
Every kid dreams of getting the run of the house, but when a pair of calamitous burglars target young Kevin McCallister's home, he has to deck the house out from top to bottom with increasingly ingenious booby traps. The grand family home is the setting for this slapstick classic. Writer John Hughes has been responsible for plenty of 80s and 90s classic comedies and Home Alone is his festive signature piece. The sequel, Home Alone 2: Lost in New York is just as much fun.
Perfect for: Cheeky kids and fans of slapstick
The Apartment (PG)
One of those "Is it a Christmas film or isn't it?" entries. Is it set round about Christmas? Check. Is there snow? Check. Is it a feel-good film? Check. Eventually. The Apartment was nominated for ten Academy Awards including Best Picture, Best Director and Best Screenplay. There are two great performances in Jack Lemmon as Bud Baxter, the passive insurance worker and Shirley MacLaine as the seemingly doomed Fran. Bud gets walked over by his colleagues as they use his apartment for extramarital affairs but when he meets one of the mistresses, he becomes more involved than he would like to be.
Perfect for: Fans of the Golden Age of Cinema
The Snowman (U)
One of the best-loved Christmas films of all time accompanied by one of the best original soundtracks of all time. The endearing animation lasts less than half an hour but has left a lasting impression on all who have watched it. Based on Raymond Briggs' book, the film was nominated for an Academy Award for Best Short Film. Other than the introduction by David Bowie and the lyrics to Walking in the Air, the film is completely wordless, something that just makes it all the more impactful. It has since spawned a sequel, The Snowman and the Snowdog, an equally beautiful film.
Perfect for: Everyone