Panna Cotta with Rhubarb
---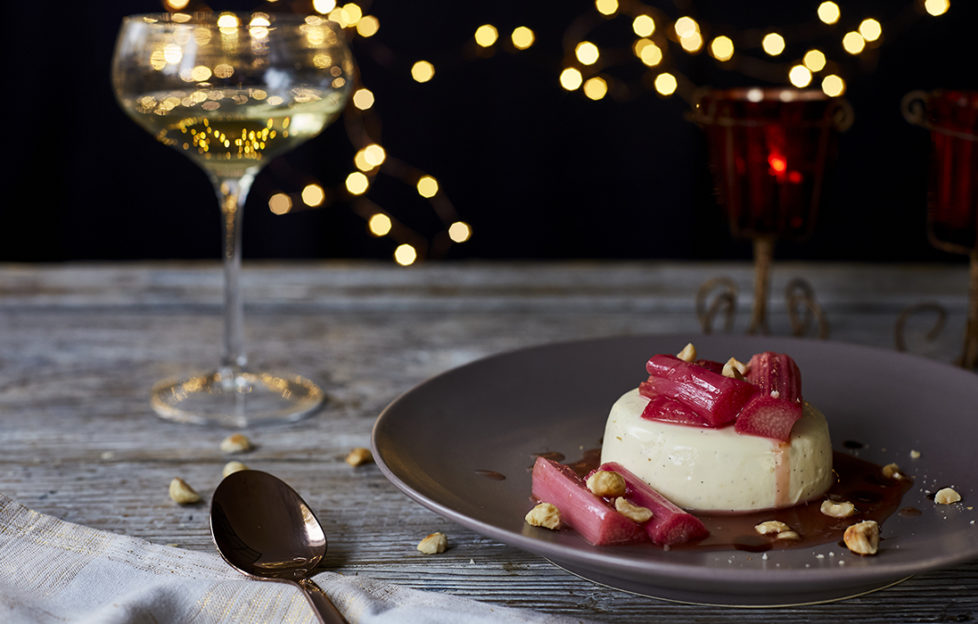 A Christmas Day dessert with orange peel, Moscato and balsamic and hazelnut croquante
Mazzetti Balsamic Vinegar of Modena has landed in the UK for the first time, launching two of its balsamic vinegars into Sainsbury's stores nationwide, just in time for the festive entertaining season.
Brand ambassador and renowned Italian chef Theo Randall brings us this special dessert for your festive guests. Traditionally you might not expect to find balsamic vinegar as a key ingredient within a sweet dessert recipe, however the Mazzetti Etichetta Oro works perfectly to flavour the fruit during the baking process, as well as a final dressing.
Serves: 8
Preparation time: 45min, plus 2hr chilling
Ingredients:
1.2 litres double cream
2 vanilla pods – split open lengthways
Thinly peeled rind of 1 lemon
3 gelatine leaves
150ml cold milk
1tbsp grappa
150g icing sugar
2 sticks rhubarb
150g vanilla sugar
Thinly peeled ring and juice of 1 blood orange
1tbsp Mazzetti Etichetta Oro Balsamic Vinegar
75ml Moscato d'Asti
Hazelnut croquante, to serve
To Make:
Heat 900ml of the cream with the vanilla pod and lemon peel until boiling, then simmer until reduced by a third. Pour into a large bowl set over ice and leave to cool.
Soak the gelatine leaves in the cold milk for 5-10min until soft. Remove from the milk and reserve. Warm the milk gently until just below boiling point. Off the heat, add the soaked gelatine and stir until melted, then strain the milk into the reduced vanilla cream. Stir in the grappa. Leave the cool again, whisking every 5min to prevent the mixture from going lumpy.
Whip the remaining cream with the icing sugar to soft peaks. When the vanilla cream has cooled and reached the consistency of double cream, take out the vanilla pod and lemon peel, then fold in the sweetened whipped cream.
Pour the mixture into cappuccino cups or other small moulds and leave to set in the fridge for at least 2hr.
Meanwhile, prepare the rhubarb.Preheat the oven to 180ºC. Cut the rhubarb into batons 5cm long and 2cm wide.  Spread them in a baking dish and cover with the vanilla sugar. Add the orange peel and drizzle the orange juice, Mazzetti balsamic vinegar and Moscato d'Asti over the rhubarb. Cover with foil and bake for 15min until the rhubarb is tender but not stewed.
To serve, dip the cups in hot water for 5-10secs – the panna cotta should turn out easily (or you can serve in the cups). Top each panna cotta with some rhubarb and its juice and a couple of drops Mazzetti balsamic vinegar with hazelnut croquante on top.