Dark Chocolate & Coconut Tart
---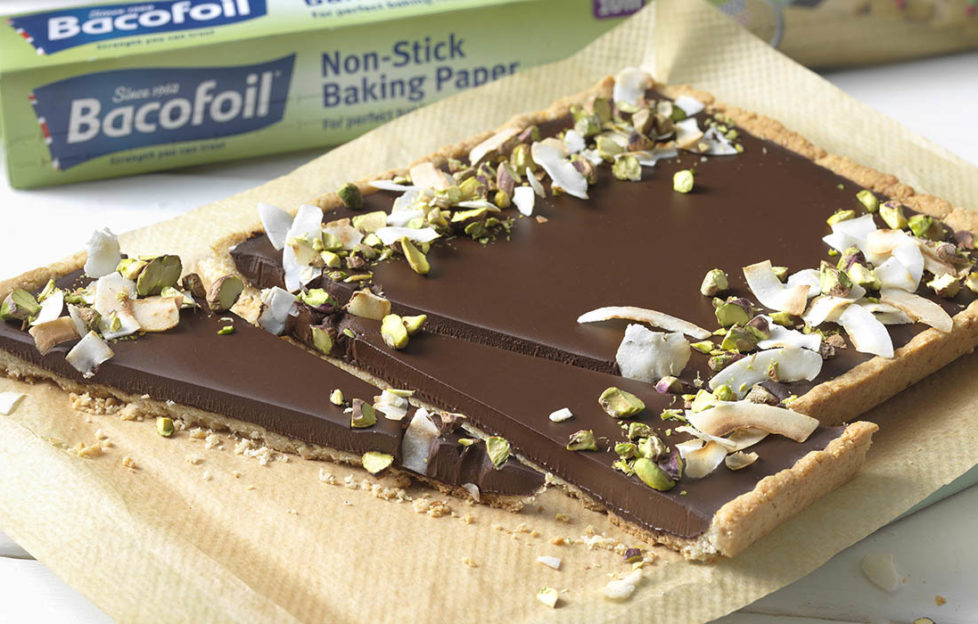 Indulge in this delightfully rich recipe, which is suitable for both plant-based and gluten-free diets.
Cook the luxurious dark chocolate and coconut tart on Bacofoil® Non-Stick Baking Paper for effortless baking. The unique textured surface ensures the pastry lifts seamlessly off the paper, perfectly baked with no cracks or mess. Serve decorated with toasted coconut flakes and chopped pistachios.
Serves: 8
Preparation Time: 30min
Cooking Time: 20min + chilling
Ingredients:
Bacofoil® Non-Stick Baking Paper
100g gluten-free plain flour
100g ground almonds
25g milled linseed
1-2tbsp brown rice syrup (or maple syrup)
50g coconut oil, melted
2tbsp cold water
300g full fat coconut milk (from a can)
300g vegan dark chocolate
1tsp vanilla extract
60g brown rice syrup (or maple syrup)
Toasted coconut pieces and chopped pistachios, to decorate
To Make:
Preheat the oven to 170ºC fan/190ºC/Gas 5. Line a baking tin (approx 20cm x 30cm, or 24cm diameter or similar) with Bacofoil® Non-Stick Baking Paper. Make sure the sides are about 2cm deep.
To make the pastry, combine the flour, almonds and linseed in a bowl. Mix the brown rice syrup into the melted coconut oil, then drizzle it over the flour mixture.
Use a blunt knife or palette knife to chop through and mix until it becomes evenly clumpy. Add 2tbsp cold water and mix again with the knife until the mixture starts to clump together (add another 1tbsp water if required).
Press the crumb into the lined tin so that it covers the base and sides evenly. Prick the surface with a fork. Scrunch up another piece of Bacofoil® Non-Stick Baking Paper, then unfold and place gently on top of the pastry base.
Fill with baking beans or raw rice to weigh down the paper and pastry. Bake for 20min or until pale golden brown.
Leave to cool for a few min, then carefully lift out the beans and allow the pastry to cool fully.
While the base is cooling, make the filling. Break the chocolate into a heatproof bowl, add the vanilla and rice syrup.
Heat the coconut milk in a small saucepan until hot but not boiling. Then pour over the chocolate and stir until everything is melted and well mixed.
Pour into the pastry case and smooth over. Allow to cool, then chill until set.
Decorate with toasted coconut flakes and chopped pistachios, and cut into small slices to serve.
Tip: If your tin doesn't have a loose base, before lining, add two extra strips of Bacofoil®Non-Stick Baking Paper, in a cross shape, and use them to help lift the finished tart out of the tin after cooling