Spiced Carrot & Ginger Soup
---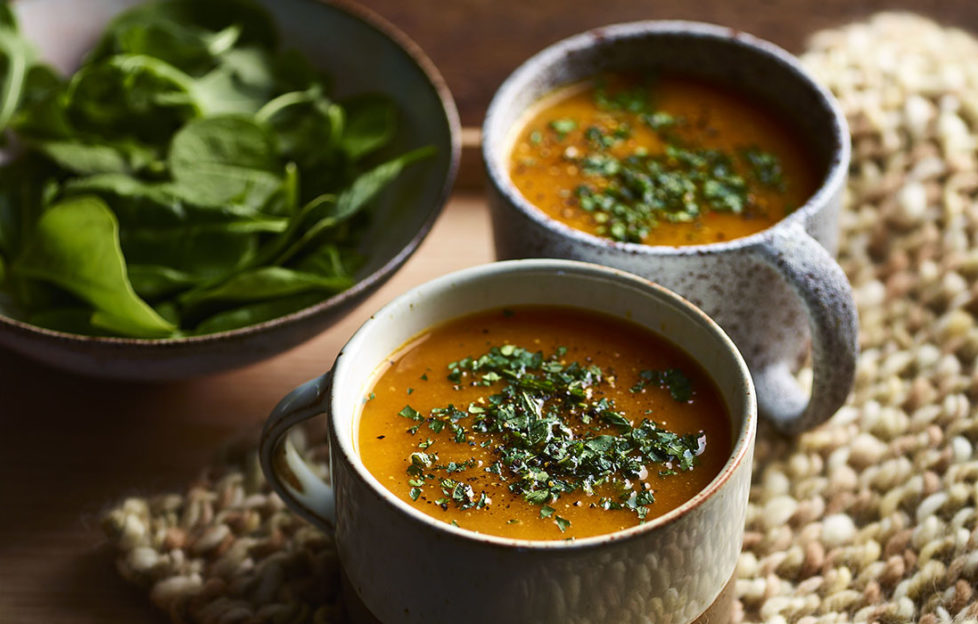 Sweet carrots and fiery root ginger are a match made in soup heaven. We've made this dish even more delicious with a hint of harissa and a trio of chopped fresh herbs.
This recipe is taken from 30 Minute Meals From WW (the new WeightWatchers). With healthy meal choices from cuisines around the world, it proves that fast food doesn't have to be unhealthy. The new recipes are full of ZeroPoint foods to keep you feeling full.
Available exclusively in WW Wellness Workshops in the UK and online, £9.95.
Preparation time: 5min
Cooking time: 25min
Serves 4
Freezable 
SmartPoints value per serving: 0
Ingredients
Calorie controlled cooking spray
30g fresh ginger, grated
2 cloves garlic, finely chopped
1tbsp harissa paste
1tsp ground cumin
½tsp ground coriander
2 x 300g packs prepared carrot batons
900ml vegetable stock, made with 1 stock cube
Small handful each fresh coriander, flat-leaf parsley and mint, leaves picked and roughly chopped
Mixed salad leaves, to serve
To Make
Mist a large pan with cooking spray and cook the ginger and garlic over a medium heat for 2min until softened. Add the harissa and spices and cook for 1min until fragrant. Add the carrots and stir to combine.
Pour in the stock and bring to the boil. Reduce the heat, then simmer, covered, for 20min until the carrots are just tender.
Using a stick blender, blitz the soup until completely smooth. Ladle into bowls, scatter over the fresh herbs, season with freshly ground black pepper and serve with the salad leaves on the side.
The carrot & ginger soup can be frozen in an airtight container for up to 3 months.