Swedish Soft Gingerbread Cake With Pink Frosting
---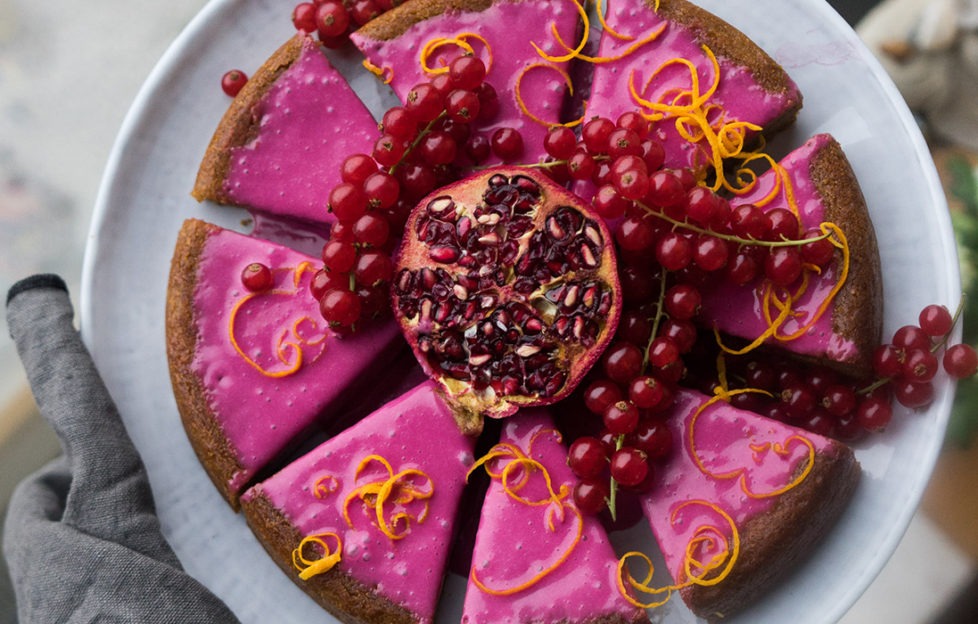 From Bettina's Kitchen comes this fabulous vegan, gluten-free version of Swedish Soft Gingerbread Cake. 
This is a great alternative to Christmas cake. It's 100% plant-based, and gluten-free, for those family members with dietary or allergen requirements. The rest of the family will most probably also dig in too!
Serves: 8
Preparation time: 20min
Cooking time: 55min

Ingredients: 
For the cake
1 sweet potato, peeled and diced
200g almond flour
140g gluten-free flour (alternatively, good quality wholemeal flour)
250ml plant milk (almond, oat or soy)
200g brown sugar
1/2tsp baking powder
1/2tsp bicarbonate of soda
2.5cm fresh ginger, finely grated
1tsp cinnamon
1tsp cardamon
1/2tsp ground cloves
Pinch of nutmeg
Pinch of black pepper
Pinch of salt
For the topping
Coconut yogurt or other plant yogurt
1 vanilla pod, deseeded
1tbsp grated beetroot
1tbsp maple syrup
Decorations
Pomegranate seeds
Orange zest
Berries
To make:
Preheat the oven to 180C. Grease and line a 900g round cake tin, or use a round silicone mould.
Start by boiling the sweet potatoes. Once soft, purée in a food processor. Measure out 125g and set aside.
Add all the other cake ingredients to a food processor, including the puréed sweet potatoes, and blitz together until you have a lovely smooth mixture.
Pour the mixture into the cake tin and place in the oven for 40-45min.
While the cake is cooking, make your icing by blitzing coconut yogurt, beetroot and vanilla pod with a splash of maple.
When the cake is ready it should feel firm, and a skewer or toothpick inserted into the centre should come out clean.
Once out of the oven, let the gingerbread cool a little, then turn it out of the cake tin and let it cool completely on a wire rack.
Once the cake is cool, add your beautiful frosting and spread evenly. Top off with pomegranate jewels and berries and serve.