Squash, Spinach, Feta & Pine Nut Christmas Wreath
---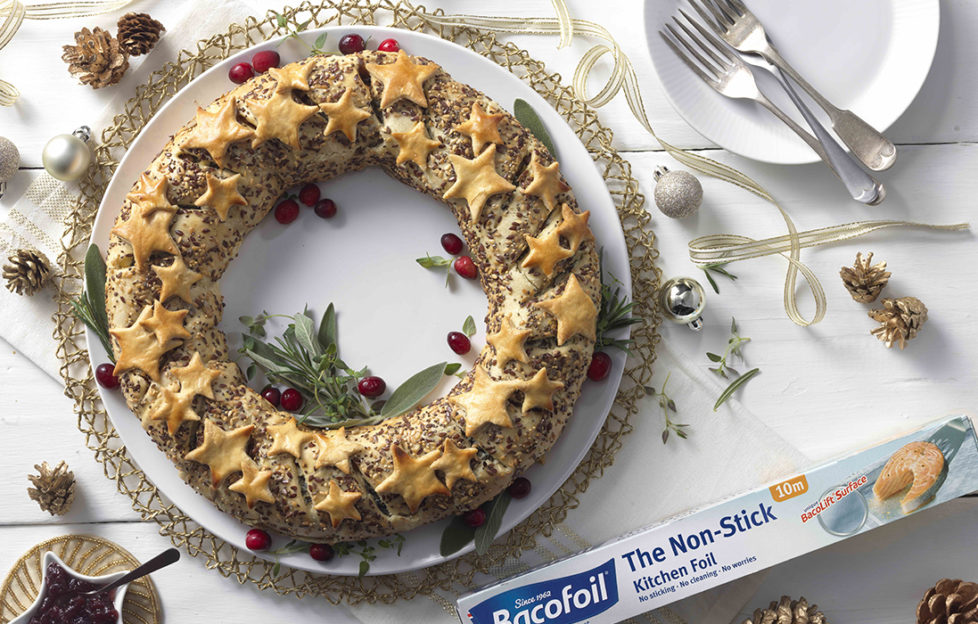 This stunning centrepiece is a delicious festive accompaniment or vegetarian main meal.
The tasty filling will be an instant crowd-pleaser with rich feta and ricotta, plus crunchy pine nuts. Cooking on Bacofoil® The Non-Stick Kitchen Foil will ensure your vegetarian wreath comes out of the oven just as it went in! Present on a platter with fresh herbs and cranberries.
Serves: 8
Preparation Time: 45min
Cooking Time: Approx 2 hours
Ingredients:
For the pastry
Bacofoil® The Non-Stick Kitchen Foil
400g plain flour
Pinch of salt
200g cold butter, cut into chunks
6tbsp cold water
For the filling
1 large butternut squash
3 cloves garlic, unpeeled and smashed
Pinch of sea salt and black pepper
1tbsp olive oil
1 red onion, peeled and cut into chunky slices or diced
50g pine nuts
2tbsp chopped fresh herbs (a mixture of thyme, sage, rosemary and parsley)
200g feta cheese, crumbled
200g baby spinach
1 x 250g tub ricotta cheese
¼tsp ground nutmeg
To decorate
1 egg
2tbsp milk
2tbsp mixed seeds
To Make:
For the squash filling: Peel, de-seed and chop the squash into 2cm pieces and place on a baking tray lined with Bacofoil® The Non-Stick Kitchen Foil, non-shiny side facing up (this will ensure the squash doesn't stick). Add the garlic cloves, season with salt and pepper and drizzle over the oil. Roast for 30min.
Mix and turn the squash pieces, then add the onion and pine nuts and roast for a further 15-20min until the squash is tender but not too soft. Squeeze the garlic out of the skins and mash. Discard the skins and mix the roast garlic through. Set aside to cool.
For the pastry: Blitz flour, salt and butter in a food processor for a few seconds until it resembles fine breadcrumbs then add 4tbsp cold water and whizz for a few more seconds until it starts to clump together. Tip onto a board and press together and form into a log shape. Wrap in Bacofoil® All Purpose Cling Film and chill.
For the spinach filling: Drain ricotta on 2 pieces of kitchen paper. Wash spinach, then roughly chop it and place in a large lidded saucepan. Wilt over medium heat for 2min, then drain and cool.
Transfer spinach to a bowl and mix with ricotta, nutmeg and black pepper. Add half the feta, mix again then set aside.
Mix the rest of the feta and all the chopped herbs into the squash filling. Preheat the oven to 160ºC fan/180ºC/Gas 4. Line another large, square baking tray with Bacofoil® The Non-Stick Kitchen Foil.
To assemble: To create your vegetarian wreath, unwrap the pastry and roll out on a large, floured board into a very long, thin rectangle approx 60cm x 20cm. Trim the edges and keep aside. Arrange the spinach filling along the length of the pastry, keeping a gap on either side. Top with the squash mixture.
Beat the egg with the milk and brush a little along the two long edges of pastry. Carefully roll away from you to form a long sausage shape, with the seam on the bottom. Transfer to the lined baking tray and form gently into a ring. Brush the ends with egg wash and join together, then brush all over the top with egg wash and sprinkle with the seeds. Make a few diagonal slashes in the pastry.
Roll out the remaining pastry and use star cutters to make some stars. Arrange the stars on the wreath, using a little egg wash to secure and glaze.
Cook in the oven for 45min, then cover loosely with kitchen foil to stop it browning too much. Cook for a further 10-15min until golden. Place your vegetarian wreath on a platter, decorate with fresh herbs and cranberries and serve with dinner accompaniments.