Alcohol Free Red Wine Mocktails For Christmas
---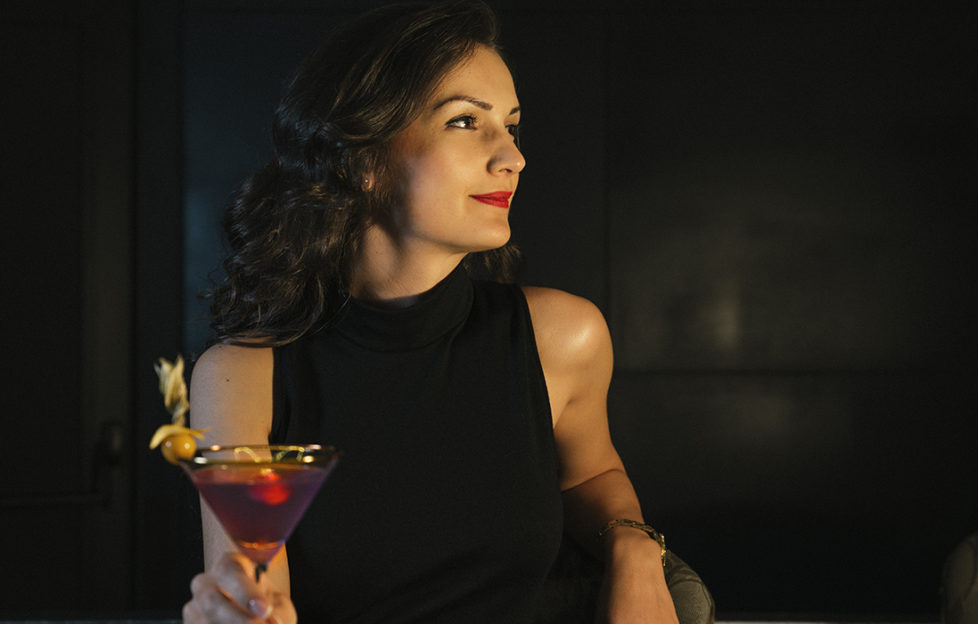 Elegant Woman In a Night Club Drink Cocktail

With Eisberg, the UK's number one alcohol free wine, you can enjoy your favourite drink without the alcohol or calories.
Made in exactly the same way as regular wine, but with the alcohol gently removed at the end. Eisberg is a tasty alternative and contains fewer than 33 calories per 125ml glass!
The Cabernet Sauvignon is rich and fruity, with a deep ruby colour and aromas of cherries and plums. At only 28 calories per glass, what's not to love?
Eisberg Cabernet Sauvignon is available from supermarkets nationwide, RRP £3.50.
Fruity Cobbler

Ingredients:
Slice of pineapple
Slice of orange
Slice of lemon
Slice of lime
1tsp sugar
Juice of ½ a lemon
Crushed ice
100ml Eisberg Alcohol-Free Cabernet Sauvignon
To Make:
Add a slice of pineapple, orange, lemon and lime to a mixing glass with 1tsp sugar and muddle with a rolling pin.
Squeeze the juice of half a lemon. Pour in with the fruit and sugar mixture and add crushed ice.
Pour 100ml alcohol-free Cabernet Sauvignon over the ice and stir.
Strain the mixture into a wine glass and finish with crushed ice and lots of fresh fruit.
Cabernet Sauvignon Crush

Ingredients:
125ml Eisberg Alcohol-Free Cabernet Sauvignon
75ml cherry juice
50ml raspberry shrub (recipe below)
20ml mint gomme (recipe below)
10ml lime juice
Cubed ice
For The Mint Gomme:
500ml water
500g caster sugar
12 sprigs of mint
For The Raspberry Shrub (make 2 days before):
2 punnets raspberries
200g caster sugar
Zest of 3 lemons
250ml red wine vinegar
For The Garnish:
A sprig of mint
2 raspberries
Icing sugar
To Make:
First make the raspberry shrub. Wash raspberries before combining with the sugar, lemon zest and red wine vinegar in a lidded jar. Allow to sit for at least 2 days before pouring through a strainer into an airtight jar. Keep refrigerated until used.
Make the mint gomme. Add the water and caster sugar to a large saucepan and bring to boil – stirring constantly. When it reaches boiling point remove from the heat, add 12 sprigs of mint and allow to cool. Keep refrigerated until needed.
Add the Eisberg Alcohol-Free Cabernet Sauvignon, cherry juice, raspberry shrub, mint gomme and lime juice to a mixing glass. Shake the ingredients in the mixing glass then strain into a chalice glass with cubed ice.
Garnish with a mint sprig, a couple of raspberries and a dusting of icing sugar.