Christmas Chocolate, Walnut & Apricot Panforte
---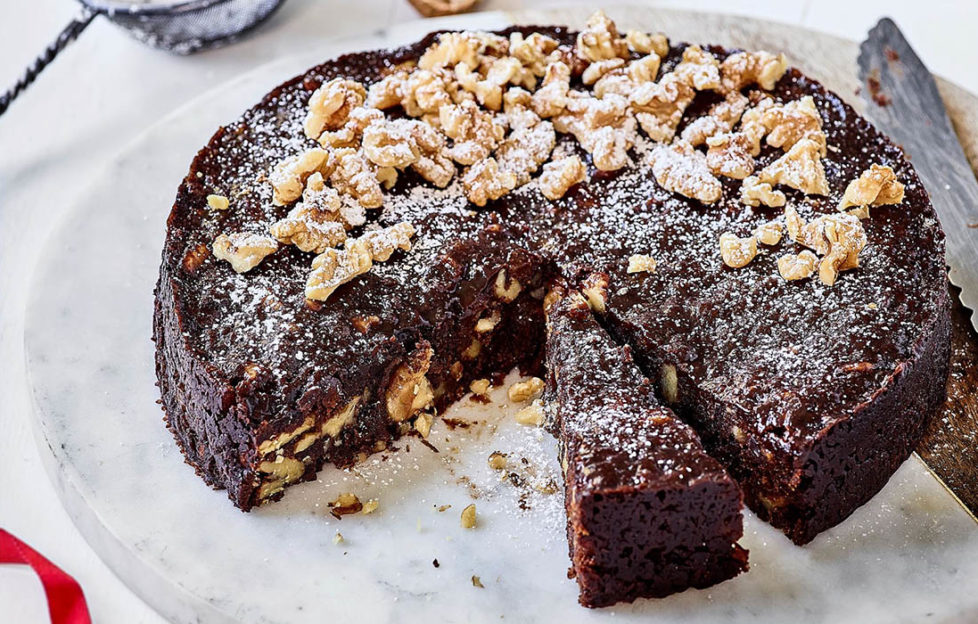 Great British Bake Off 2018 finalist Ruby Bhogal has created a fabulous recipe for California Walnuts.
Walnuts have long been considered synonymous with Christmastime, and Ruby's indulgent Chocolate, Walnut & Apricot Panforte is a rich, crunchy sweet treat that's perfect for the season. It takes a little time to prepare but be patient – it's totally worth it!
Preparation time: 40min + 4hrs soaking and 2hrs cooling
Cooking time: 55min
Serves: 8-10
Ingredients:
150g California walnuts, roughly chopped
150g chopped dried apricots
100g chopped dates
100g mixed peel
100g dark chocolate
75g plain flour
2tbsp cocoa powder
1tsp allspice
1tsp cinnamon powder
1tsp vanilla bean paste
155g honey
100g golden syrup
70g unsalted butter, diced
50g light brown sugar
amaretto liqueur, to soak
Icing sugar, for dusting
To Make:
Place the chopped apricots and dates in a bowl and pour in enough amaretto liqueur to cover. Allow to soak for approx 4 hours.
Preheat the oven to 140°C/Fan 120°C. Lightly grease and line a 20cm (8in) springform tin. Leave to one side.
Place the dark chocolate in a heatproof bowl and set over a saucepan of simmering water. Once it's melted fully, take off the heat and allow to cool lightly.
In another bowl, sift the plain flour, cocoa, allspice and cinnamon and stir. Add the Californian walnuts, mixed peel and vanilla bean paste and stir again.
Drain the amaretto-soaked apricots and dates (but be sure to keep the remaining drained liqueur for later!). Add into the bowl and mix well.
Into a saucepan add the honey, golden syrup, diced butter and sugar and place over a high heat. Once the butter and sugar have melted, bring to the boil for approx 5min or until it has reached 118°C (the 'soft ball' stage) on a thermometer.
Take off the heat and gently pour into the bowl of mixed flour and fruit. Stir well. Add in the cooled melted chocolate and fold in until combined.
Pour the mixture into the lined tin and level with a spatula. Pop into the oven for approx 50min on a middle shelf.
Remove from the oven, place the tin on a cooling rack and allow to chill completely before removing (2 hours should be good!). Gently remove from the tin.
Using a pastry brush, lightly brush some of the drained liqueur over the top, then dust with a sprinkling of icing sugar to finish. Enjoy!