Christmas Side Dishes With Star Quality
---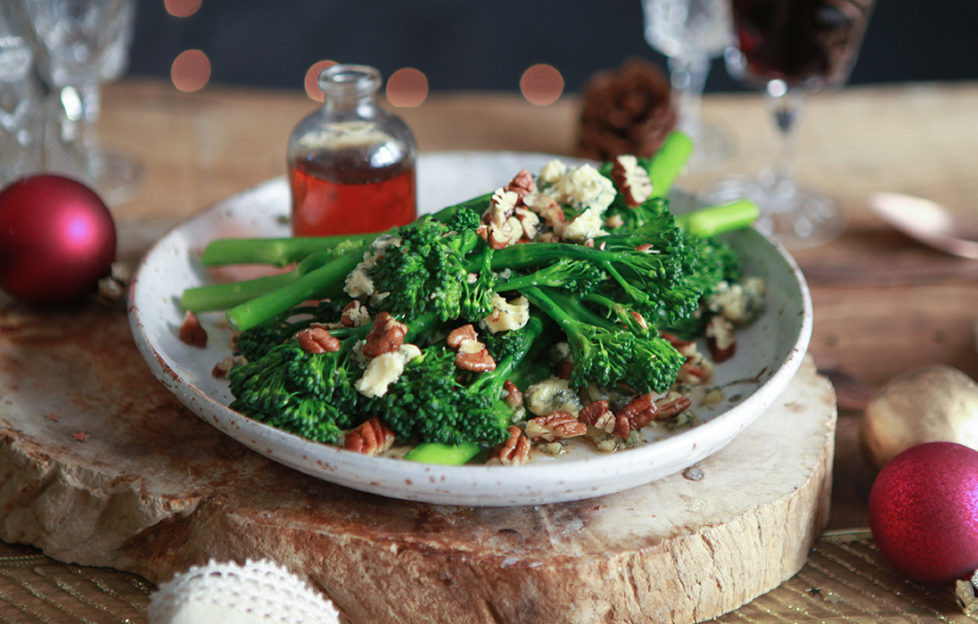 Take a little time to make everything on the plate a delight. Here's our collection of fabulous festive accompaniments…
Tenderstem® Broccoli with Pecans, Blue Cheese & Maple
So quick and easy – so stunning and full of flavour!
Preparation time: 5min
Cooking time: 5min
Serves 4
Ingredients:
200g packet of Tenderstem®
2tbsp rapeseed oil
80g blue cheese, crumbled
50g pecans, roughly chopped
6tbsp maple syrup
Salt and pepper
To Make:
Toss the Tenderstem® in the rapeseed oil so that it is lightly coated.
Heat a griddle pan until it is smoking hot. Place the Tenderstem® on the griddle and cook for 1min or so on each side.
Once cooked, place in a serving dish and crumble over the blue cheese, chopped pecans and drizzle with maple syrup.
Season with salt and pepper and serve.
Sausage & Mushroom Stuffing Wreath

Create the perfect edible centrepiece – a delight to the eyes and tastebuds from Just Add Mushrooms.
Preparation time: 30min
Cooking time: 1hr
Serves 6-8
Ingredients:
300g closed cup mushrooms, finely diced
500g sausage meat
3tbsp olive oil
1 onion, finely diced
2 sticks of celery, finely diced
4 garlic cloves, crushed
200g chestnuts, cooked, peeled and roughly chopped
1tsp fennel seeds, crushed
1tsp dried tarragon
1 egg, beaten
100g fresh breadcrumbs
Salt and freshly ground black pepper
Sliced mushrooms, fried, to serve
To Make:
Preheat the oven to 180ºC/160ºC fan. Grease or line a loaf tin or 25cm cake tin.
In a large bowl, mix together the mushrooms and sausage meat.
Heat the oil in a deep frying pan and add the onion and celery. Fry for 5min until the onions are soft, stirring occasionally.
Add the garlic and cook for a further 1min, before adding the sausage and mushroom mix. Cook until the sausage meat has browned, around 5min, stirring frequently.
Take off the heat and leave to cool for 10min. Add the chestnuts, herbs, egg and breadcrumbs. Season with salt and pepper and stir all the ingredients together thoroughly.
Transfer the mixture to the prepared tin and press down firmly. Bake in the oven for 50min until firm to the touch.
Roasted Parsnips With Honey Mustard Dressing

A humble side dish worthy of a Supporting Actor nomination!
Preparation time: 15min
Cooking time: 25min
Serves 4-6 as a side dish 
Ingredients:
4tbsp Crisp 'n Dry oil
500g parsnips, peeled
Good pinch sea salt
Few sprigs fresh thyme, leaves stripped
For the dressing:
1tbsp Crisp 'n Dry
1tbsp honey
1tbsp wholegrain mustard
1tsp white wine vinegar
To Make:
Preheat the oven to 190ºC/ 170ºC fan/ gas 5. Heat a large shallow roasting tin or heavy baking tray.
Peel the parsnips and halve lengthways, then halve again lengthways if they're very large. Place in a large bowl. Drizzle over the Crisp 'n Dry and season with a good pinch of salt.
Transfer to the hot tray and roast in the oven for 15min. Remove and turn the parsnips then roast for another 10min or until they're a lovely golden colour and cooked through. Transfer to a warm serving dish and sprinkle over the thyme leaves.
Meanwhile, make the dressing. Whisk all the ingredients together in a bowl or jug. Pour into a jar or bowl and allow people to drizzle a little dressing onto the hot parsnips. This works well with roast pork or chicken or alongside sausages.
Brussels Sprouts and Parsnip Gratin

A rich, creamy sauce transforms your Brussels into a dish in themselves in this recipe from Dobbies.
Preparation time: 30min + resting
Cooking time: 55min
Serves 6-8
Ingredients:
Unsalted butter, softened, for greasing
500g parsnips
500g Brussels sprouts, trimmed
300ml double cream
200ml full fat creme fraiche
4 garlic cloves, crushed
4 bay leaves
1tsp fine sea salt
To Make:
Preheat the oven to 200ºC, gas 6. Grease a deep 30cm x 20cm baking dish.
Trim the parsnips and slice as thinly as possible. Trim the Brussels sprouts, reserving any pretty leaves that detach, before slicing the rest – they don't have to be too thin. Layer up in the prepared dish.
Put the cream, creme fraiche, garlic and bay leaves in a saucepan and bring to a simmer. Remove from the heat and stir in salt and plenty of black pepper.
Pour the cream over the vegetables, pressing them down in the liquid so they're just covered. Arrange the bay leaves on top, then cover the dish tightly with foil.
Bake for 25-30min until the vegetables are almost tender. Remove the foil, press down again if needed, and cook for a further 10-15min, or until set on top and starting to brown at the edges.
Leave to cool for 5min before serving. Remove the bay leaves and scatter with the reserved sprout leaves, if preferred.