Boozy Double Chocolate Truffles
---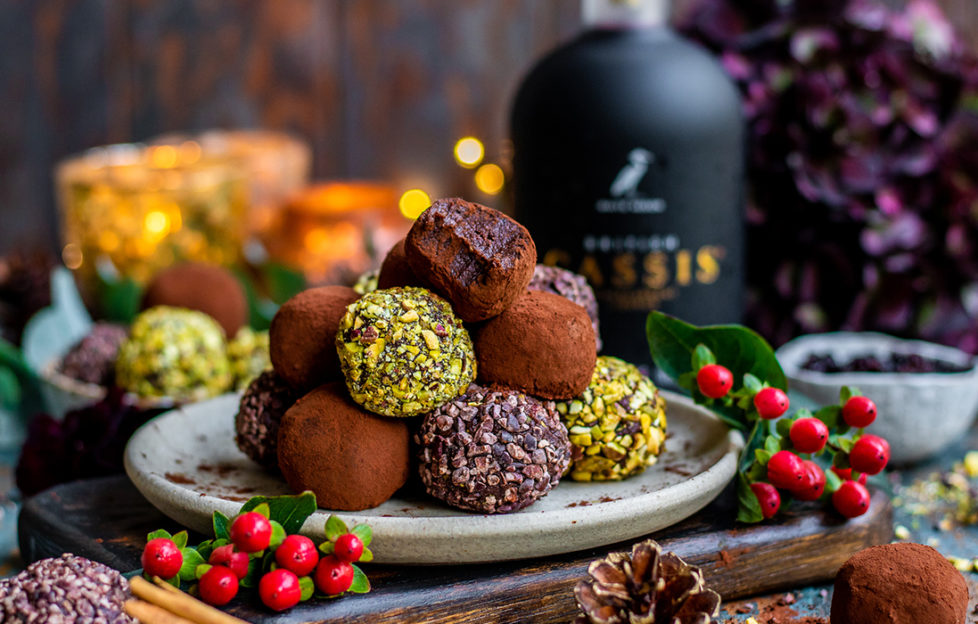 With heady flavours of blackcurrant cassis, cocoa and vanilla, you won't believe these fabulous truffles are vegan!
Preparation Time: 30min+30min soaking
Chilling Time: 2hrs
Makes 12-14 truffles depending on size
Ingredients:
1/2 cup full-fat coconut milk from a can
200g medjool dates – the softer the better
50g currants
75g good quality dark chocolate
2tbsp maple syrup
3tbsp raw cacao powder
1/2tsp vanilla bean paste
For the coatings:
1/4 cup chopped pistachios or any other nut of your choice
1/4 cup raw cacao powder
1/2 cup cacao nibs
To Make:
Pit the dates and place in a bowl. Cover them with the British Cassis and let them sit for at least 30min.
In a small pan add the coconut milk, dark chocolate, maple syrup and vanilla bean paste. Keep whisking the mixture on a very low heat (to prevent from burning and sticking to the bottom) until the chocolate has completely melted and you have a silky, smooth mixture.
Add the soaked dates and the British Cassis to a food processor together with the coconut milk and chocolate. Add in the cacao powder and blitz until you have a smooth, thick and sticky kind of paste. You might need to scrape the sides of the food processor a few times and then blitz again.
Place the truffle dough into the fridge to set for at least 2hrs or until it's almost solid.
Once the mixture has firmed, using a tablespoon start to form a ball. Roll the balls between your hands and then in a coating of your choice. Repeat until you have used all the mixture.
Store the truffles in an airtight container in the fridge for a couple of weeks.