Pork and Chicken Pie with Glazed Cranberries
---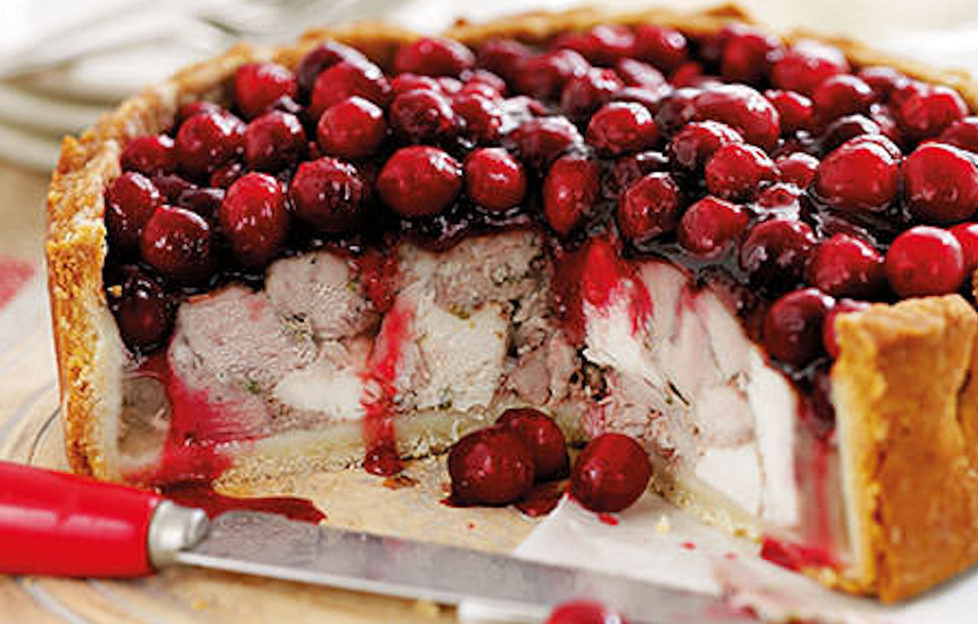 Preparation Time: 30min+overnight chilling
Cooking Time: 2hrs
Serves: 10
Ingredients:
300g plain flour
1tsp salt
65g Trex
150ml water
350g skinless chicken breast, cut into small cubes
350g pork fillet, cut into small cubes
225g pork sausagemeat
1tbsp chopped fresh rosemary
1tbsp chopped fresh thyme
½tsp ground allspice
Salt and freshly ground black pepper
150ml chicken stock
1 sachet powdered gelatine
For The Topping:
150g redcurrant jelly
225g fresh or frozen cranberries
To Make:
Sift the flour and salt into a large mixing bowl and make a well in the middle.
Put the Trex and water into a saucepan. Heat gently until the Trex has melted, then bring to the boil. Pour into the well and beat with a wooden spoon to form a soft dough. When cool, knead lightly until smooth. Cover and rest for 20min.
Mix together the chicken, pork, sausagemeat, rosemary, thyme and allspice. Season well.
Preheat the oven to 220°C/fan oven 200°C/Gas Mark 7. Roll out the pastry on a lightly floured surface and use it to line the base and sides of a 20cm loose-based cake tin, then pack in the filling. Trim the excess pastry to 1cm above the meat, then cover the surface with foil. Stand the tin on a baking sheet.
Bake for 20min, then reduce the temperature to 180°C/ fan oven 160°C/Gas Mark 4 and bake for 1hr 30min. Cool completely.
Heat the stock until almost boiling, then sprinkle in the gelatine, stirring until dissolved. Remove the foil from the pie and pour the stock over and around the filling (you might not need it all). Chill overnight, to set.
For the topping, melt the redcurrant jelly in a saucepan and add the cranberries. Heat gently for 2-3min, then spoon on top of the pie and leave until cold.