Nutty Choc Chunk Cookies For Gifting
---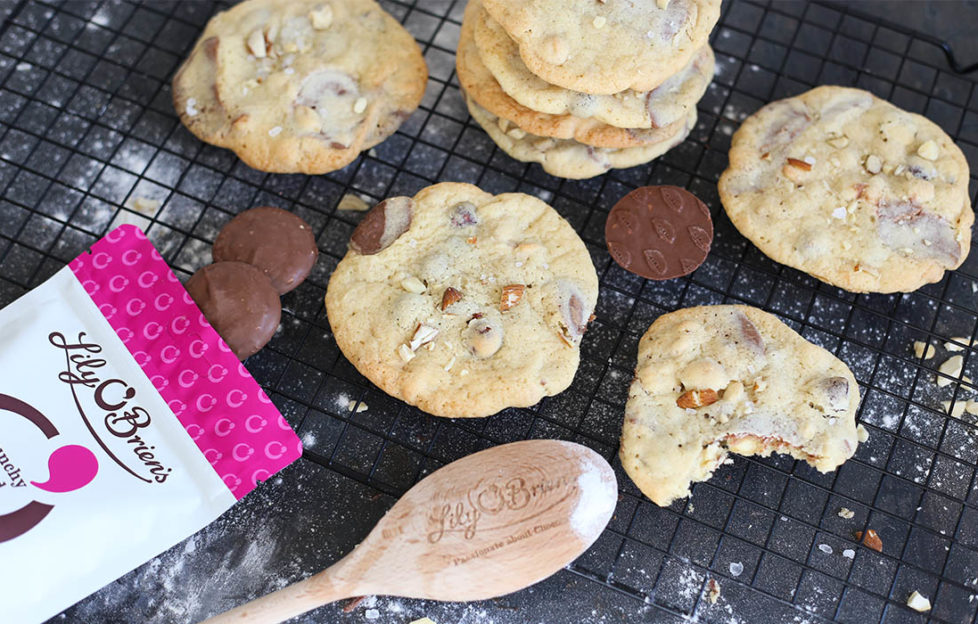 These sweet and salty cookies are loaded with crunchy nuts and big hunks of melty, salted, almond chocolate drops, with a light sprinkling of sea salt on top. YUM!
Ingredients:
8tbsp butter, softened
65g brown sugar
65g golden caster sugar
1 free range egg
1/2tsp vanilla
1/2tsp sea salt
1/2tsp baking soda
160g all-purpose flour
130g of your choice of nuts (sliced almonds, cashews, hazelnuts etc)
110g Lily O'Brien's Crunchy Salted Almond Chocolate Share bag
20g milk cooking chocolate
sea salt (for sprinkling on top)
To Make:
Preheat oven to 180C / Gas mark 4. Line a baking sheet with parchment paper.
Beat together the butter and sugar until light and fluffy. Add the egg and beat for another 2min.
Add the vanilla, salt and baking soda. Mix well.
Add the flour and beat until just combined. Fold in the nuts and the chocolate.
Using a spoon, drop balls of the cookie dough on the prepared baking sheet.
Bake for 10min, or until the cookies are slightly browned along the edges.