10 "Buffetiquette" Howlers To Avoid
---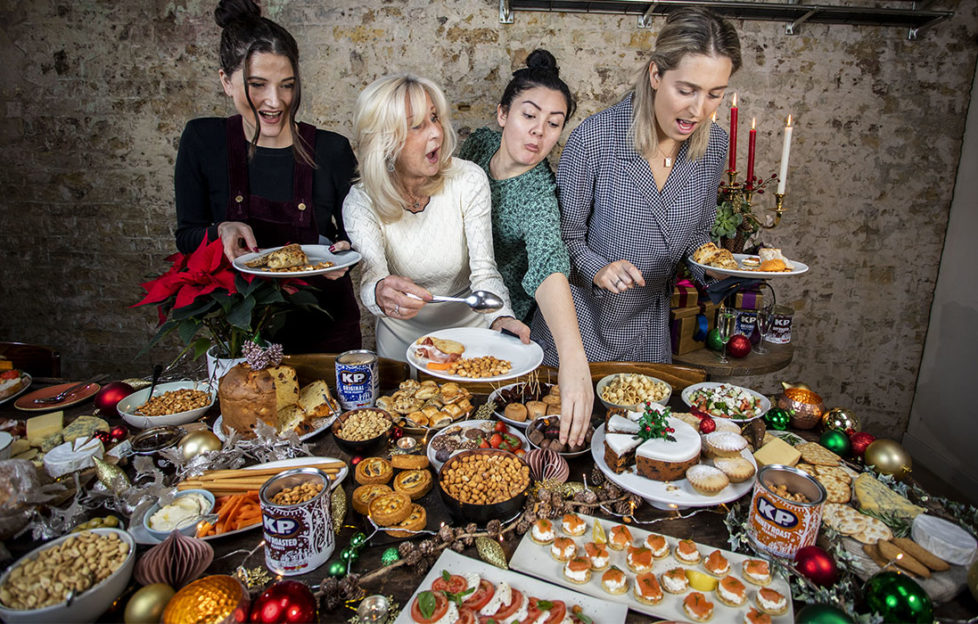 A survey by KP Nuts has uncovered some jaw-dropping bad behaviour at the buffet table – and some interesting modern food preferences.
Sausages on sticks are out – sourdough is in
44% of Brits have started a row with another reveller due to poor buffettiquette
Etiquette expert Elizabeth Brewer reveals top tips for buffet-goers
With party season now in full swing, nationwide research by KP Nuts has revealed that the Great British Buffet is alive and well in the UK. A hearty 77% of those questioned admit they still love a good old-fashioned spread.
In fact, 80% of the 2,051 survey participants agree that a "buffet style" way of serving party food is a British institution.
Coughing and sneezing on the food
Yet the survey revealed a host of "Buffetiquette" dos and don'ts, with 48% saying pushing into the queue is among the worst ways to behave. That comes second only to coughing and sneezing over the table (hated by 58%).
Fighting someone for the last of something (45%) and grabbing food that someone else is reaching for (43%) were also cited as top buffet faux pas. So was sending someone else to get more food for you so as not to appear greedy.
The research by KP Nuts also found Brits believe it only polite to wait for at least five minutes after the food is laid out, before heading over to help yourself.
The survey also reveals getting things wrong at a buffet can have serious consequences, with 44% of respondents having had a row with another reveller due to poor buffet etiquette.
Sending someone else? Totally unacceptable!
A second trip to the table is OK, but a third is seen as greedy, and 17% of Brits agree that asking someone to go up for you again is totally unacceptable.
The survey revealed foods which have lost favour on a Great British buffet table. Surprisingly these include cheese and pineapple on sticks, trifle, Coronation chicken and vol-au-vents.
In fact, the modern-day table is more likely to feature smoked salmon, pork pies and sourdough bread.
Some classic favourites remain however, with nuts (31%) scoring highly on the list of modern-day buffet essentials. KP Nuts have recently launched a new range of Christmas caddies to #GetThePartyStarted this festive season, available in three delicious flavours including Honey Roasted, Dry Roasted and Original Salted Peanuts.
Picked at their prime and golden roasted, KP Nuts are high in fibre and a source of protein, making them perfect as a pre-dinner nibble, part of a festive party buffet or a late-night bite.
What we love about buffets…
Nearly six in ten (58%) said they like being able to pick what they fancy, opposed to eating food they don't like out of politeness. And 42% claim it's much more informal and relaxed than a sit-down meal.
A sociable 27% said they enjoy a natter with other guests while queuing for food and 42% said they love being able to eat as much as they want.
Kevin McNair, Marketing Director at KP Snacks, commissioned the research. He said, "Our research shows that Brits still love a buffet and with the party season upon us, we need to brush up on our buffet etiquette.
"We were pleased to see that nuts are still a firm favourite at the buffet table and so have updated our nut caddies with a festive design to help get the party started."
Expert advice: no snapping!
Liz Brewer, a UK expert on social behaviour and etiquette says, "There is something about beautifully displayed food and a room of hungry individuals that makes people go a little nuts.
"It is often argued that a buffet style party is a more casual affair, yet the research reveals that manners are still of utmost importance within this setting.
"My advice would be never to breathe or cough over the table, and do not scramble to be the first in line. Never hover at the buffet table, it does not belong to you.
"Don't indulge in the veggie or vegan options just because you like the look of them. Leave these for those who are dairy intolerant and/or vegan.
"Don't drink while serving yourself. Leave your cocktail, wine or drinking glass behind when approaching the buffet.
"Avoid flowy kimono-esque sleeves that may drag in the hummus as you reach for the smoked salmon.
"And, at all costs, resist the urge to photograph your meal for Instagram, it is regarded as the height of bad manners."
TOP BUFFET BLUNDERS
Sneezing and coughing over the spread
Pushing into the queue for food
Fighting someone for the last item of food
Grabbing the last of something while someone else is reaching for it
Using your fingers to help yourself to food
Piling your plate high with food
Moving ahead of someone who is causing a buffet blockage
Sending someone else up as you've already been up several times
Going back more than TWICE to fill your plate
Being the first person to the buffet table
MODERN DAY BUFFET FAVOURITES
BBQ meats (wings, ribs)
Pork pies
Smoked salmon
Nuts
Hummus
Rare roast beef
Tomato and mozzarella salad
Greek salad
Sourdough bread
FOODS CONSIGNED TO BUFFET HISTORY
Pineapple and cheese on sticks
Cucumber sandwiches
Vol-au-vents
A prawn ring
Devilled eggs
Prawn cocktail on a bed of lettuce
Trifle
Sausages on sticks
Coronation chicken
Quiche Lorraine