8 Tips To Create The Perfect Grazing Table At Home
---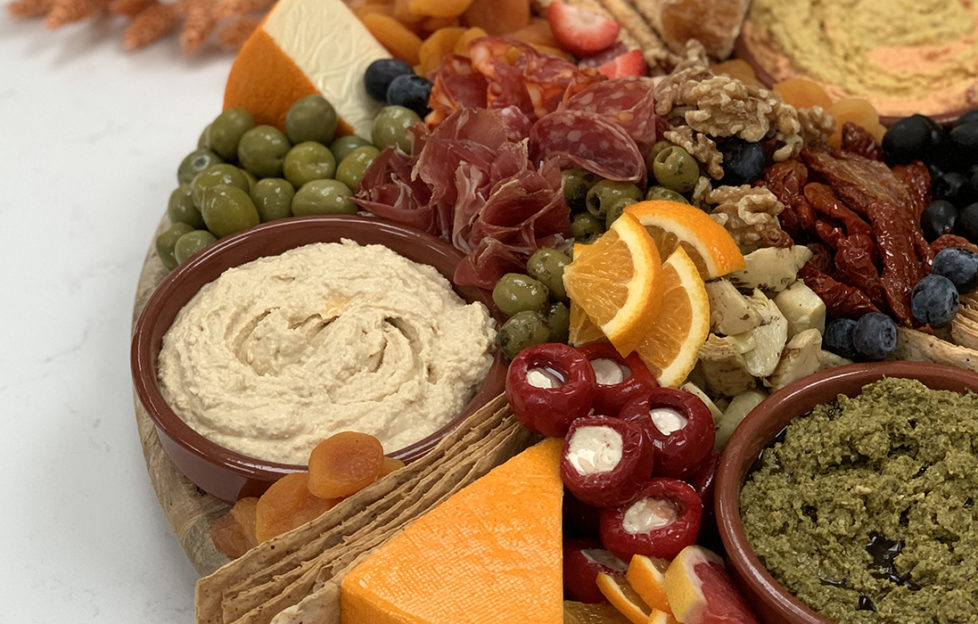 Grazing tables are the latest dinner party trend du jour, and when better to create one of your own to share with friends and family than at Christmas?
The classic cheeseboard is synonymous with the festive period. With a few top secrets and simple yet effective tips from fine grazing caterers GRAPE & Fig, who have collaborated with Port Salut this Christmas, you can reinvent the conventional cheeseboard. Even better, you can create something extra special to start conversations and make merry memories!
Start with the placement of the cheese
Distribute the cheese evenly around the platter, not clumped together in one area. Port Salut is a perfect cheeseboard staple due to its crowd-pleasing mild taste and creamy texture. This semi-soft French cheese, loved for many years due to its rich French heritage, looks very distinctive on a platter due to its vibrant orange rind.
If you're using more than one portion of the cheese on your platter, place some on its side and some upright. This way you can showcase both the creamy cheese centre and the eye-catching orange rind.
Add in some ramekins
Once again, distribute your ramekins around the platter, then fill with dips. Hummus is a must, and you should also add an antipasti. This can be a little oily, hence the ramekin dish.
The ingredients you use will both complement and contrast with colourful elements in your display, bringing the board to life!
Next, move on to placing your crackers
Selecting a cheese with mild taste and a creamy texture means it will be easy to eat and suit almost all cracker varieties. The contrast of soft cheese and crispy crackers is just so moreish!
Remember, though, crackers have a tendency to fall and collapse. Try and keep a stack of crackers together by wedging them in between the solid aspects of your platter – namely the cheese blocks and the ramekins.
Try to keep your cracker placement as neat as possible – this will give a great finish to the overall "look".
Very well bread…
If crackers aren't your cup of tea, why not add more festive flavour to your cheeseboard with a delicious speciality bread such as a walnut and fig loaf?
Not only will this look beautiful, one of the best ways to enjoy your favourite cheese is on bread, especially one with sweet dried fruit that perfectly complements the creaminess of cheese.
Fill in the "pools"
After following the above steps, there should be "pools" of space dotted around the board ready to be filled with the rest of your ingredients such as cured meats, pretzels, dried and fresh fruits.
Over Christmastime, including gorgeous seasonal additions such as nuts and winter berries will really elevate the festive feel of your display.
Keep your ingredients together
Sprinkling ingredients all over the platter can make for a messy-looking, unappetising visual.
Do ensure you leave the cured meats right until the end and get them straight out of the fridge.
Using a beautifully bright cheese like Port Salut in your grazing table is perfect for Christmas. It means additional orange and red elements such as dried apricots, orange slices and Moroccan hummus will make the colour pop perfectly, bringing your platter together. For an additional burst of Christmassy colour, why not try adding some dried orange blooms around the edges?
A taste of honey
If you want to take your platter to the next level, treat yourself to some fresh and indulgent honeycomb to place on your board. This is a total gamechanger. The sweet and sticky taste of the honey combined with the other flavours and textures on your platter is a combination you and your guests won't forget any time soon!
Deconstructed is good!
Don't worry about people getting stuck in straight away and "spoiling" the look of the platter. Keeping your ingredients in distinct sections will help the board stay neat. A grazing board actually looks more beautiful the more it is enjoyed!
Port Salut is available to purchase for £2.00 from Asda, Morrisons, Sainsbury, Tesco, Waitrose and Ocado.