Ready, Set, Glow This Christmas At The RHS Gardens
---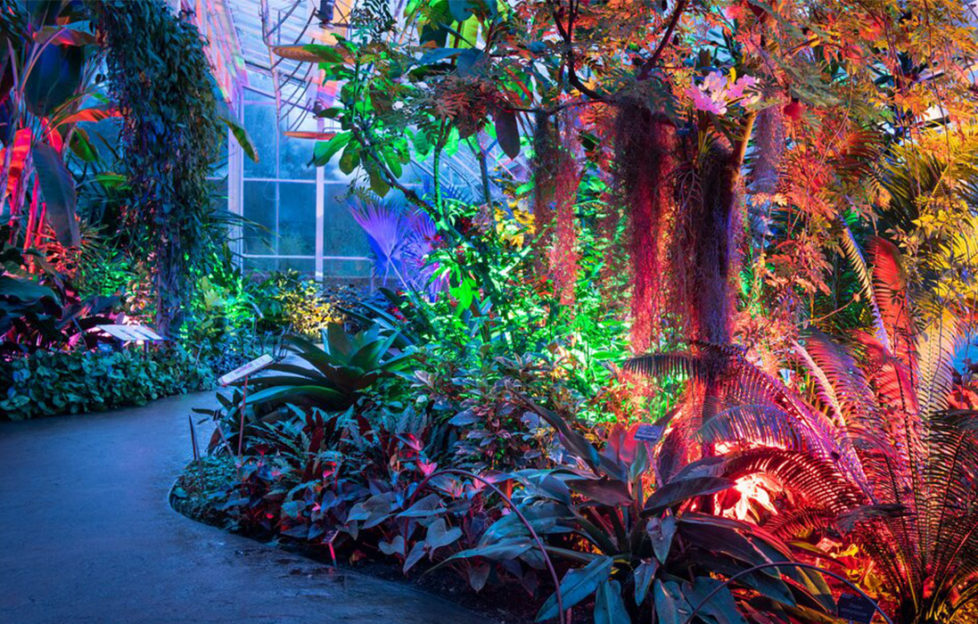 Illuminated glasshouse interior and plants, Wisley Glow 2019, RHS Garden Wisley
Tickets for Glow at the RHS Gardens are now on sale to the general public.
The world's leading gardening charity is preparing to light up its gardens this winter for magical events throughout the festive season.
The popular outdoor illuminations return once more to RHS Gardens Wisley, Harlow Carr and Rosemoor. RHS Garden Hyde Hall will stage its own version of Glow for the very first time.
With the safety of visitors and staff its foremost priority in these challenging times, the RHS has put in place a number of measures to ensure everyone can enjoy the events with confidence.
These include:
Mandatory advance booking
One-way routes around the gardens
Limits on visitor numbers at any one time.
"Fun, enchanting and safe events"
All four RHS Gardens have recently been awarded Visit England's 'We're Good to Go' certification, an industry-standard mark of reassurance that they are carefully following all the latest government guidance on Covid-19.
"We are thrilled to be able to welcome our RHS Members and visitors to all four RHS Gardens for Glow this year. We can't wait to share the beautiful new displays we have planned," says Helena Pettit, RHS Director of Gardens and Shows.
"Glow is a highlight of the winter months for us and our visitors, and we have worked hard to ensure that these will be fun, enchanting and safe events for all the family."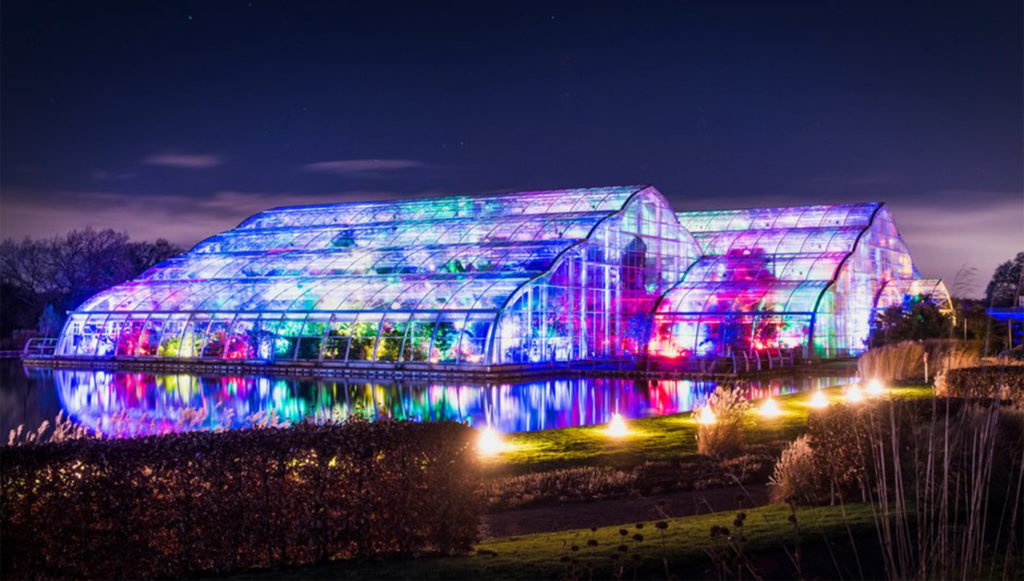 At RHS Garden Wisley near Woking in Surrey, the festive event has been reimagined for 2020. There's a new route, captivating lightshows and musical accompaniment designed by an in-house team to highlight some of the garden's best-loved sights.
Twinkling lights draw visitors through the Pinetum, Seven Acres and Wisteria Walk, with spectacular moments en route and vibrant displays to be found both inside and outside the Glasshouse.
Selected dates are available from November 21, 2020 to January 4, 2021. Find more information and book tickets
A brand new adventure at Hyde Hall
A brand new illuminated adventure awaits as dusk falls at RHS Garden Hyde Hall, near Chelmsford in Essex. The magic begins from the moment of arrival, with a lone oak majestically lit on the distant hillside, before the garden is revealed in a whole new light.
A winding route takes visitors past a luminous birch grove, sycamore seeds floating in the dark, trees on Clover Hill aglow against the night sky, and the sculptural Winter Garden brought to life in technicolour.
Pick from selected dates from November 19, 2020 to January 3, 2021. Find more information and book tickets

Old favourites and new excitement at Rosemoor
A refreshed, sparkling trail at RHS Garden Rosemoor, in Great Torrington, Devon, features a return to the Winter Garden and Cool Garden.
Visitor-favourite locations are included, through the Long Borders and mesmerising reflections across the Lake.
New for this year, the route also takes visitors through the Cottage Garden, and the fantastical display includes some interactive elements for the first time.
Selected dates are available from November 19, 2020 – 2 January 2, 2021. Find more information and book tickets
Welcome back to sparkling Harlow Carr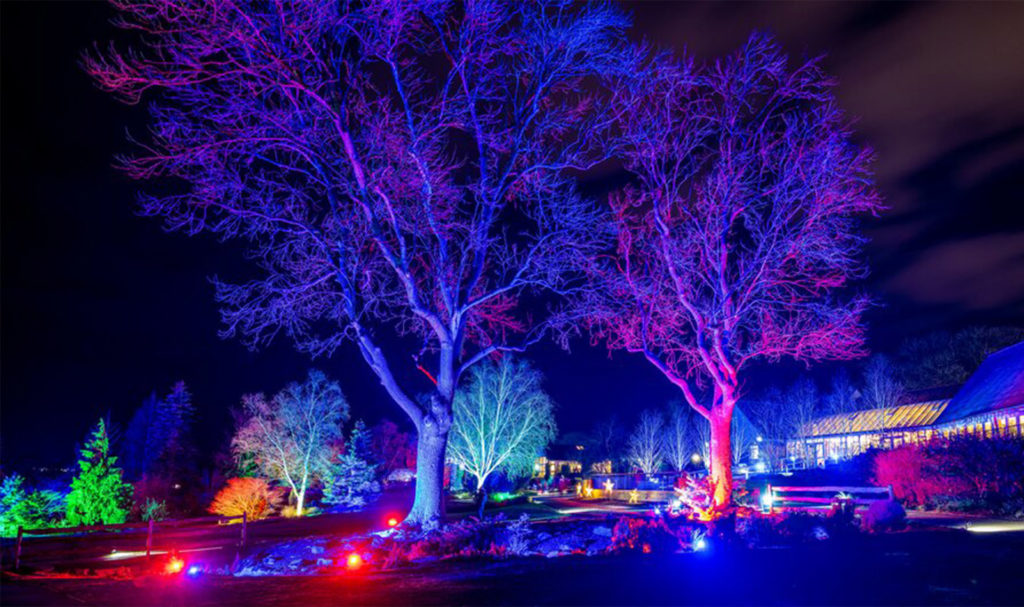 RHS Garden Harlow Carr in Harrogate, North Yorkshire, comes alive in a blaze of light and colour this season. Special lighting effects bring a touch of festive magic to the most northerly RHS Garden.
An enchanting trail takes in magnificent trees and shrubs around the garden. Then there are glittering reflections in the lake, illuminated garden sculptures and iconic horticulture on the Winter Walk. Don't miss a new, extended route along the Streamside.
Choose from selected dates from November 19 – December 30, 2020. Find more information and book tickets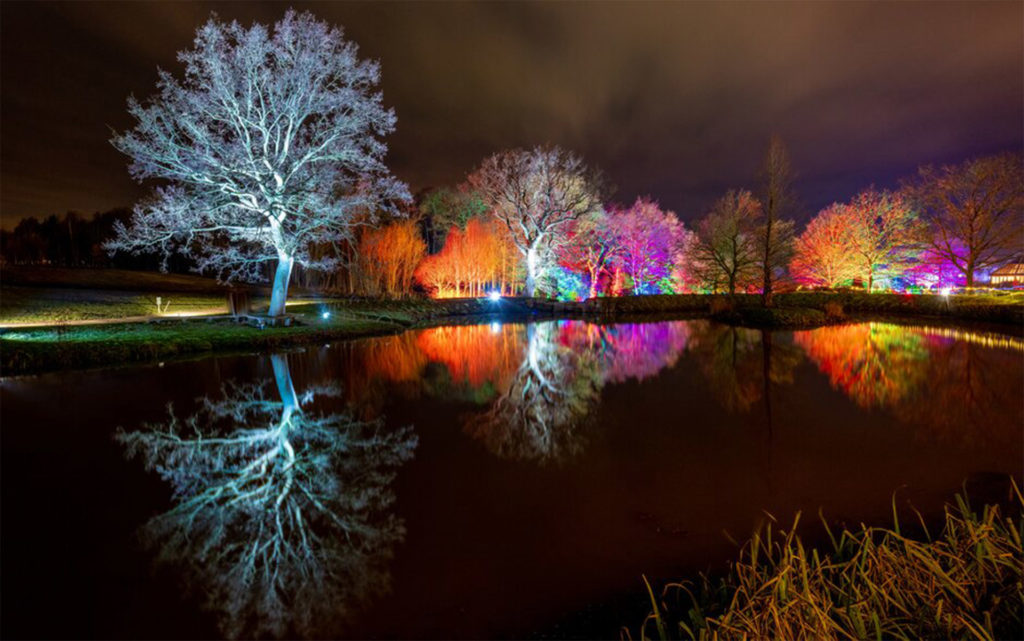 Tickets for Glow at all RHS Gardens must be booked online in advance. Routes are fully accessible, and festive refreshments will be available at all gardens. Find further information here.