Venison Parmentier With Parsnip Puree
---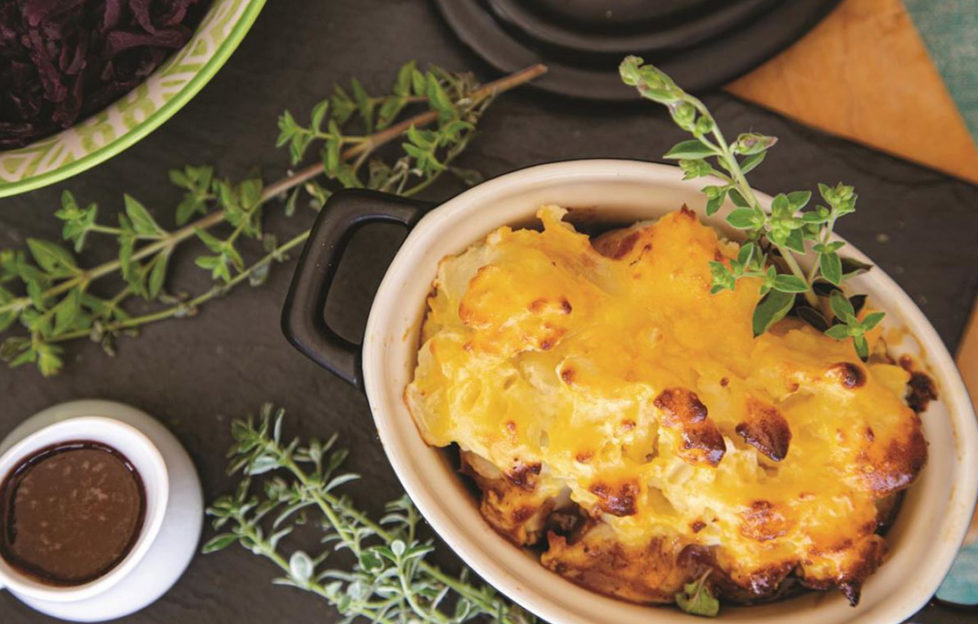 Welsh chef Kate Probert, who runs a cookery school in Gower, has released her first book – and here's a mouthwatering preview. From Mountain To Sea contains a beautiful collection of French-inspired recipes, interspersed with stories of élife in the UK and France.
Kate has worked at the Roux Brothers' Le Gavroche and Marco Pierre White's restaurant, Harvey's. She gained experience in Michelin-rated restaurants in France before returning to Wales to run her award-winning restaurant, L'Amuse, in Mumbles. She says, "This parmentier can be done well in advance, so it's great for a crowd. Just pop it in the oven before you clear the starters. The parsnips make it a little lighter."
Preparation Time: 30min
Cooking Time: 2hr 30min
Serves: 6
Ingredients:
900g mixed, diced game or venison
2 carrots, roughly chopped
1 large onion, roughly chopped
1tbsp chopped ginger
1 bay leaf
2tsp tomato purée
20 or so juniper berries, slightly crushed
1 bay leaf
thyme
salt and pepper
1 bottle red wine
1 chicken stock cube
2tbsp olive oil
½tbsp flour
For the parsnips:
675g parsnips
675g potatoes
a little milk and butter
To Make:
Preheat the oven to 140°C/gas mark 3. Dry off the meat with kitchen towel.
Heat the oil in a casserole pan. Fry off the meat and vegetables until starting to take on some colour.
Add the flour to coat and cook for 1-2min, then add the wine and the rest of the ingredients.
Top up with water, add the stock cube and bring to the boil gently. Put the pan into the oven and cook for 2 hours and leave to cool in the liquid. If you have the time, leave overnight for the flavours to develop.
Strain the meat and reserve the juice. Remove the bay leaf and put it all in a food processor with the vegetables. Moisten with some of the cooking juices (keep the rest for serving).
Whizz, but not too much – you don't want the mixture to be smooth, but nice and chunky.
Make a purée with parsnips and potato. Cut into chunks and cook in boiling salted water until just cooked. Drain and put back on the heat for a few minutes to dry. Add a little milk, heat it up, then mash with a knob of butter.
To serve, spoon the parmentier into individual dishes (or use cheffy rosti rings), and top with the mash. Brush with beaten egg and heat in a medium oven until golden.
Serve with the sauce around the parmentier and with a spoonful of red cabbage, creamy sprouts or other greens.
Tips:
The parmentier can be frozen.
Kate's wine suggestion for this dish is Barolo.