Go Faux – A Guide To Artificial Christmas Trees
---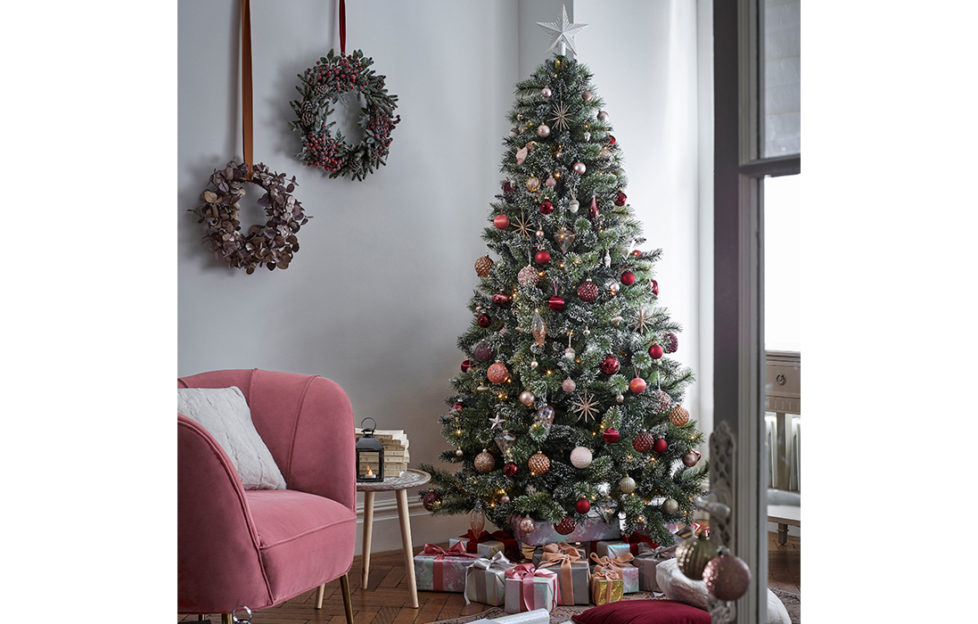 Clockwise from left: Eucalyptus wreath, £29.99; Deco wreath with berries and snow, £29.99; Snowy cashmere faux tree (8ft), £279; Juno velvet cushion (wine), £12.99; Metallic embossed gift wrap (2m), £3.99; Iron lantern with glass (assorted), £19.99; Empress cushion (cream), £14.99. Baubles pictured on tree, all part of the Fairytale collection
The countdown to the festive season is on, and no home would be complete without the star of the show – a beautiful Christmas tree.
Maybe it's your first Christmas celebrating in a new home? Or perhaps you are looking to expand your collection with a second tree to decorate. Maybe it's just time to reset the scene with a refreshed look for 2020.
Whatever the need for a new tree, Dobbies Garden Centres has something to suit.
If a real tree isn't for you, going faux will ensure your showstopper is the perfect size for your room. Its uniform, sturdy branches can make bauble hanging even easier, and of course it will last for years to come.
From flocked, non-flocked, pre-lit, mini and twig style to the standout Highland Blue – the choice of artificial trees is almost endless.
Dobbies Christmas Buyer Lynsey Abbott shares her essential guide to choosing the perfect artificial Christmas tree…
What's big for 2020? The Highland Blue
One of the standout trends of the year is our Jewels and Jingles theme, which embraces the glamorous and celebratory feel of the Christmas season. The Highland Blue tree is sure to make an Insta-impact and create a unique and stylish centrepiece.
The perfect tree for 2020 – given that Classic Blue is Pantone Colour of the Year – it is sure to become a treasured family favourite for years to come.
7ft Highland Blue Christmas Tree, £89.
Set a budget
When it comes to Christmas trees, real or artificial, it's worth that little bit more investment to get exactly what you want. If you opt for a faux tree then it should be one you look forward getting out to dress and make magical year after year. So that's worth considering when making your choice.
Measure up!
Before tree shopping, decide where the best place will be for it to go in your home. Think about how much space you need around it, so it doesn't
become an obstacle in a general walkway. Use a tape measure to check ceiling height and room width.
Shape
A big benefit of choosing an artificial tree is that there are a number of shapes to choose from. For example, a pencil style will work well in a tight corner or hallway, where you want to create some Christmas cheer without taking up lots of room.
Flocked or non-flocked?
Do you want your tree to have a winter wonderland feel with snow-tipped branches? If so, a flocked tree is for you, which gives trees a natural snow-covered look. These frosted trees work well with every style, but especially so for Scandi styles paired with plenty of silvers and whites for a dazzling display.
A non-flocked variety is more in line with the traditional green Christmas tree but there are lots of styles, shapes and shades to choose from which all offer different looks.
Pre-lit
No tree is complete without a magical dusting of fairy lights to add some extra sparkle. This type of tree comes pre-wired with lights, meaning a much quicker
set up time. Transform your home into a winter wonderland in a few simple steps – take out of the box, set up, plug in and voilà!
Flocked
More non-flocked faux trees
Freiburg Pine Tree, available sizes – 7ft £329; 7.5ft £399; 9ft £499
Imperial Pre-Lit 6ft Tree, £119
Imperial Green Tree, available sizes – 6ft £79; 7ft £89; 8ft £99
7ft Balmoral Tree £179
Space Savers
For a brilliant budget buy, the unlit Imperial Mini Tree is just £3.99!
Find out more at www.dobbies.com