Your Guide to a Blue Zone Christmas
---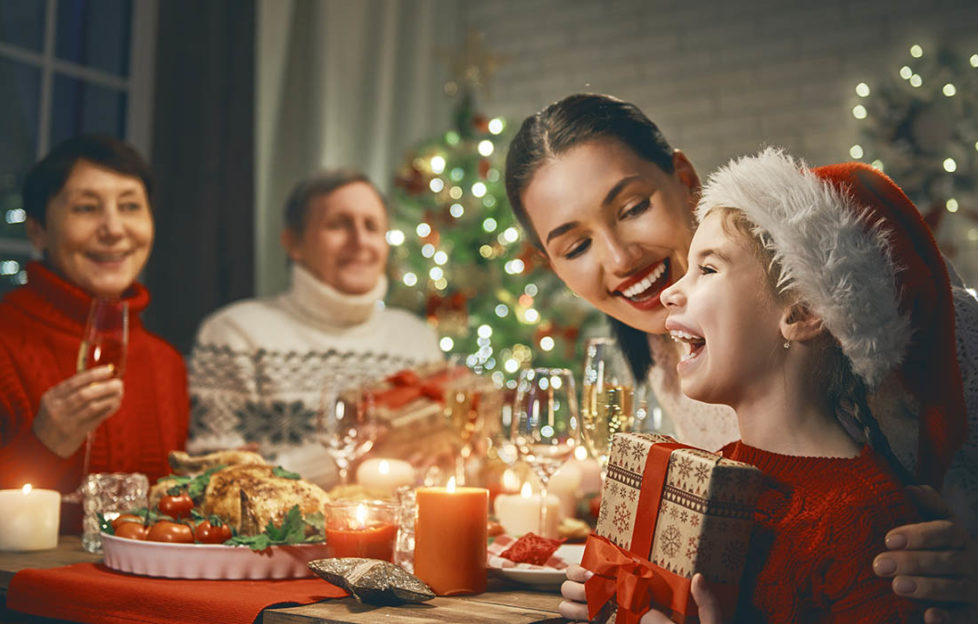 Pic: Shutterstock
 By Heidi Klein
As the weather starts to get colder and the evenings begin to get cosier, there's one thing on all of our minds – Christmas! Although this year's celebrations might feel a little different, the festive season is still a time for celebration…
This year, why not make yours a "blue Christmas"? No, we're not talking about it in the same way that Elvis was. We're talking about celebrating a blue zone Christmas and taking inspiration from some of the happiest and healthiest places on the planet.
What is blue zoning?
Blue zoning is a practice inspired by the regions in the world with the highest life expectancies who are healthy in mind and body. The concept of'blue zoning is all about helping you realise your potential and bettering your health, without making drastic changes to your life.
Tying this mentality into your Christmas festivities this year is sure to give your happiness a real boost. After all, making the most of communal celebrations is one of the key features practised by blue zone communities; it has been found that people from the happiest places on the planet actively express their gratitude and always find ways to celebrate life.
Happiness in the community
Around the world, celebrations have been tied to long-term happiness and contentment. Famously happy Mexican columnist, Armando Fuentes Aguirre, believes that celebrations play a huge part in the high happiness rates of his country. Talking about his home in Mexico,
We celebrate everything. Mother's Day. Father's Day. Godfather's Day… Something every week. We invent reasons together.
The fact that we spend celebrations such as Christmas surrounded by our loved ones contributes to the positive impact of the festivities. In blue zone communities, emphasis is placed on communal living, friendship, and family values. It is thought that this tight-knit way of living helps residents to live longer and healthier lives!
Expressions of happiness and gratitude have long been tied to general wellbeing, but during holiday seasons, these positive feelings are extended and people tend to feel far more community-focussed. One study from the Journal of Environmental Psychology revealed that putting up Christmas decorations signifies to neighbours that you are friendly, open to socialising, and accessible. Even the purely decorative element of Christmas can work wonders for bringing people together!
Maybe there's something you can do in your community to help others?
A festive blue zone lifestyle
As well as cultivating that sense of community, Christmas is a great time to take a slower and more reflective approach to life. The people who live in blue zone locations lead fulfilling, but not hectic and stressful lives. In these regions, moderate physical exercise is built into people's daily lives. Gentle exercise and healthy habits such as climbing stairs or going for a nice winter walk are proving to be more beneficial than hitting the gym and living life to the extreme. Blue zone populations show low rates of chronic disease and, since following in their footsteps, regions which have emulated this blue zone lifestyle have seen drops in obesity, smoking, and BMI.
In addition, you can also take a blue zone approach to your diet. Traditionally, we have seen Christmas as a time for indulgence. However, we can all fall into the trap of over-indulgence, which calls for strict New Year's resolutions and crash diets in January. When we look for inspiration from blue zone diets, we don't see any of these extremes. Instead, blue zone regions promote healthy and filling foods and predominantly rely on plant-based ingredients. Regular healthy eating wins over sudden diets every time, so why not take inspiration from some blue zone Christmas recipes? Here are some of our top recommendations that are sure to spice up your Christmas dinner:
Slow down and enjoy the little things
Christmas is a time to slow down and enjoy the little things in life. Of course, after the year we've had in 2020, it may not feel exactly the same this year. You might not be able to see your extended family, or, for those who prefer to get away from the cold and spend Christmas on holiday next to the pool in their designer swimwear, this year will certainly be a bit more low-key! However, if we continue to look after our bodies and minds and take inspiration from the blue zone ethos, this really could be a Christmas full of joy.