Caorunn Christmas Pudding in partnership with Sven Hanson Britt
---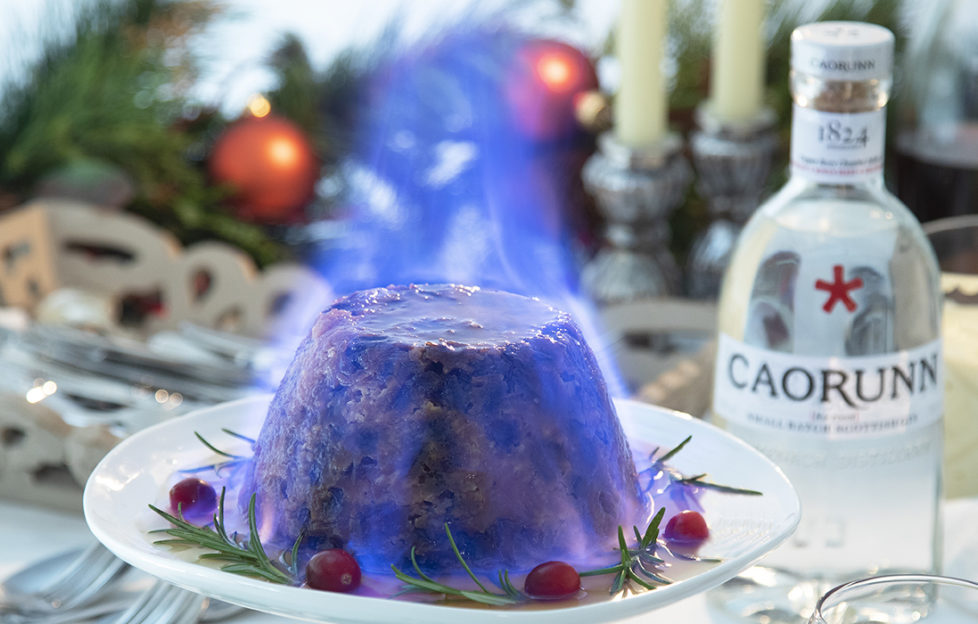 Caorunn Gin has partnered with MasterChef The Professionals Finalist Sven Hanson Britt to create a bespoke Caorunn Negroni Christmas Pudding.
It contains a delicious infusion of Caorunn's locally foraged Scottish Botanicals as well as a hint of apple, juniper and the gin itself. Prepare it now and when Christmas Day comes around you'll have the most amazing, fragrant, flavoursome and moist Christmas pudding.
Preparation Time: 1hr 30min + 6 days infusing/soaking
Cooking Time: 6hrs
Serves: 8-10
Ingredients:
For the dried fruit to be soaked:
90g sultanas
90g currants
90g raisins
18g chopped glace cherries
18g mixed peel
22.5g prunes
For the soaking syrup:
25ml Black Tea Syrup infused with heather, apple and juniper (instructions below)
18ml Guinness
40ml Caorunn Negroni
15ml sherry
15ml dark rum
7.5ml cognac
The fresh ingredients:
1 cooking apple, grated
20g carrot, grated
Zest and juice of 1 small orange
Zest of 1 lemon
1 small egg
10ml milk (of your choice)
The dry ingredients:
37.5g plain flour
16g ground almonds
50g dried breadcrumbs
37.5g dark brown sugar
5g sea salt
55g vegetarian suet
The spices:
½tsp mixed spice
½tsp ground cinnamon
½tsp ground nutmeg
2g crystalised ginger, chopped finely
½tsp juniper, powdered or crushed finely
Have ready:
Baking parchment
Tin foil
String
To Make:
Two days before you want to make the pudding, make the soaking syrup. Create an infusion of strong black tea, adding a little heather, juniper berries and apple skin.
Two days later, make a classic negroni mix with the Caorunn Gin, Campari and Vermouth Rosso. Mix this with the black tea syrup and the other alcohols and pour it over the dried fruit. Leave this covered in the fridge to soak for two more days. Stir occasionally – whenever you get milk for your cup of tea is about the correct frequency.
To make the pudding mix, place all dry ingredients into a large bowl. Add the spices, then the fresh ingredients.
Remove the soaked fruits from the liquid and add to the mix. Retain whatever juice and soaking syrup remains.
Mix everything well with your hands for a few minutes. Pack it into a pudding basin, ensuring the top is flat and there aren't any air bubbles inside.
Cover the top with a perfectly cut 'cartouche' of greaseproof or silicon paper. Then wrap the top with a tight-fitting lid of tin foil.
Let this sit in the fridge for 24 hours before cooking. Once ready to cook, prepare a pan suitable for your bain marie. Place a small side plate into the base of the pan and half fill it with water. Place the pudding basin into the pan and make sure it sits well on the plate. Bring this water to a boil and drop it down to a simmer. Simmer for 5 hours, replenishing the water when necessary. This stage can also be done really efficiently in a steam oven.
Allow it to cool in the pan before removing and storing in a cool, dark place.
24 hours after cooking comes the time to make use of that excess soaking syrup. Remove the tin foil and greaseproof cartouche. Pour the syrup over your pudding and allow all that deliciousness to soak in. Replace the cartouche, discard the tinfoil, then cling film the pudding and keep it somewhere cool until Christmas. This stage can be repeated as little or as often as you like. Every time you make a Caorunn Negroni, make a small one for your pudding and pour it over. It'll lead to a very jolly Christmas!
On Christmas Day, heat your pudding in exactly the same way as you cooked it. This time leave it simmering for 1 hour and it will be hot in the middle. Pour over another glug of Caorunn gin before serving it at the table. Serve with cold brandy butter and hot cognac and juniper crème anglaise.