Sweet Potato, Apricot, Sage & Granola Stuffing
---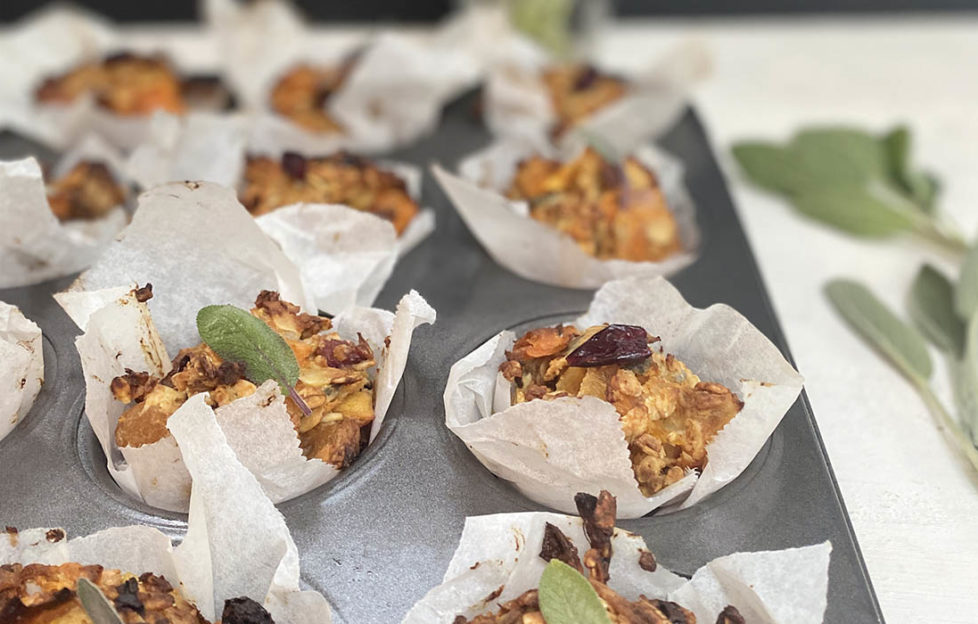 These little parcels of stuffing are packed with chilli-roasted sweet potato and studded with apricots and apple. Replacing the traditional breadcrumbs with Lizi's Gluten Free Granola makes them deliciously gluten-free too.
Preparation Time: 20min
Cooking Time: 50-55min
Makes: 12-14
Ingredients:
2tbsp rapeseed or olive oil
2 red onions
1tbsp honey
1tsp chilli flakes
1 eating apple, peeled cored and chopped
1 large sweet potato (400-500g)
Sage leaves, finely chopped (leave a few leaves to one side to garnish)
250g Lizi's Gluten Free Granola
100g dried apricots (chopped)
A pinch of salt and pepper
A pinch of mixed spice
1 egg
125g full fat cream cheese
To Make:
Preheat the oven to 200ºC.
With a vegetable peeler, peel the onions and then using a sharp knife cut into small wedges. Peel the sweet potato and also cut into small wedges.
Place onion and sweet potato wedges into a deep roasting tin. Drizzle with oil and sprinkle with chilli flakes.
Place in the oven and roast for around 20min. In the meantime, peel, core and chop the apple into chunks.
Remove from the oven and add in the chopped apple. Put back into the oven to roast for a further 10-15min.
Carefully remove the tin from the oven, place on a heatproof mat and drizzle over the honey. Leave the tin to cool.
Place the chopped sage, mixed spice, salt and pepper, chopped apricots and Lizi's Gluten Free Granola into a large mixing bowl and stir to combine.
Back to the tin, use a fork to mash some of the sweet potato. Then add the sweet potato, onion and apple from the roasting tin into the mixing bowl.
 Add in the egg and the cream cheese and mix well.
Tear non-stick baking paper into squares and crush each square into a ball. Un-crumple and use each square to line a hole in a baking/muffin tray. (If the tray doesn't have holes, place evenly spaced on a flat baking tray lined with non-stick baking paper).
 Spoon the mixture into rough balls (shape with your hands if easier). Place each ball onto the baking paper and push down gently.
Reduce the temperature to 180ºC and bake for 15-20min in the middle of the oven. Enjoy!
Lizi's Gluten Free Granola RRP £4.99 for 400g, also available from supermarkets and health stores