Luxurious Tablescaping Themes For Your Festive Meal
---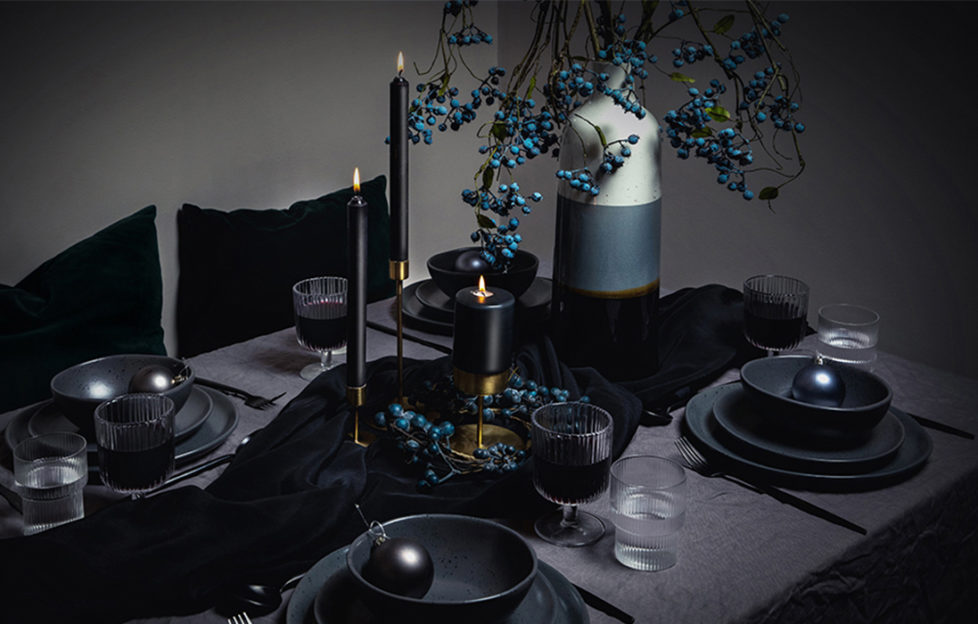 No.1 Magazine
Why not make 2020's Christmas get-together totally elegant and unique? Unleash your creativity with these fabulous tablescaping ideas from stylist and photographer Eve Conroy!
Designer tips…
Arrange a length of luxury fabric down the centre of the table. Resist the urge to stretch it out flat, but instead create artful twists and mounds, reminiscent of a still life painting.
Velvet and satin work particularly well, but experiment with whatever you have in your desired colour. Take care once you light the candles, though, as hot dripping wax can melt fabrics as well as sticking to them.
Group together candlesticks in different widths and sizes, unified by style and colour.
Be daring – try sprigs of fabulous blue faux berries, or cheekly monkey candle holders, for a real statement that will have guests exclaiming in delight!
---
Colourful & Quirky
A fun, modern trend that lets you mix and match virtually anything bright and interesting.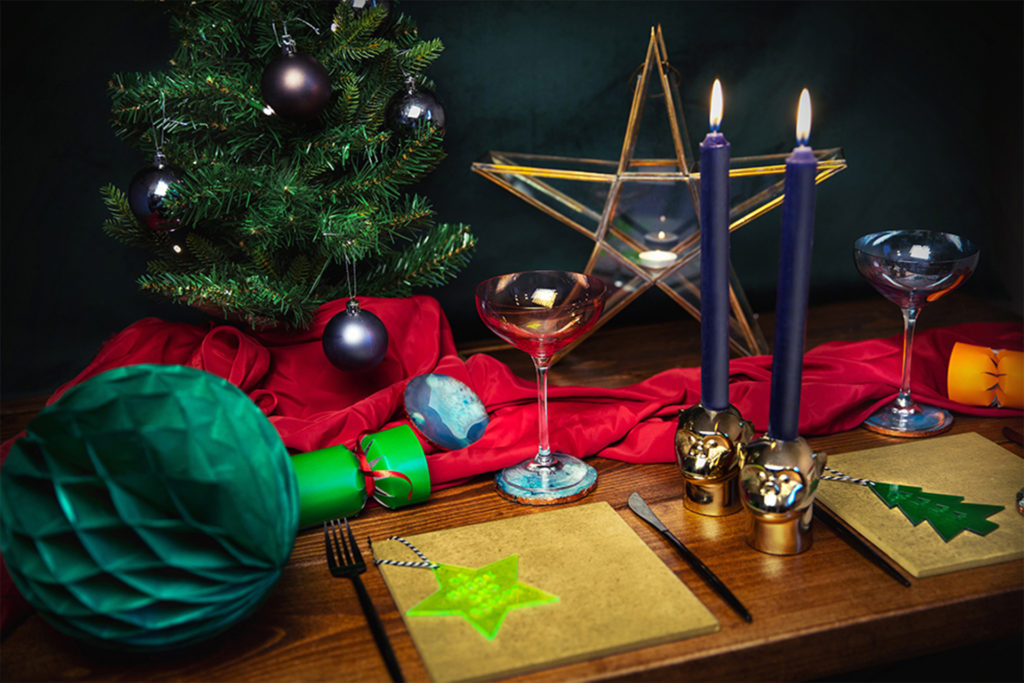 Pre Lit Tree, £15, Homebase
Agate coasters £45 (set of 4), Heavenly Homes and Gardens
Brass star (size medium) £43, Heavenly Homes and Gardens
Abigail Ahern/Edition Gold Monkey Candlestick Holder, £8, Debenhams
Candles, Flying Tiger
LSA champagne saucers £36 (set of 4), Amazon
Home made crackers in colourful card – from Your Best Ever Christmas tutorial
---
Radiant Gold & White
Traditional yet sparkling with style, add your own touches for a wonderful table setting.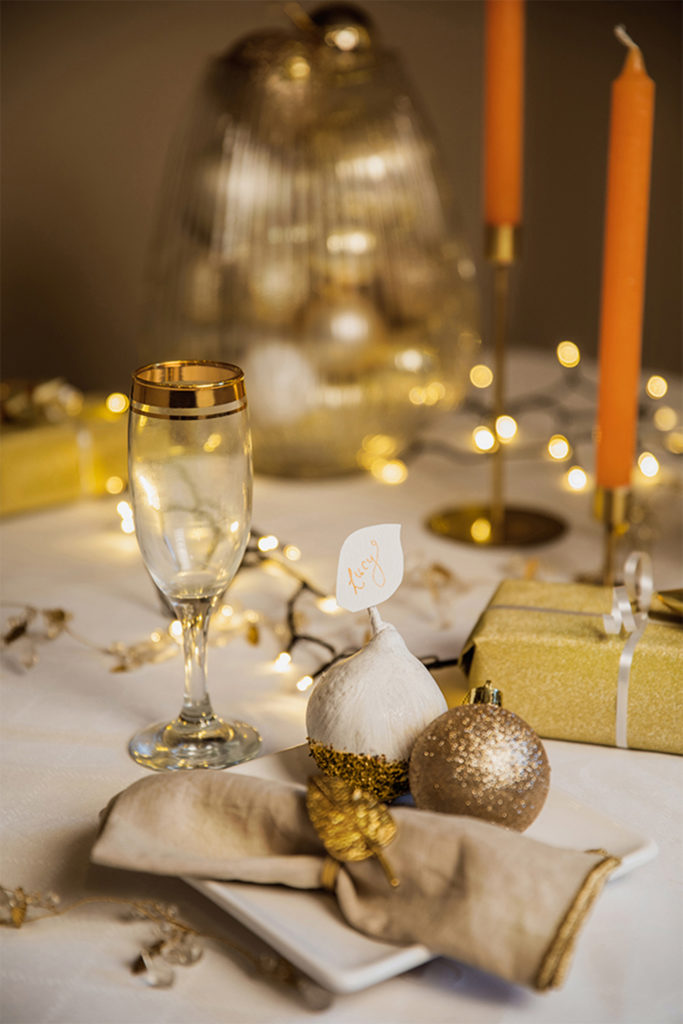 Gold trim napkins, £25, Heavenly Homes and Gardens
Gold leaf napkin rings £29.95 (set of 4), Heavenly Homes and Gardens
**WIN THESE NAPKIN RINGS HERE!**
Glass and gold leaf garland, £23, Heavenly Homes and Gardens
Candles, Flying Tiger
Tall candlesticks, £16, small candlesticks, £7, both Aume
Name cards – Got some rock-hard pears? Spray paint one white (or coat in acrylic paint). When dry, dip the bottom half in PVA glue and then in glitter. Cut out a leaf shape from plain card, write your guest's name and attach to the stalk.
Easy centrepiece – fill a vase with festive baubles in your colour choice (gold and white here) and add a string of battery operated fairy lights.
---
Dark & Wintry
Dramatic and atmospheric, this is the perfect antidote to brash, mass-produced decor. Imagine you are dining in a mysterious woodland…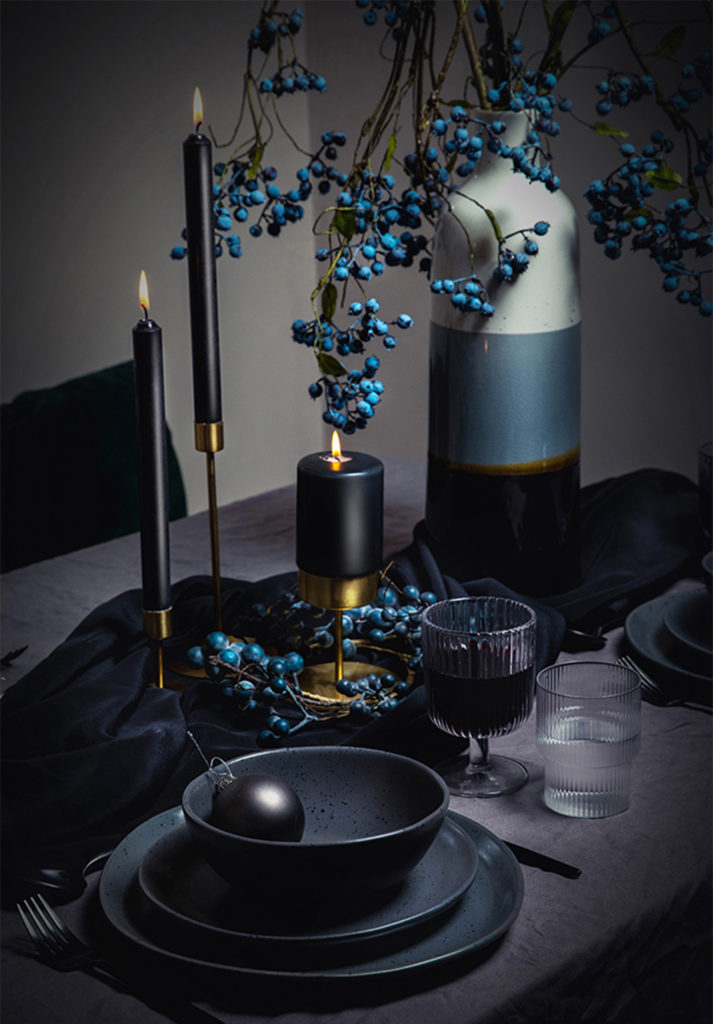 Faux berry stems, £14 per stem, Heavenly Homes and Gardens
Faux berry candle ring, £7.50, Heavenly Homes and Gardens
Nova Matte cutlery, 4 place settings, £34.70, Sklum
Tablecloth, £39.99, H&M
Tall candlesticks, £16, wide candlesticks £12, small candlesticks £7, all Aume
Black pillar candles, Flying Tiger
Wine glasses, £35 (set of 2), Ferm Living at Hoos
Water glasses, £39 (set of 4), Ferm Living at Hoos
---