Turkey Lasagne With Sacla' Truffle Pesto
---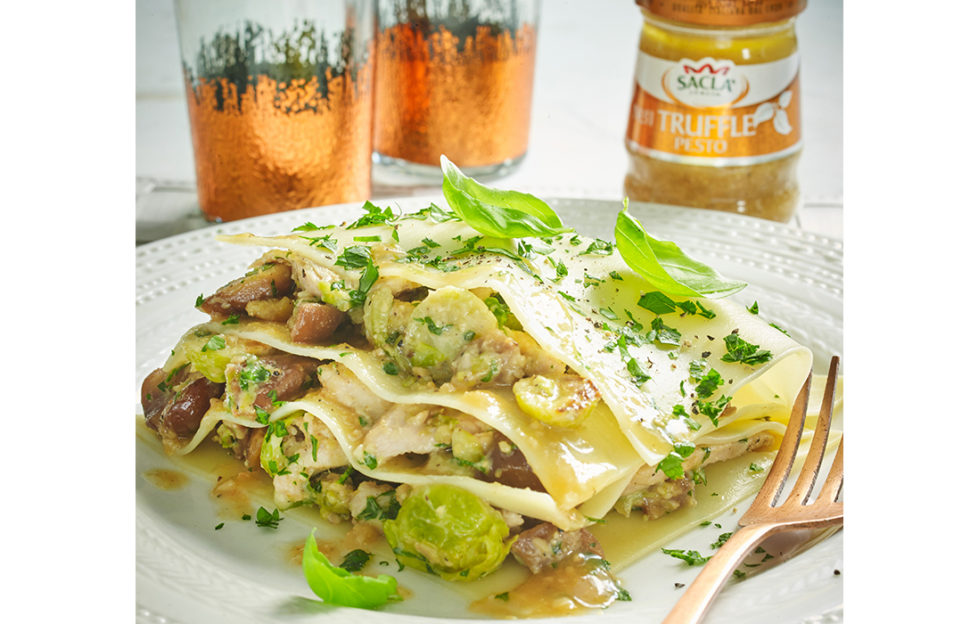 Check out this tasty turkey alternative which is guaranteed to raise your leftovers to another level. Making the most of those tasty cooked sprouts and chestnuts, this creamy Turkey Lasagne with Sacla' Truffle Pesto is earthy, yet fresh, and popping with flavour.
Preparation Time: 10min
Cooking Time: 15min
Serves: 4
Ingredients:
1 tbsp olive oil
200g cooked sprouts, roughly sliced
Salt & freshly ground black pepper to taste
180g pack whole cooked chestnuts, roughly
chopped
1 jar Sacla' Truffle Pesto
400g leftover cooked turkey, roughly shredded
200ml double cream
8 lasagne sheets
1 handful flat leaf parsley, finely chopped
Basil leaves
To Make:
Heat the oil in a large frying pan, add the sprouts, season well and cook for a couple of minutes until just beginning to colour then stir in the chestnuts and cook for 1min more.
Add the Sacla' Truffle Pesto and stir to combine. Then add the turkey and cream, a little at a time until it becomes the desired consistency. Simmer gently, stirring occasionally until the turkey is piping hot. Taste, season some more if required and put to one side.
Add the lasagne sheets to a pan of boiling water and cook until al dente, then drain, separate and cut each one in half widthways.
To assemble, lay a square of lasagne on a serving plate and layer up with the mixture and three more lasagne sheets. Sprinkle over parsley to serve, then top with basil leaves and freshly ground black pepper and dig in!
The Sacla' Pesto range includes pasta sauces, antipasti and a wide selection of products suitable for vegans and vegetarians. Available at leading supermarkets. Sacla' Truffle Pesto RRP is £2.50 for 90g.
@sacla_uk  #PestoPioneers