Raspberry Oreo Tiramisu
---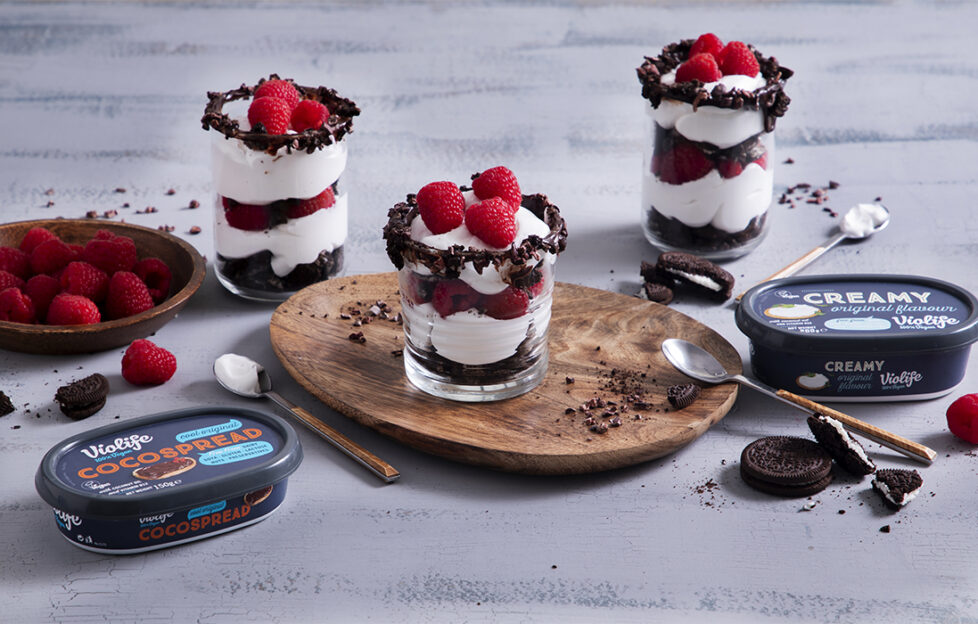 Here's a vegan showstopper that everyone will tuck in to with delight – yet it's so quick and straightforward to prepare!
A silky vanilla and rum yogurt contrasts with juicy raspberries and crunchy chocolate Oreos.
Preparation Time: 20min
No Cook
Serves: 4
Ingredients:
3-4tbsp Violife Cocospread
1 pack Oreo biscuits
200g fresh raspberries
200g coconut or almond yogurt
1tsp vanilla essence
2tbsp rum
1 espresso shot
2tbsp water
1tsp coconut sugar
3tbsp cocoa nibs, to decorate
To Make:
Place 3-4tbsp Violife Cocospread on a small plate. On another small plate crush 5 Oreos with your hands and mix with the cocoa nibs.
Prepare your tiramisu dessert glasses by dipping the rim into the Cocospread evenly and then coating with the Oreo and cocoa nib mixture. Set aside.
In a large bowl, mix the Violife Creamy with the yogurt, vanilla and rum. Whisk until smooth. Set aside in the fridge.
Make the espresso, allow to cool and stir in the water and the sugar. Mix until the sugar has dissolved.
Crumble 3 Oreos with your hand into each dessert glass, covering the bottom. Pour over 2tbsp coffee mixture and top with 3tbsp of the creamy mixture.
Top with fresh raspberries and repeat this layering process, finishing with the fresh raspberries. Chill before serving.