Luxury Christmas Walnut & Chestnut Loaf
---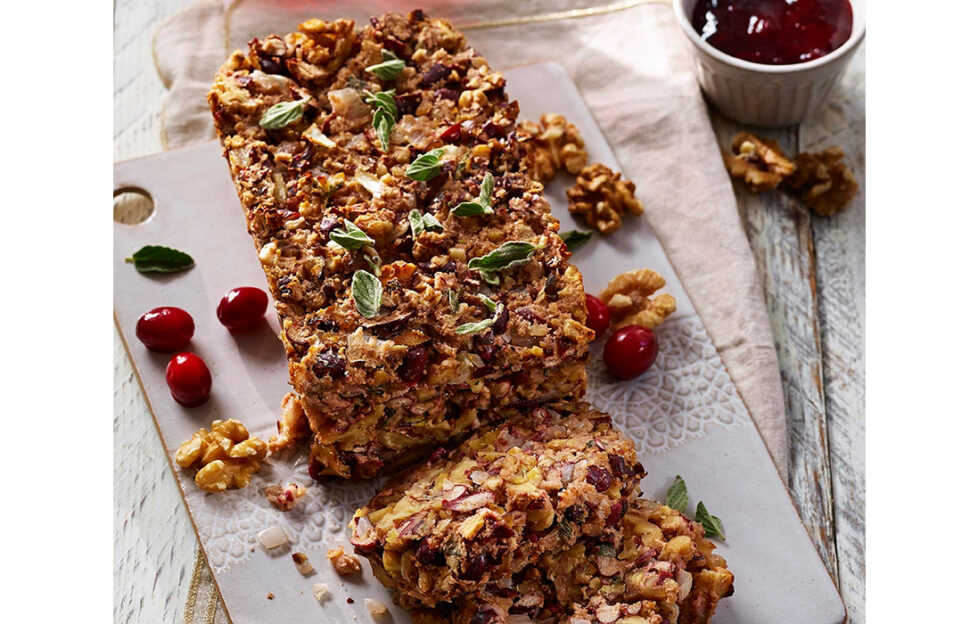 Full of natural goodness and the warming flavours of walnuts, spice and cranberries, this four-step recipe is both quick to prepare and deliciously satisfying.
Preparation Time: 15min
Cooking Time: 20-25min
Serves 4-6
Ingredients:
1tbsp oil
1 onion, chopped
2 cloves garlic, chopped
400g can kidney beans, drained and rinsed
180g pack whole chestnuts
150g California Walnut pieces, roughly chopped
50g cranberry sauce plus extra to serve
1tsp mixed spice
2tbsp roughly chopped oregano
100g fresh breadcrumbs
125ml hot vegetable stock
To Make:
Preheat the oven to 200oC, gas mark 6. Grease and line a 1kg loaf tin.
Heat the oil in a small frying pan and fry the onion and garlic for 3-4min until golden. Allow to cool slightly.
Place the kidney beans and chestnuts in a food processor and roughly chop. Transfer to a large bowl and mix in the onions, walnuts, cranberry sauce, spice, herbs, and breadcrumbs, season well. Mix in the stock, press into the prepared tin and bake for 20-25min or until golden.
Cut into slices and serve with extra cranberry sauce and vegetables.
Cook's tips
Press the mixture into large balls and bake for 15min to serve as part of a buffet.
Try using cannellini beans or chick peas instead of the kidney beans.