Sticky Fig and Goats Cheese Tart
---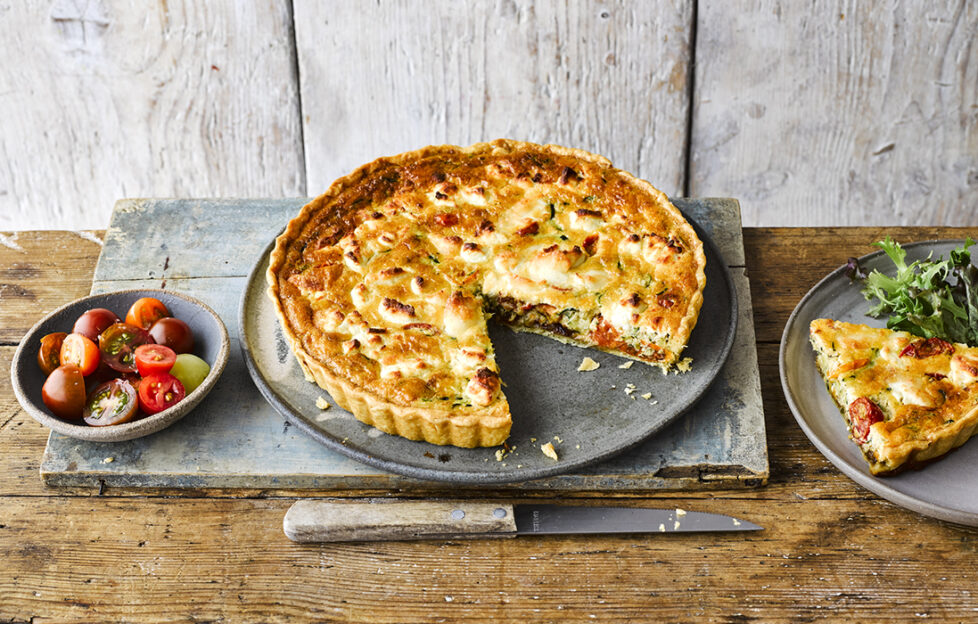 Recipe by Tracklements
A great dish for Christmas entertaining, be that in a buffet, for a supper gathering or just to feed Christmas guests who are staying for longer over the festive holidays.
Cooking time: 1hr
Serves: 8
Ingredients:
Plain flour, for dusting
320g pack shortcrust pastry
2 large courgettes, coarsely grated
1-2tsp salt
Knob of butter
Handful of cherry tomatoes, cut into chunky slices
215ml whipping cream
3 eggs, beaten
Ground black pepper
½ jar of Tracklements Sticky Fig Relish
110g soft goats' cheese
To Make: 
Preheat oven to 200°C, Fan Oven 180°C, Gas Mark 6.
Lightly dust a surface with flour and roll out the pastry into a large circle approx. half a centimetre thick. Line a tart tin (about 23cm) with the pastry and cut away the excess. Prick the pastry all over with a fork, line with baking paper, fill with baking beans and blind bake for 10-15min until the pastry starts to turn golden. Remove paper and beans. Cook for 5min more until crisp and cooked through. Leave to cool.
Put the courgettes into a bowl, sprinkle with 1-2tsp of salt and mix. Leave for a few mins then tip onto kitchen towel or a clean tea towel and press to remove all the excess liquid.
Melt the butter in a large frying pan, add the courgettes and tomatoes to the pan. Cook for around 3min. Put the courgettes and tomatoes in a bowl and add the cream and the egg. Add some ground black pepper (and salt if the salt from the courgettes isn't enough).
Reduce oven to 180°C, Fan Oven 160°C, Gas Mark 4. Spread the Sticky Fig Relish over the bottom of the tart case, add the courgette mixture, crumble the goats' cheese on top. Bake for 40min until set.
Cool before cutting.