6 Tips to Create the Best Vegan Christmas Dinner
---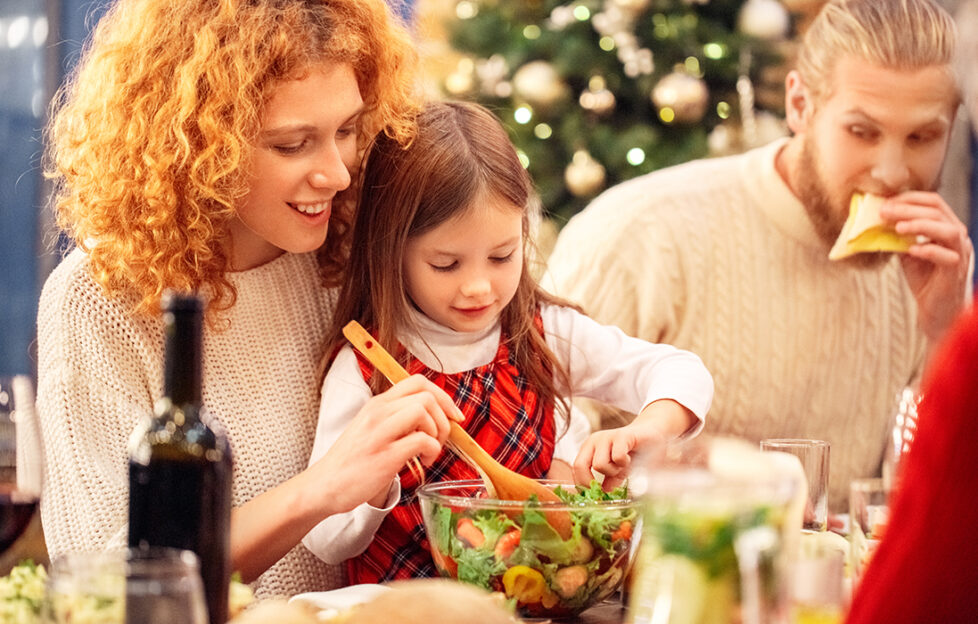 Pic: Shutterstock
If you are vegan, or will be hosting Christmas dinner where a plant-based menu is needed, then don't panic! Here are some tips from Traidcraft Christmas to make entertaining as easy as can be!
If you're new to plant-based cooking, and need some inspiration for Christmas dinner alternatives with all the festive flavours you love, then look no further! We guarantee everyone will be impressed!
Prepare early
Join in all the fun from the beginning of December. Advent calendars are a Christmas classic, and luckily, there are many options for vegans. From fair trade vegan chocolate advent calendars to DIY ones made with vegan treats and cute eco-friendly gifts, countdown the days in style.
While you're in the Christmas mood, why not get a head start on your festive playlist, menu and shopping list planning, and perhaps send out invitations to your family? Christmas markets are perfect for preparing ahead, and you can find some irresistible delights to put on your Christmas table.
Start with the drinks
Once your guests arrive, welcome them with some homemade vegan drinks. While most alcoholic beverages like wine, beer, spirits and cider are vegan-friendly, it's best to either double-check their content or prep your own.
This indulgent White Christmas Mojito punch will set the mood. Alternatively, the vegan bourbon pecan milk punch is ideal for bourbon-lovers and a  perfect replacement for Santa's milk and cookies.
For those who wish to refrain from alcohol, why not prepare a plant-based alternative to the classic hot chocolate, such as this gingerbread hot cocoa? You can also prepare your tea blend using Christmas favourites like cinnamon, orange peels, cardamom, star aniseed, or apple – just like a mulled wine but without the wine.
Move onto the starters
Although starters are optional at Christmas given the choice of main dishes, a heart-warming soup is perfect – and any leftovers will do for lunch the next day! When planning your starters, think seasonal and local: what are the best-quality vegetables you can source at the time? Butternut squash, pumpkin, beetroot and Brussels sprouts are all December classics. For a simple yet vibrant starter what about a vegan butternut squash soup made with coconut milk for extra creaminess? Or Five Spice Sweet Potato and Carrot Soup?
If you are a fan of salads, you will love this vegan beetroot pear salad with walnuts which contains only four ingredients and is highly nutritional. Other lightweight but tasty starters include roasted tomato soup, artichoke bruschetta and luxury hummus.
It's time for the mains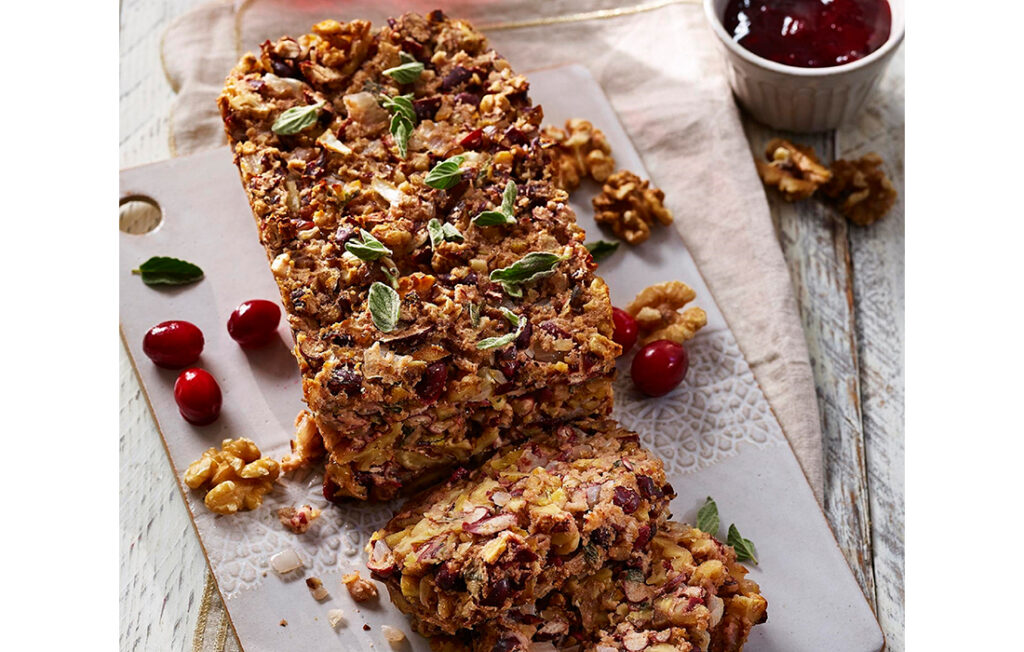 If you're feeling adventurous and really want to wow your guests with the main, "think tarts, roasts, pies, and wellingtons," says Elena Orde from The Vegan Society. Again, these dishes can be simplified by getting vegan ready-made pastry from a supermarket. The good thing about these pastry options is that you can mix and match them as you please. For the pies, try different fillings, such as squash, carrots, chard and lentils. A wreath-shaped pastry filled with nuts, veg, and tofu is also a great idea.
A classic vegan main dish is a nut roast. Start with the basic recipe, and once you get the hang of it, you will be able to diversify by adding raisins, sage, cranberry, cinnamon and different nuts.
Get on with the sides
The sides are where you have the most freedom to experiment and cater to everyone's food preferences. Pretty much anything goes here as long as it complements the centrepiece.
You probably already have a repertoire of vegetable dishes, so feel free to throw in a few of them. From roasted potatoes with rosemary to Brussels sprouts with seeds and maple-glazed carrots, the kitchen is yours.
If you're looking for alternatives to the classic Christmas side dishes, try a vegan red wine gravy. For the stuffing, you can opt for a vegan sage and onion stuffing – a replica of the original recipe – or venture into making a hazelnut, sage, and mushroom stuffing.
Then simply add your favourite sauces and dive in!
Who said dessert?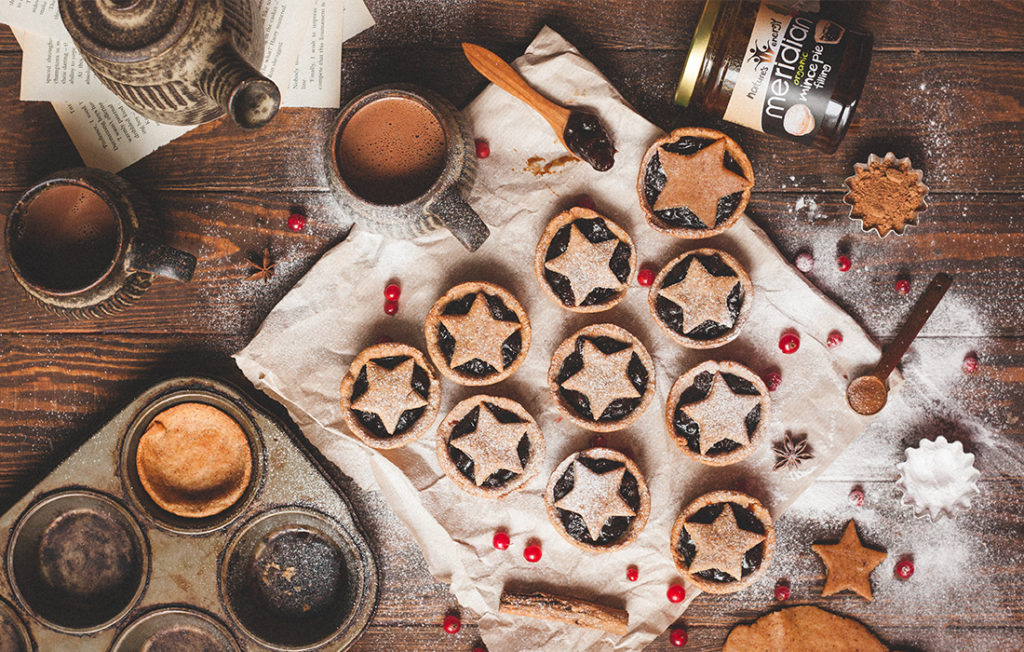 Usually, the last bite of stuffing puts an end to our savoury feast, and the sweet one begins. Although our bellies are as full as Santa Claus', we all know we can't resist!
So for your vegan Christmas dinner, you can satisfy everyone's sweet tooth with a few mince pie options. All you have to alter is the pastry since the filling is already vegan. Of course, you can always buy ready-made ones.
For a little twist, why not try a vegan cranberry cheesecake or satisfy everyone's sweet tooth with this Raspberry Oreo Tiramisu? It's the perfect ending to your celebratory dinner!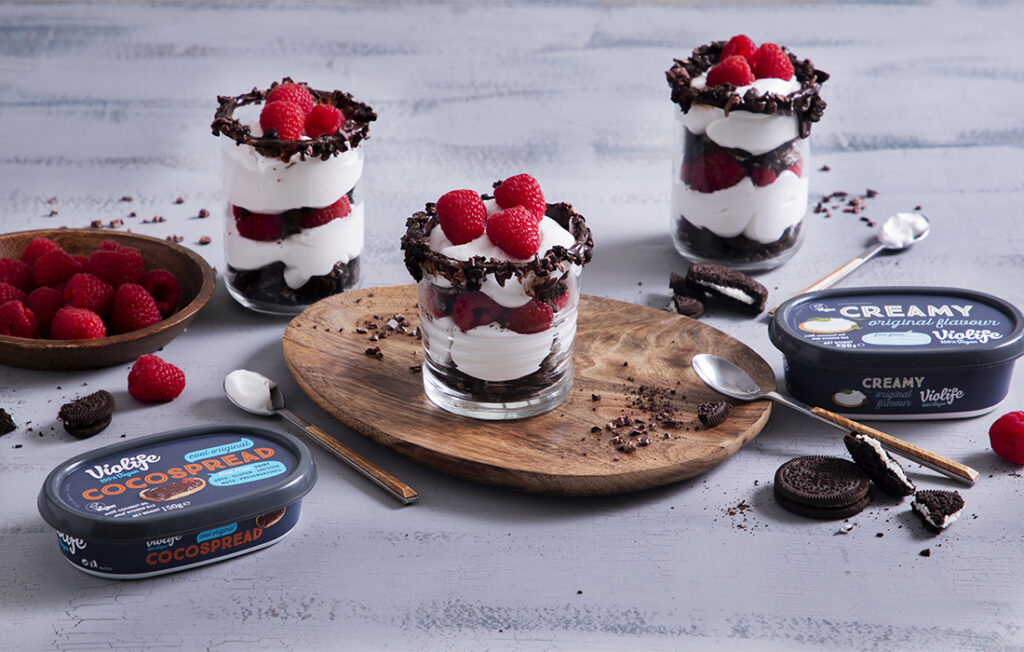 Try some of My Weekly's free recipes!
Go to www.myweekly.co.uk/category/cookery and www.besteverchristmas.co.uk/category/food-drink/  and search for some fabulous vegan choices.