Mushroom Shawarma For Vegetarian Guests
---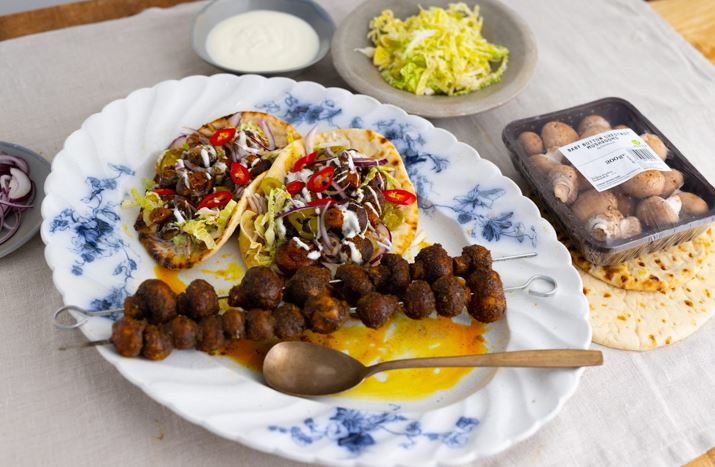 Perfect for house guests who don't eat meat… or anyone who would like a lighter, spicier main meal option
Ingredients
Large mushrooms
Flatbreads
50ml olive oil/veggie oil
For the spice mix
½tsp tumeric
1tsp ground cumin
1tsp ground coriander
1tsp paprika
2tsp salt
½tsp cayenne
½tsp ground cinnamon
1tsp garlic granules
To serve
Iceberg lettuce leaves, sliced
Small red onion, thinly sliced
Pickled jalapeños
100ml yogurt
200g Sainsbury's chestnut baby mushrooms
To Make
Cast the spices into a bowl with 50ml of olive oil and mix well. Throw in your mushrooms and toss until well coated.
Slide them onto a skewer (soak wooden ones in water for 30min beforehand), and grill till soft and golden. Anywhere between 5-10min depending on your heat. Toast your flat breads.
Now it's time for the tasty build. Chuck in the lettuce, mushrooms, and jalapeños then drizzle with a bit of yogurt… top with your favourite hot sauce if you can handle it.
DJ BBQ is a TV personality and cookbook author. Find out more here