Mandarin & Cranberry Trifle
---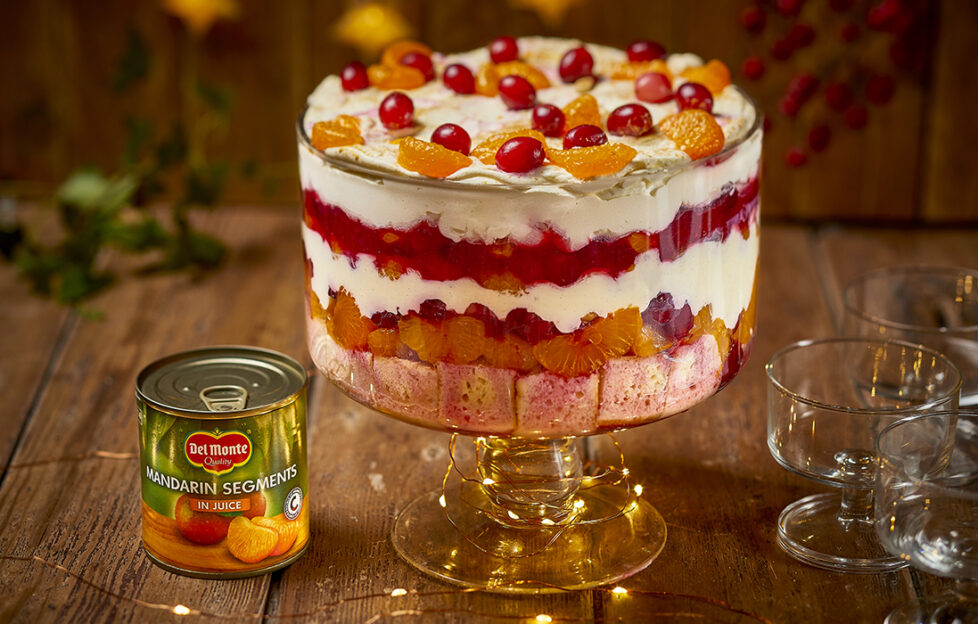 Stunning colours and favourite flavours come together in a fruit-filled, alcohol-free festive dessert that will delight your guests.
Preparation Time: 30min
Chilling Time: 1-24 hours 
Serves: 10
Ingredients:
3 cans (298g) Del Monte® Mandarins in Juice
300g fresh or frozen cranberries, plus a few to decorate
75g caster sugar
300g ready-made plain sponge cake
500g ready-made vanilla custard
300ml double cream
Edible glitter, to finish (optional)
To Make:
Drain one can of mandarins, keeping the juice. Put the cranberries, sugar and 100ml of the mandarin juice into a saucepan. Bring to a simmer and cook for about 3 minutes, pressing the cranberries here and there with a wooden spoon to help them burst. Take off the heat and set aside to cool completely.
Break or cut the sponge cake into bite-size chunks and press into the base of a 2-2.5 litre trifle dish, pressing it down into a fairly even layer. Trickle the remaining reserved mandarin juice over the sponge.
Drain the other two cans of mandarins (you won't need the juice this time) and combine all the drained fruit together. Choose about a dozen of the best mandarin segments for decoration and set aside in a covered dish in the fridge. Spread half the remaining mandarins over the sponge. Then spoon half the cooled cranberry compote over the mandarins. Spread the vanilla custard over this. Arrange the second lot of mandarins over the custard, then the remaining cranberry compote.
Refrigerate the trifle at this stage for an hour, or up to 24 hours, to let everything settle.
When ready to serve, whip the double cream until it holds soft peaks. Spoon it over the fruit. Arrange the reserved mandarins on top of the cream, along with a few whole cranberries.
Finish with a little edible glitter, if using.