Christmas Tree Brownies
---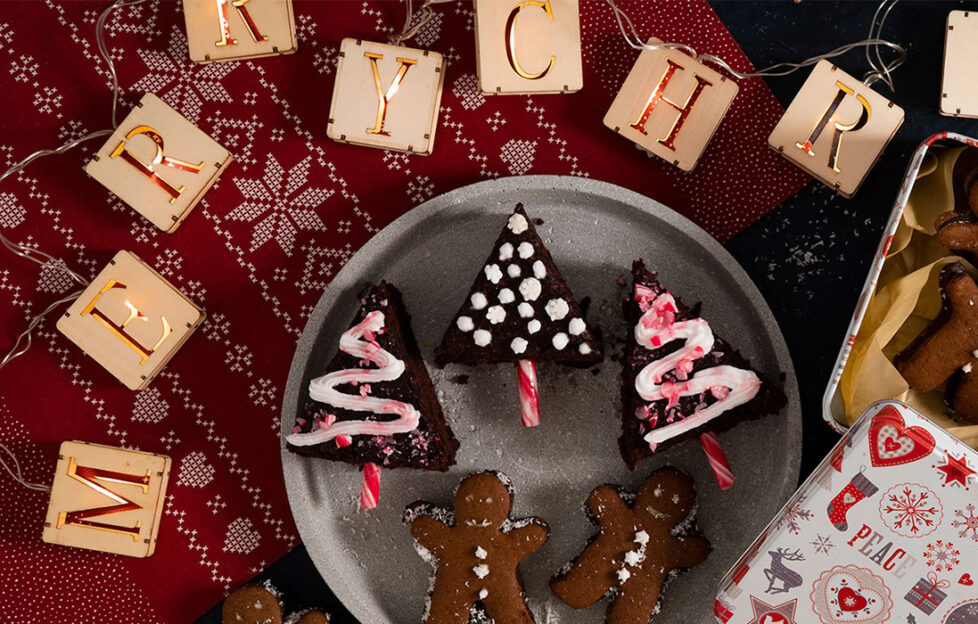 This fun and fabulously indulgent recipe from Violife is vegan too!
Preparation Time: 30min
Cooking Time: 40min
Serves: 12
Ingredients:
1 tub Violife Cocospread
125g all purpose flour
115g plant-based butter, melted
200g granulated sugar
220g brown sugar
86g unsweetened cocoa powder
125g water
4tbsp ground flaxseed
1tbsp pure vanilla extract
1tsp baking powder
½tsp salt
To Decorate: 
1 tub Violife Creamy Original
1tbsp vanilla extract
6 candy canes, halved
Christmas sprinkles
To Make:
Make the flax eggs by adding the water and flaxseeds in a bowl, while stirring. Set aside to thicken.
Preheat the oven to 170°C and line a 27x20cm brownie tin with baking paper.
In a large bowl, whisk the melted butter and sugars together. Add the flax eggs, vanilla and salt and whisk until evenly combined. Add the Violife Cocospread and fold in until combined. Sieve in the flour, baking powder and the cocoa powder and stir until combined. Pour the batter into the tin and smooth out with a spoon.
Bake for 35-40min or until a toothpick inserted into the brownies comes out clean. Set aside until completely cooled.
Cut the brownies into 12 equal triangles.
In a bowl mix the Violife Creamy Original with the vanilla extract and place in a piping bag. Use this to decorate your brownies.
Place a candy cane as a 'base' to each of your brownie trees. Sprinkle with Christmas sprinkles and enjoy!