3 Delicious Sides From MasterChef Winner Saliha
---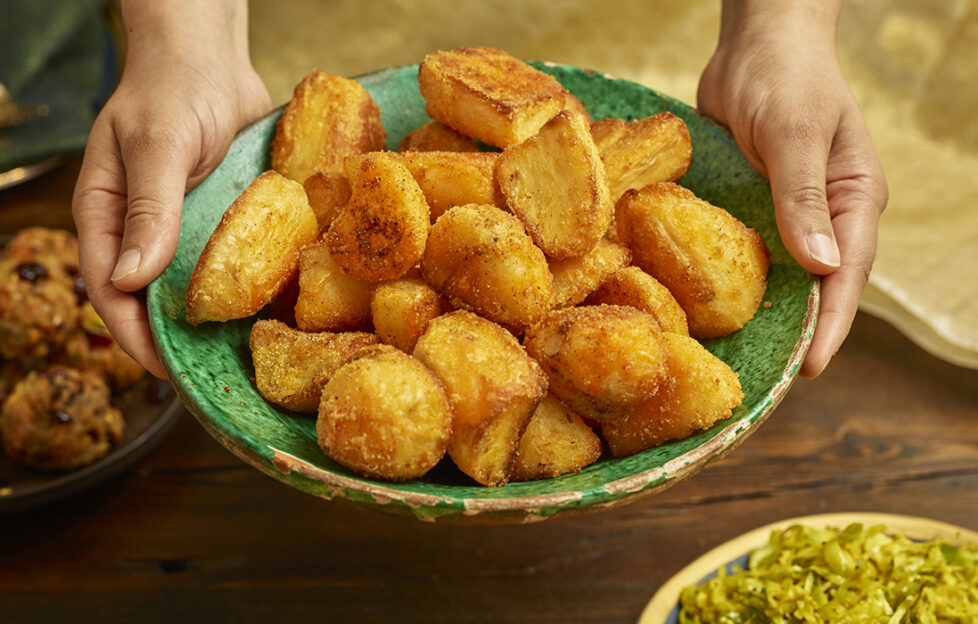 Elevate your Christmas meal with a trio of delights – Firecracker Roasties, Middle Eastern Stuffing Balls and Stir Fried Sprouts – all from BBC MasterChef 2017 winner Saliha Mahmood Ahmed!
Ingredients for Firecracker Roasties:
1.25kg Maris Piper potatoes
1tbsp coarse semolina
100ml light olive oil
1 heaped tsp hot paprika
½tsp cayenne pepper
Flaky sea salt, to taste
To Make:
Preheat the oven to 200°C, Fan Oven 220°C, Gas Mark 7. Place a large flat roasting tray inside to heat up.
Meanwhile, peel the potatoes and cut each one into quarters. Boil in salted water for around 4min, then drain in a colander. Shake the colander to rough up the edges of the potatoes and sprinkle over the semolina.
Pour the olive oil into the hot roasting tray and tip in the potatoes, ensuring that they are spaced apart from one another in a single layer. Roast for 20min before turning them over and roasting for a further 15min.
Combine the paprika and cayenne together in a small bowl. Sprinkle this spice mixture all over the potatoes and return them to the oven for a final 15-20min, or however long it takes to make them really golden and crisp.
Sprinkle over sea salt and serve immediately.
Ingredients for Middle Eastern Style Spiced Stuffing Balls:
75g melted butter
275g white onion, finely chopped
6 finely sliced sage leaves
1tbsp finely chopped parsley
50g dried cranberries
50g chopped pistachios
50g dried apricots
125g fresh breadcrumbs (using fresh rather than dried breadcrumbs is essential)
1 large beaten egg
½tsp Kashmiri chilli powder
Salt, to taste
1tbsp vegetable oil
To Make:
Preheat the oven to 220°C, Fan oven 200°C, Gas Mark 7.
Melt the butter in a saucepan. Add the onion and sage and fry off until the onions are soft and translucent but have not yet started to caramelise.
Pour the onions into a mixing bowl and add the parsley, cranberries, pistachios, apricots, breadcrumbs, egg, chilli powder and season liberally with salt. Mix everything well to form walnut sized balls. If you have trouble forming the balls, add a little more melted butter.
Place the stuffing balls on a sheet lined with greaseproof paper and brush each with a small amount of vegetable oil. Bake for 20min until crisp and golden brown.
Ingredients for Stir Fried Brussels Sprouts:
Boiling a Brussels sprout to within an inch of its life is culinary carnage, especially when these mini cabbage-like vegetables take so well to stir frying. Here I use gentle spices with wintery tones and a searing hot pan to lift the humble sprout to new heights. Use a food processor to chop the sprouts if you're short on time, and mix any leftovers with eggs and cheddar cheese to make a wonderful frittata the following day.
75ml olive oil
1tsp mustard seeds
1 thumb sized piece of grated ginger
3 cloves garlic, grated
1tsp ground turmeric
2 finely sliced green chillies
800g brussels sprouts, shredded into approx. 0.5cm thick ribbons
2 heaped tsp honey
Juice ½ lemon
Salt, to taste
Pour the olive oil into a wok and place over a high heat. When the oil is very hot, but not quite smoking, add the mustard seeds, ginger, garlic, turmeric and green chilli.
Once the mustard seeds are popping vigorously, quickly add the sprouts. Stir well so that the cabbage takes on the pale-yellow hue of the turmeric.
Add the honey to the sprouts and season to taste with lemon juice and salt. The sprouts will take 3-5min to cook through in the wok – they should still retain some bite. If the pan looks too dry, add a splash of water.
Serve immediately.