Blueberry Glazed Pork Pies
---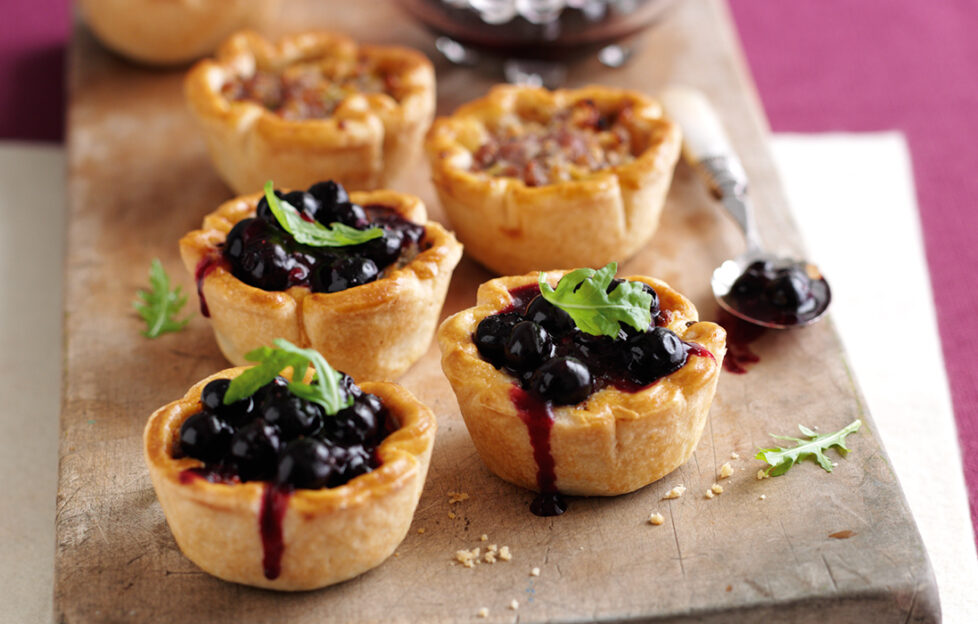 These mouthwatering pies by Love Fresh Berries are made with 'cheat' ingredients… a pack of chilled pastry, sausage meat and ready-made stuffing. What could be easier?

Preparation Time: 20min
Cooking time: 25min
Makes 12

Ingredients:
For The Pies
½ x 130g pack dried sage and onion stuffing mix
500g ready-made chilled shortcrust pastry
A little flour, for rolling
3 spring onions, sliced
400g  good quality pork and herb sausages, skins removed
Freshly ground black pepper
1 egg, beaten to glaze
For The Topping
175g blueberries
2tbsp red wine vinegar
2tbsp redcurrant jelly
2tsp cornflour
12 tiny rocket leaves to garnish, optional
To Make:
Make up the stuffing mix with half quantity of boiling water and leave to stand as the pack directs.
Roll the pastry out thinly on a lightly floured surface then cut out 11.5cm (4½ inch) circles using a plain biscuit cutter or a small coffee cup saucer as a guide. Press into a 12 section lightly buttered, muffin tin so that the pastry stands a little above the top of the tin in a wavy edge. Re-roll pastry as needed until you have 12 circles.
Mix the spring onions with the sausage meat and a little pepper then mix with the stuffing. Divide between the pastry cases and press into an even layer with the back of a spoon.
Brush the top edges of the pastry cases with a little beaten egg then bake in a preheated oven, 180ºC (160ºC fan oven), gas mark 4 for about 25 minutes until the top edge of the pastry is golden and the filling is cooked through. Leave to cool for 15 minutes then loosen and transfer pies to a cooling rack.
Add the blueberries, vinegar and redcurrant jelly to a small saucepan, cook, stirring for 4-5 minutes until the blueberries are soft.
Mix the cornflour with a little water until a smooth paste, stir into the blueberries and cook until the juices have thickened. Leave to cool then spoon over the pies.
To Prepare Ahead:
Make and fill the pies but freeze them uncooked, still in the muffin tin. Once frozen hard, loosen with a round bladed knife, remove from the tin and pack into a plastic box.
Freeze the cooled blueberry topping separately in a small plastic box.
Return the pies to the muffin tin, defrost pies and topping at room temperature for 4 hours then bake and top with blueberries as above.
Find more gorgeous recipes in Your Best Ever Christmas magazine, on sale now! Order a copy for delivery.