7 Bonnie Scottish Christmas Gift Ideas
---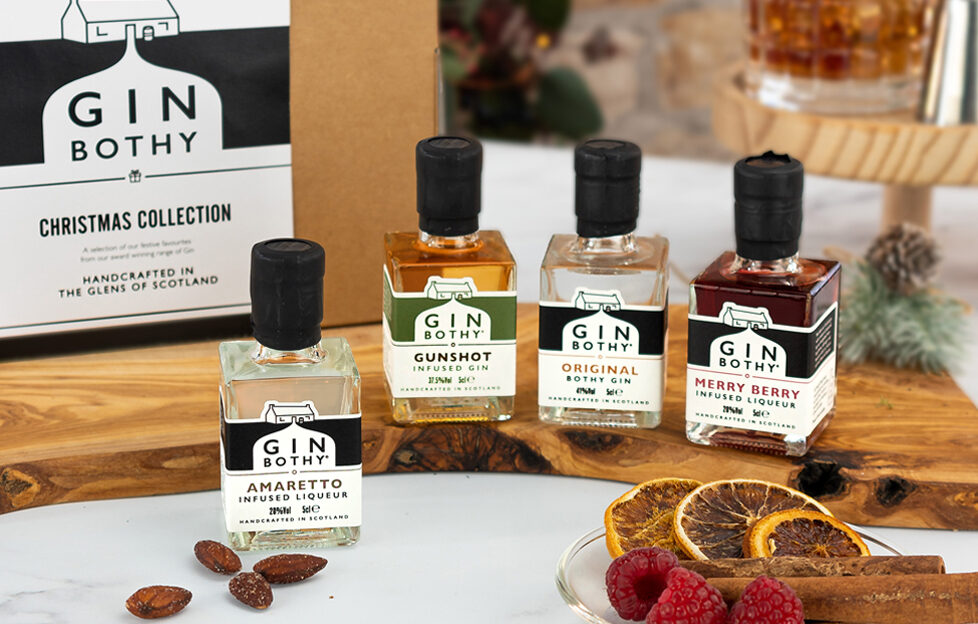 The Gin Bothy Christmas Collection.
Delicious hampers, gin-tastic sets and more, take a gander at a small selection of Scottish Gifts available at oor shop this Christmas.
1. Edinburgh Gin Cocktail Set
The perfect gift for a budding mixologist, Edinburgh Gin's Cocktail Set includes a bottle of their classic London Dry style plus tools to help you make the perfect Gin and Tonic.
All included, your chosen recipient will receive a mixing jug and spoon, a measure and a zester!
2. The Gin Bothy Christmas Gin Collection
Straight from the Angus glens of Scotland, Gin Bothy presents their popular Christmas collection.
Showing off a variety of locally sourced ingredients available on their doorstep, this set arrives with four festive gins.
Flavours featured include Amaretto and the intruging "Merry Berry". Hand-bottled and hand-batched, this collection contains all natural flavours with no additives or preservatives.
3. Maclean's Festive Dram Hamper
New to our shop, family-run Macleans have assembled a lovely hamper, packed with Scottish flavour, just in time for Christmas.
Alongside their own award-winning oatcakes, shortbread and biscuits, the hamper arrives with locally produced artisan treats and a bottle of Single Malt Whisky from Highland Park.
4. Scottish National Team Blended Malt Whisky
Oor Scottish list would not be complete without our national drink and we have something special available for Christmas.
In a year that saw the Scotland National Team compete in their first major tournament in over twenty years, this official blended malt is the perfect match for any fixture.
5. Walkers Aberlour Hamper
Great for sharing with friends and family, the Aberlour Hamper from Walkers serves up a tantalising taste of Scotland.
Enjoy their iconic shortbread this Christmas with featured fancies including Petticoat Tails, Highlanders and Chocolate Chip!
6. Edinburgh Memories
Journey through the decades with the help of restored photographs of Scotland's capital city.
Exploring Edinburgh and its people, stunning images look at "Auld Reekie" during a great coffee table read giving you the chance to briefly step back in time and fall in with love with the capital all over again.
7. Outlander Country Calendar 2022
A must for fans of the global sensation, the latest Outlander Country calendar from The Scots Magazine shows just why author Diana Gabaldon insisted the show be filmed on location in Scotland.
Throughout the year, you'll admire stunning photographs showing off bonnie Scotland and gain some insight into filming locations featured throughout the series.
Browse our Scottish Gifts Collection