Spinach-Filled Christmas Tree Pie
---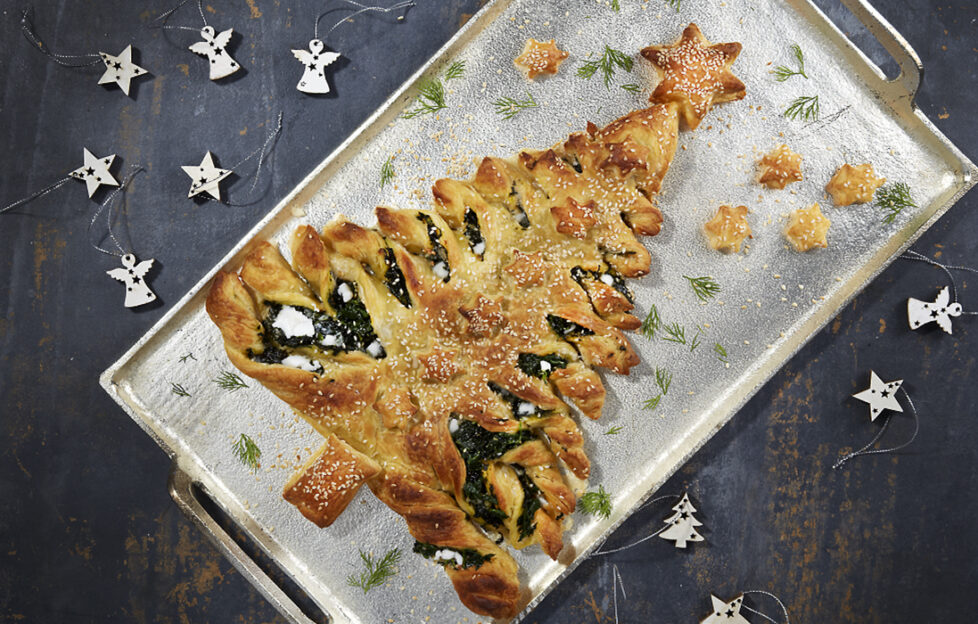 A stunning centrepiece, this is remarkably simple to make and full of herby flavours, with a tang of feta-style vegan cheese.
Ingredients:
200g Violife Greek White, crumbled
1 pack vegan puff pastry
200g frozen spinach, thawed, water squeezed out
1tbsp olive oil
2 fresh onions, chopped
1 leek, chopped
1tbsp fresh parsley, chopped
1tbsp fresh dill, chopped
1tsp lemon zest
Salt and freshly ground pepper
To decorate:
2tbsp almond milk
1tbsp sesame seeds
To Make:
Preheat oven to 180°C.
For the filling: Heat the olive oil in a large pan and add the onion, the leek and the fresh onions. Cook gently until soft.
Add the spinach and cook until it is no longer watery. Add the dill, parsley and lemon zest.
Remove from the heat and add Violife Greek White crumbled, a pinch of salt and pepper. Set aside to cool.
To assemble: Using a rolling pin, flatten out your pastry until 1cm thick. Cut out two big triangles of the same size with a small rectangle at the bottom, shaped like a Christmas tree. Use a ruler to create straight lines. From the leftover pastry cut out stars for decoration.
Place the spinach mixture on one of the Christmas trees, leaving a 1cm border.
Press it down with a spoon so it is smooth, not bumpy. Lift the second Christmas tree pastry and place on top of the filling.
Using a sharp knife, cut the branches 2cm apart. Carefully lift each branch one at a time and twist. Repeat with all branches. Add the stars to decorate.
 Lightly brush the pastry with almond milk, sprinkling with sesame seeds.
Bake for 30-40min or until golden.