Christmas Tips From the 1950s
---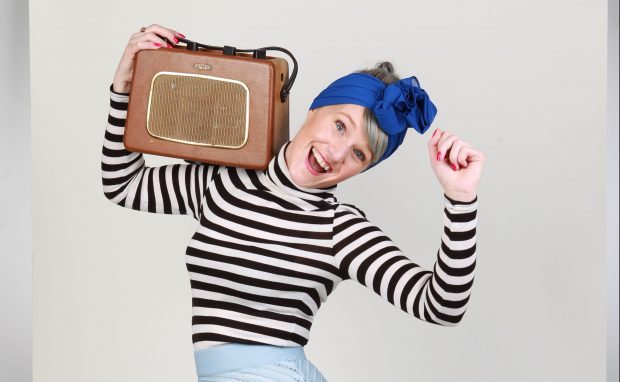 CHRISTMAS was different in the 1950s
There wasn't so much money to go around, so presents might be an apple, orange or florin in your stocking. The Santa magic was there though, no matter what you were given – and there were a lot more chimneys and fireplaces, so hanging your stocking wasn't a problem. Pass It On, our book of household tips sent in by readers of The Sunday Post, has a chapter on 1950s Christmas tips.
HOLLY
Holly stays fresh and green if, before arranging it round the house, the ends of the stems are split and soaked for a day or two in a deep, narrow vase containing one part glycerine to three parts water.—Mrs M. Connon, 8 Market Street, Turriff, wins a pair of towels.
OLD HULA-HOOP
A hula-hoop, no longer played with, is attractive covered with Christmas decorations, holly and cards and hung in the hall.—Mrs Janet Crouch, 12 Seton Street, Ardrossan.
STUFFED TOYS
If making stuffed toys for Christmas gifting, stuff with pieces of plastic foam. The toys are wonderfully light to handle, and can be washed more often, as the plastic foam dries quickly. They can be put through the wringer, they spring back into shape.—Mrs A. Ganrow, 4 Brimmond Place, Torry, Aberdeen.
TIMELY GIFT
A selection of Christmas cards, with envelopes already stamped makes an acceptable pre-Christmas gift for an invalid.—M. T. Paterson, Cairndhu, 44 Oak Street, Windermere.
LONG LASTING
Place your decorative candles in the refrigerator for 24 hours prior to using. This increases their burning time.—R. Harris, 8 Denholm Drive, Giffnock.
CARDS
To enhance the beauty of ordinary Christmas cards, I use my daughter's glitter set. I paste the tops of trees, church spires, candles, windows, etc., then sprinkle on glitter in different colours. Result: some very expensive-looking Christmas cards.—Mrs Morrison, 67 Kenilworth Road, Kirkintilloch.
PLUM PUDDING
If you are adding rum, sherry, or brandy to your plum pudding let the fruit soak
in it for 24 hours before adding the dry ingredients. In this way the spirit is evenly distributed, with the full flavour through the whole mixture.—Mrs R. W. Henry, Dunairn, 16 Mill Street, Kirriemuir.
HAVING A PARTY
Prepare your plates of savouries, sandwiches, cakes etc., early in the day. Place them in polythene bags folded in at the end. Everything is perfectly fresh for serving, and you are spared that last-minute rush.—Mrs G. M. Pratt, 95 Beach Crescent, Broughty Ferry.
AFTER THE PARTY
If your living-room is heavy with smoke after a party, put a basin of cold water in the room and leave overnight. The air is quite fresh in the morning.—Mrs A. Galt, Avils Hill, Kilbirnie.
CHRISTMAS EXTRAS
Now is the time to start a Christmas shelf by buying an extra tin of fruit, meat, etc., every week.—Mrs J. L. Young, 23 Swanston Grove, Fairmilehead, Edinburgh.
CHRISTMAS GIFTS
If you are covering coat hangers for Christmas gifts, try this. After padding, wind with tissue paper, then cover with material. This little extra effort gives a crisp and professional finish.—Margaret C. Kinnear, Lochside Cottage, Tayport.
KEEP IT MOIST
After boiling a clootie dumpling, remove cloth and immediately sprinkle sugar over the dumpling. This keeps it from forming a hard, leathery skin.—Miss N. Gall, 1 Chapel Court, Justice Street, Aberdeen.
LABOUR SAVER
When boiling a pudding, line the cloth with greased paper, and all the flavour will be kept in. In addition, the cloth will not be soiled.—Mrs M. Robson, 22 Whitehall Place, Aberdeen.
ROASTING
When roasting meat or a Christmas fowl, I find it best to cover it with several thicknesses of cheesecloth and baste over it. Done this way, it comes from the oven juicy and tender.—Mrs A. Southwell, Hythe, Alberta, Canada.
DECORATIONS
When hanging up Christmas decorations thread a piece of fine string through centre of paper chains. This prevents them tearing apart or falling against fires or electric heaters.—Mrs E. Shaw, 5C Menzies Drive, Stirling.
TWELFTH NIGHT
If paper streamers, bells, etc., are folded in their natural creases, put between two sheets of greaseproof paper, then through the mangle, they retain their freshness for next time.—Mrs E. Durrant, 17 Lilburn Street, Chirton, North Shields.
FOR A PARTY
Stand a swiss roll on end and cover with glace icing, allowing it to run down the sides to look like wax. Then tint a piece of marzipan red to represent a flame and stick on.—Mrs Sievewright, 6 Castle Street, Turriff.
FOR SAFETY
When the glass balls come down from the Christmas tree, it is sometimes difficult to pack them away safely for a whole year. Try using a cardboard egg container. They fit snugly, just like eggs.—Mrs M. Glen, 21 Amisfield Place, Longniddry.
To buy the book, go to www.dcthomsonshop.co.uk and to view more from DC Thomson go to our Facebook Shop